Degrees & Programs Search
Wright State offers 160 undergraduate degree programs and 155 graduate degree options. Type in some keywords and you'll see we have a program that works for you.
Why Wright State?
Named for Ohio's world-famous Wright brothers, Wright State University offers a unique blend of access, affordability, and innovation.
The People of Wright State
Wright State athlete and physical education graduate student Abigail Halsey studies how aerobic exercise can benefit children with autism.
Student Profile
Percussion performance major Phil Andrews realized a lifelong dream when he was accepted into the Army Old Guard Drum and Fife Corps.
Student Profile
Matt Specht, a senior industrial and systems engineering major, learned that small changes can have a significant impact on large-scale manufacturing during an internship with Honda.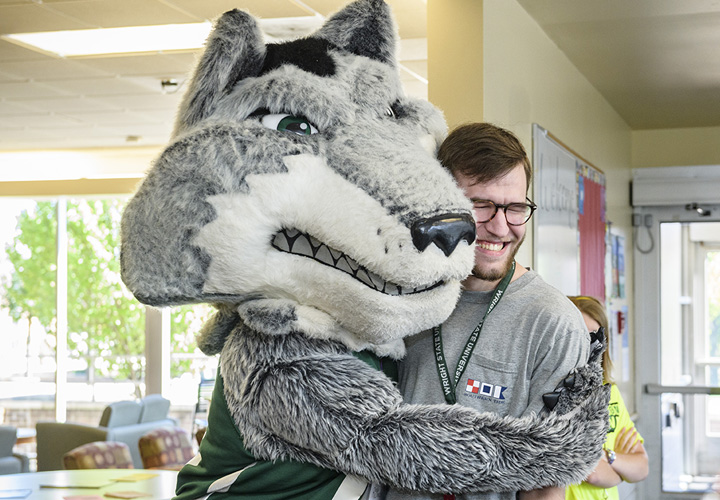 The Wright Guarantee Tuition Program
You can know what college will cost for the next four years—and we'll guarantee it. The Wright Guarantee Tuition Program guarantees the same annual cost of tuition, housing, and dining over a four-year college career for new incoming, in-state, degree-seeking undergraduate students. Apply today and lock in one of the lowest tuition rates among Ohio's four-year state universities.

Explore Dayton
Dayton's vibrant downtown and its shops, restaurants, and sports venues are surrounded by a diverse metropolitan area of almost a million residents. Those who live in the Dayton area enjoy an affordable cost of living and housing as well as a rich quality of life that includes outdoor recreation, performing arts and other cultural amenities, professional and college sports, historical landmarks, and almost endless shopping and dining options.
University Events
Tuesday, October 4, 10 am

to

Monday, December 5, 2022, 11 am
Wednesday, October 5, 5 pm

to

Tuesday, December 6, 2022, 6 pm
Wednesday, October 12, 5 pm

to

Tuesday, December 6, 2022, 6 pm
University News
Oscar-winner Julia Reichert taught film production at Wright State for 28 years, mentoring dozens of emerging filmmakers.
Program supports student success initiatives at the Dayton and Lake campuses
All Wright State students, faculty and staff with a creative concept to promote student success are welcome to apply for a Students First Fund grant.