In-Person/Remote Video Learning Classrooms
On this page:
About In-Person/Remote Video Learning Classrooms
CaTS has upgraded many Dayton and Lake campus classrooms to support faculty teaching a combination of in-person and remote classes simultaneously. These classrooms feature Cisco video equipment, including a camera in the back of the classroom to capture the instructor and/or the whiteboard as the class is being taught, as well as a Cisco control panel mounted on the teaching workstation which allows the instructor to control the different camera views, the volume of remote students as they interact during class, and the ability to share class content.
 
Upgraded Classrooms
Dayton Campus
Allyn Hall
124
126
128
210
219
225
229
240
242
255 (Fall 2021)
261
270
302
410
494
Biological Sciences
Brehm Lab
Creative Arts Center
020
180
227
280
285
331
335
Fawcett Hall
Health Sciences
Library/Library Annex
005
012 (Fall 2021)
016 (Fall 2021)
241 (Fall 2021)
Math and Microbiological Sciences
171
202
210 (Fall 2021)
271
Medical Sciences
120
125
127
129
141
143
145
Millett Hall
002
009
021
025
028
031
033
037
039
043
047
242
244
286
295
301
303
393
399
401
402
403
Neuroligical Engineering Center
Nutter Center
Oelman Hall
022
103
109
112
114
125
132
135
232
302
303
306
340
341
345
350
Rike Hall
016
018
020
033
036
041
044
047
050
054
058
060
072
154
157
158
160
161
163
166
Russ Engineering Center
144
145
146
150
153
154
208
302
346
355
406
Tom Hanks Building
University Hall
Lake Campus
Dwyer Hall
150
152
154
177
223
225
226
229
Cisco Equipment Used In These Rooms
Wall-Mounted Cisco Camera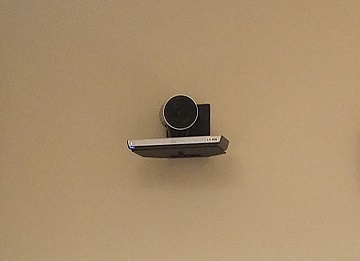 Cisco Control Panel Location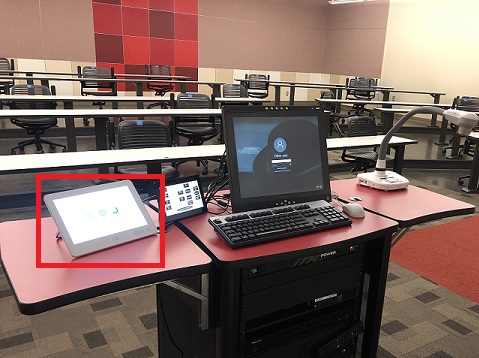 Cisco Control Panel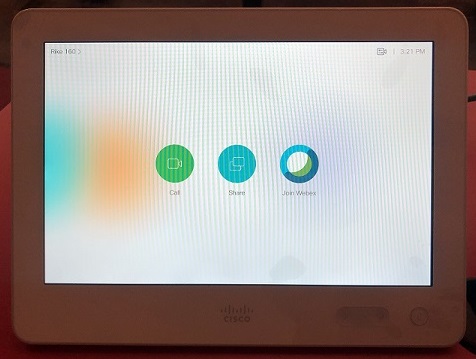 Camera View Options
Instructors have the option to control which camera view their remote students can see during their class. Camera views can be adjusted using the white Cisco control panel on the teaching workstation.
To bring up the different options for the camera in your class, touch the camcorder icon in the top right corner of the white Cisco control panel.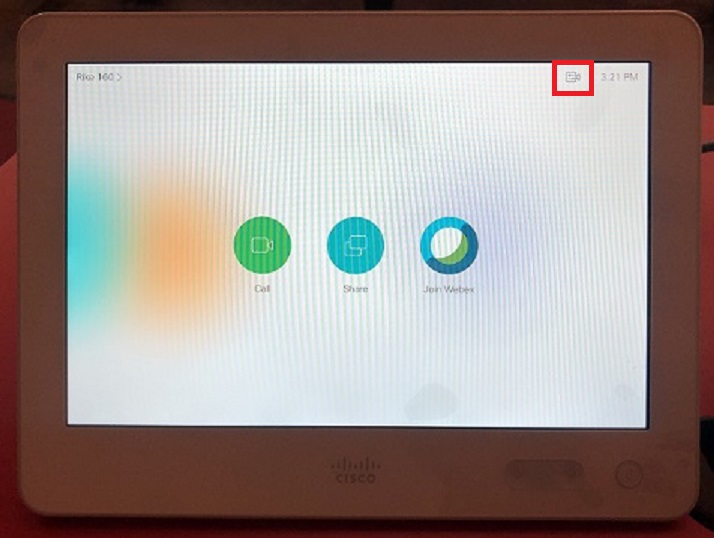 Presenter: Selecting this option sets the camera in the back of the room to follow you as you move along the front of your classroom lecturing.
Whiteboard: Focuses the back camera to a preset position displaying the whiteboard.
 
Sharing Content
Instructors can share content being shown in the classroom with their remote students over Webex or Collaborate Ultra.
If you are attempting to share full-motion videos (DVDs, Blu-rays, YouTube videos, etc), please include a link to the video so your remote students can access this content without experiencing delays. Media shared through Collaborate Ultra may be subject to both quality and audio issues.
Sharing Content On Your Computer Screen (PowerPoints, Websites, etc.)
To share content you are projecting to your class from the monitor in your classroom, open your Webex meeting, and click the 'Share Content' button at the bottom of the screen.
Select 'Screen'
Your remote students will now be able to view anything currently displayed on the monitor of your teaching workstation.
Sharing Content Using An External Source (Document Camera, Apple TV, ShareLink)
To share content you are projecting to your class from the document camera, Apple TV, or ShareLink, click 'Share' on the Cisco control panel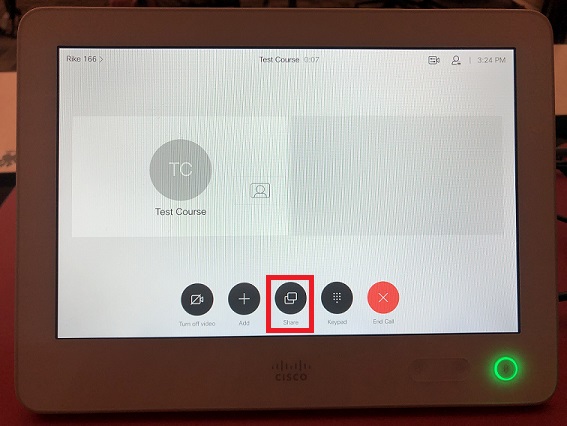 Select 'Share in call'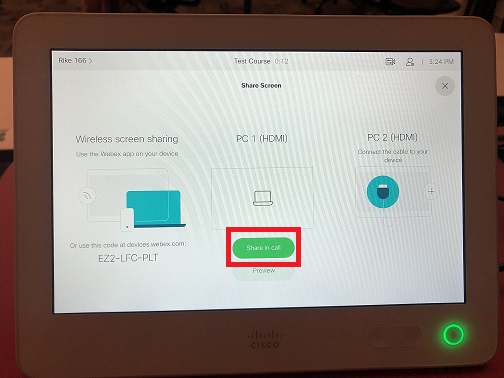 Your remote students will now be able to view any of the external sources you have selected on the black Extron control panel.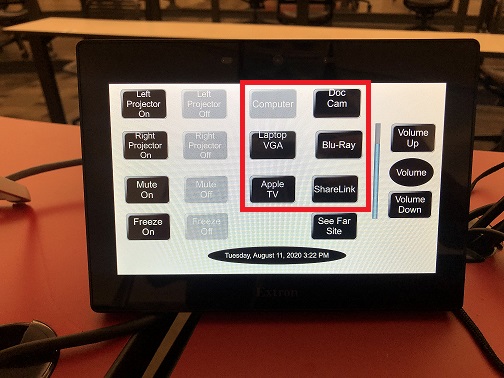 Classroom Equipment Training
If you would like to receive training on equipment installed in your classroom, send an email to helpdesk@wright.edu, and a CaTS representative will be in contact with you. For questions about online learning software, contact the Center for Teaching and Learning at 937-775-2885, or ctl@wright.edu.
 
Classroom Support
If you experience any issues while working with the classroom equipment, please dial x4827 on the wall-mounted phone in the classroom. A classroom support technician will be out to assist you as quickly as possible.