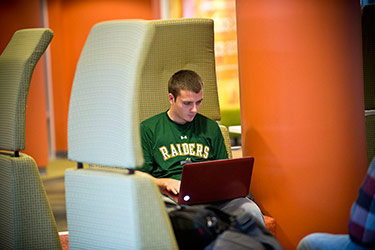 The goal of the Wright State University IT Security website is to provide information for protecting the University's computing and information resources/data by complying with information-related laws, regulations, policies, and security best practices. We are also concerned with the health of your computer and the protection of your sensitive information.
For your personal protection against malicious internet activity, we encourage you to review the information on this site, specifically the section entitled Do IT Wright, accessible from the menu on the right. You are the only one who can protect your finances, identity, and personal data.
Theft of personal data can occur both at home and at the university workplace, since employees of the university work daily with protected or personal information. If two pieces of information can be put together to provide access to obtain personal documents, security measures must be in place to protect that information. Paying close attention to the information on this website can provide you with valuable insight on how to protect both your information and the University's sensitive data.
The CaTS Help Desk is here to help. If you have questions or concerns about information technology security, please see the Contact Us page.
Security Updates
Wednesday, January 16, 2019
Recently the Server Registration request forms have migrated into ServiceNow.
Thursday, November 8, 2018
CaTS now offers a two-factor authentication service to increase security of your Wright State account!
As of March 5th, 2018 you now have the option to sign up for two-factor authentication through DUO Mobile. If you choose to sign up for this servicem you will be prompted to confirm your login when accessing services like WINGS, Office 365, ServiceNow, and more. All hardwired office machines and classroom instructor stations will not require two-factor authentication into most services.
What is Two-Factor Authentication?
Tuesday, October 23, 2018
The Help Desk was recently notified of an email phishing scam that targets Wright State students, faculty, and staff. The email appears to come from Wright State President Cheryl Schrader with the subject line 'Follow Up'.