As announced back in February, CaTS is finishing the transition from the blue and green Scantron exam answer sheets to a new black and white form, which provides cost-saving benefits to the university as well as a new and improved scanning and grading process for Scantron exams. Reports will still be available to faculty as an electronic file sent through SecureShare, or as printed copies available for pickup in the CaTS Scanning Services office.

When Will This Transition Be Complete?
July 1, 2022. After this date, the blue and green forms will no longer be accepted at Scanning Services for grading.

What Differences Will I Notice?
The main difference between the current form and the new answer sheets is that the student responses are recorded vertically, instead of horizontally (pictured below). A copy of the new answer sheet can be viewed on the CaTS website at http://www.wright.edu/information-technology/scanning-of-examinations-and-evaluations.

Current Form:

New Form: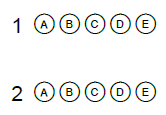 What Actions Do I Take Now?
The new black and white answer forms are available now for purchase through the Print Center; forms can be ordered at https://printcenter.wright.edu/home.asp and only take a couple of days to be delivered.
Questions?
If you have questions about this transition, please contact the CaTS' Scanning Services office at scanning@wright.edu.