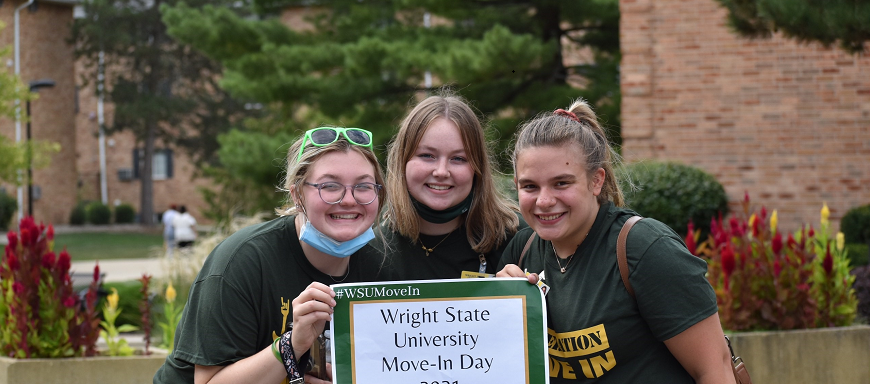 Move-in Dates
Next Step:
Sign up for a Move-In time slot
Log in to Wings Express and go to Housing Services under the Student & Financial Aid Tab
On this page:
When to Arrive
We are excited to welcome you to on-campus housing! We are working diligently to place all students for this fall. When your assignment is ready to be viewed, you will be notified through your Wright State email account. You can view your housing assignment by logging into the Housing Portal through WINGS Express.
In an effort to reduce traffic congestion and wait times on the move-in day, we limit the number of move-ins per time slot.  As soon as you receive your housing assignment, you will be able to reserve your move-in time slot through your Housing Portal.  
Move-in Dates
Wednesday, August 23 (Residence Halls)
Thursday, August 24 (Residence Halls)
Saturday, August 26 (Apartments)
We understand that some residents may prefer to move in early to campus housing. We offer early move-in on Saturday, August 19th. All residents approved to move in early will be billed a $200 early arrival fee to your bursar account. Please complete the Early Arrival Request form to request an early arrival. This form is available through your Housing Portal. Requests will be individually reviewed for approval.   
Directions, Where to Park, and Check-In
We have several buildings and communities on campus. To facilitate a smooth check-in process, please make sure to check your housing assignment and know which community and building you will be moving into.
All residents should plan to enter campus by turning onto University Blvd from Colonel Glenn Hwy. 
After turning onto University Blvd, the following communities should turn left to enter Lot 4, then navigate to the check-in line for your respective building:
The Woods, which includes Boston Hall, Cedar Hall, Hawthorn Hall, Hickory Hall, Jacob Hall, Laurel Hall, Maple Hall, Oak Hall & Pine Hall
Honors Community
College Park
University Park
Forest Lane, which includes Aspen, Palms, Sequoia & Sycamore
The Village
Hamilton Hall residents should turn right to park near Hamilton Hall and then proceed to the Hamilton check-in tent.
---
What to Do Before You Move-In
---
What to Bring and What Not to Bring
What to Bring
Shower curtain
Towels, extra-long twin-size sheets (mattress size 36"x80")
A mattress pad or cover, pillows, and comforter/bedspread
Rugs, bath mat 
Desk lamp, power strip
Television, computer, charging cords, 2nd Gen (or above) Roku for streaming
Wastebasket, trash bags, hangers, hamper, laundry soap
Plunger
Toiletries (shampoo, soap, razor, toilet paper, etc.)
Seasonal clothing, umbrella
Cleaning supplies, sweeper or broom, dish soap, paper towels, toilet paper (toilet paper supplied in Hamilton Hall)
Cooking utensils/can-opener
School supplies, paper, pens, markers, stapler, post-it notes, printer, extra ink
Plates, cups, silverware, Ziploc bags
Lockbox
Electric grill, toaster, waffle maker, crock pot, coffee maker 
Appliances from the approved appliance list (below)
Health insurance card
What Not to Bring
Pets (the only pets allowed are fish, 20-gallon tank maximum)
Portable or full-size personal washers, dryers, or dishwashers
Devices with exposed elements - see the approved appliance list below.
Firearms, ammunition, weapons (i.e. knives, paintball guns, airsoft guns, bows, swords), and things that look like weapons (i.e. nerf guns, cap guns)
Fireworks, incense, candles, or any other open-flame device
Charcoal and gas grills/stoves
Double stick tape, screws, molly bolts, planter anchors, big nails, spikes, and finishing nails cannot be used to hang things on the walls. 
Hoverboards
Network equipment (wireless access points, routers, and hubs)
Bed risers 
Hunting gear/equipment
---
After Move-In
Make your Residence Hall Room Feel Like Home
Ask any parent who has lugged every item their college-bound child owns into a residence hall room and you hear the same responses—why did we bring so much stuff and how can it possibly fit into such a small space? Less is better. It is much easier to return home for missed items than to start your school year with anxiety and worry about taking too much, storing it, or returning it back home.
Here are a few tips and items that can help you:
Stow stuff in plastic containers that go from the car directly for use in the room
Clear plastic makes for easy identification of contents
Shallow, longer bins are ideal beneath beds
Stackable units with pullout drawers double as night tables
Large pillows with arms are good for reading
Laundry baskets hold dirty clothes much better than the floor
Plastic shower caddies are good for keeping your toiletries private
Advice for Homesickness
Call home. Calling and talking to whomever you miss the most will help you feel less homesick.
Send emails to your family members at home. This allows you to express your need to let someone know you care. It alleviates some stress about being away from home.
Go home once a month for the first five or six months—just overnight or on the weekends. You will slowly notice that nothing much will change while you are away at school, and you may even notice that you feel more at home "away" at Wright State as you make friends and new acquaintances.
---
Payments
Student accounts must be paid in full, enrolled in a payment plan, or have sufficient financial aid to pay the balance by the payment due date.
Fall Semester Due Dates

| Registration Date | Fees Due | Non-Payment Penalty |
| --- | --- | --- |
| Prior to August 16 | 15-Aug | None |
| August 16 - September 15 | 15-Sep | $50 Late Payment Fee |
| September 16 and after | 15th of the following month | $50 Late Payment Fee |
Students applying for financial aid are responsible for checking to ensure all requirements have been met in order to receive financial aid.  If there is a shortfall between your tuition and fees and your financial aid award, you must pay the balance in full or enroll in a payment plan by the fee payment due date.
Students receiving third-party assistance must submit the authorization form from their sponsor by the fee payment due date and pay any unpaid charges in full or enroll in a payment plan.
Important: Make sure your payment is received by the fee payment due date by paying your account charges through WINGS/WINGS Express.
Visit the RaiderConnect Refunds and Registration Process webpage for more information.
---
Policies
Please be sure to read our Terms and Conditions 2023-24 (PDF) for Wright State Campus Housing.
No-Show Policy
If you do not check in to your unit within the first two (2) weeks, then
if you are not registered for any classes, you will forfeit your prepayment and your room fees will be prorated through the end of that two-week period, or
if you are registered for any classes at the end of that two-week period, then your failure to check-in will not affect your obligations under these Terms: the Unit will continue to be available to you, and you will be billed the regular room fees.
If your plans to live in housing at Wright State University have changed, we want to help. Please contact us at 937-775-4172 or email housing@wright.edu. Let us know that you wish to be released from your housing agreement and the reason(s) why. We will assist you in supplying the necessary paperwork to request to be released.
Registration Policy
If you are NOT registered for classes, you will not be permitted to move into your Fall 2023 campus housing assignment. 

If you have not yet picked up keys for Fall:
Your housing assignment will be canceled prior to move-in day, your prepayment will be forfeited, and a registration hold will be placed on your account. Should you choose to enroll at Wright State University during the 2023-2024 academic year, you will be financially obligated to your housing contract.

If you are currently living on campus:
You will not be permitted to reside in campus housing beyond the end of the summer semester. You must move out and return the keys by 8 p.m. on Saturday, July 29.
Forest Lane Residents
Return your keys to the Community Center (under the water tower on campus).
College Park, University Park & The Village residents
Return your keys at The Hub (next to The Village apartments)
---
Approved Appliance List
| Appliance | Residence Halls | Apartments |
| --- | --- | --- |
| Air Fryer | Allowed (Max 1500 watts) | Allowed (Max 1500 watts) |
| Belgian waffle maker | Allowed | Allowed |
| Bread maker | Allowed | Allowed |
| Buffet server* | Allowed | Allowed |
| Clothing iron | Allowed | Allowed |
| Coffee maker | Allowed | Allowed |
| Cotton candy maker | Allowed | Allowed |
| Crockpot | Allowed | Allowed |
| Curling iron | Allowed | Allowed |
| Deep fryer | Not allowed | Allowed |
| Electric crepe maker | Allowed | Allowed |
| Electric griddle | Allowed | Allowed |
| Electric kettle | Allowed | Allowed |
| Espresso machine | Allowed | Allowed |
| Fondue pot | Not allowed | Allowed |
| Food dehydrator | Allowed | Allowed |
| Food steamer | Allowed | Allowed |
| Gas or Electric Grills | Not Allowed | Not Allowed |
| Hairdryer | Allowed | Allowed |
| Hot plate | Not allowed | Apartments come equipped with stoves |
| Instant Pot | Not allowed | Not allowed |
| NuWave induction burner | Not allowed | Apartments come equipped with stoves |
| Panini press | Allowed | Allowed |
| Personal portable or full-size washers and dryers | Not allowed | Not allowed |
| Personal portable or full-size dishwashers | Not allowed | Not allowed |
| Pizza oven | Not allowed | Apartments come equipped with stoves |
| Refrigerators or freezer | University-provided | University-provided |
| Rice cooker | Allowed | Allowed |
| Roaster oven | Allowed | Allowed |
| Toaster | Allowed | Allowed |
| Toaster oven | Not allowed | Allowed |
| Toaster oven broiler | Not allowed | Allowed |
| Waffle iron | Allowed | Allowed |
---
Meeting Your New Roommate(s)
We strongly suggest you contact your roommate(s) before you arrive at Wright State. There are many things to discuss and coordinate, and living with a new person or group of people in a new place can present challenges. You and your roommates may become friends right away, or it may take some time. Getting a head start on that relationship can make things easier in late August.
Conversation Starters
The following are a few conversation starters that are helpful when you contact your new roommate(s):
About You
Hometown and high school
Family life
Friends at home
School activities
Wright State major
Morning person or night owl
Neat or messy
Music preferences
Movie and TV favorites
Willingness to loan things (computers, clothes, car, money)
Feelings about overnight guests
Particular habits
Working during college
What are good moods like vs. bad moods
What I'm like when I'm feeling down
What annoys me
What makes me laugh
How I like to relax
How I handle stress
What I'm like when I first meet people
Once You've Had Time to Chat
"An important similarity between us maybe..."
"An important difference between us maybe..."
"I think we might have to compromise on..."
"I look forward to learning more about..."
"We should talk more about..."