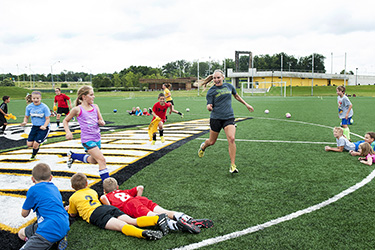 Every summer, Wright State University has the distinct privilege to host numerous summer sport, band, cheerleading, and dance camps, as well as specific conferences targeted at children and teenagers, such as the Ohio Association of Student Councils and Civil Air Patrol Encampment. Wright State University's ideal campus size makes for a convenient location as our residence halls dining hall, and practice fields or meeting spaces are within quick walking distance.
Allow WSU's pleasant atmosphere and helpful individuals in every department help you finalize the intricate details of your conference.
Just read a testimonial from a National Cheer Association (NCA) representative that compliments our residence hall conference staff:
"As a member of the NCA summer camp management team, I found the Woods and Honors Conference Staff to be very courteous, helpful, and responsive in accommodating our camp's needs, both expected and emergency-based. Each staff member's cordial manner combined with the ability to know or find an answer to a question was instrumental in ensuring an overall successful camp experience for all involved."
For more information about the services and departments that Wright State University has to offer you and your summer camp or conference, please visit the Student Union and Event Services website.
Read about the 2013 Science Olympiad National Tournament
When booking conferences on campus either youth or adult, contact:
Sheila Nahrgang, Associate Director
Event Services & Youth Programs
(937) 775-5531
(937) 775-5527
sheila.nahrgang@wright.edu
023 Student Union