300+ students have the opportunity to live and study together in the Honors Community with special programs in housing that includes themed floors, philanthropic and service projects, honors courses taught on site, and social activities. It's a fully furnished residence hall with double and super single occupancy rooms and suite-style bathrooms. All floors are co-ed. Meal plans are required.
Students who have a 2.5 GPA, are in the University Honors Program, Trustee Scholars, or accepted into the specialized living-learning community in this building are eligible. Other students may be assigned as needed.
Amenities
Community Engagement, Engineering, Health Professions and Theatre and Motion Pictures theme and interest floors
Floor lounges
In-room microwave and refrigerator
All utilities included
Local phone access
Laundry facilities
Vending machines
High speed internet and cable TV access
Air conditioning
Computer lab and classroom
Recreation room and fitness room
Live-in faculty
Convenience store
Coffee shop
Costs & Agreements
Agreement: Two semesters (academic year)
Double
Students per bedroom: 2
Room Specifications (PDF)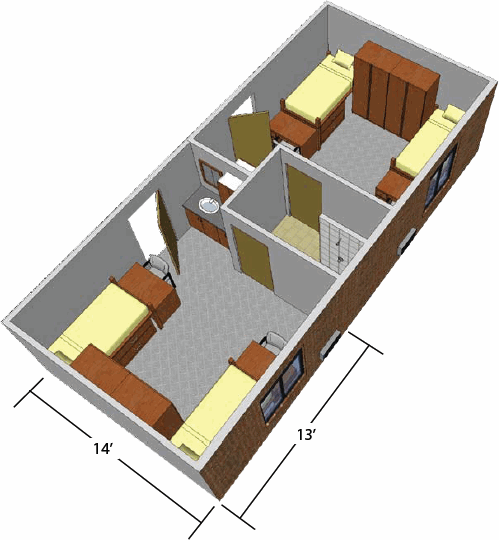 Standard Features
Resident Assistants (R.A.)—An R.A. is a person who's been trained to assist you, support you, help you with conflicts, and provide educational opportunities and social activities.
Community Council—Get involved in planning activities and governance for your community.
Social Activities—Many of these are planned so you get to know your fellow community members.
Mailing Addresses
Honors East Wing
[Student Name]
2100 Zink Road E [Room Number]
Fairborn, OH 45324
Honors West Wing
[Student Name]
2100 Zink Road W [Room Number]
Fairborn, OH 45324
Honors North Wing
[Student Name]
2100 Zink Road N [Room Number]
Fairborn, OH 45324