Parent and Family Resources

Welcome to the Raider family!
Like you, we are excited to see the great things your student will accomplish at Wright State University. You play an important role in your student's success and this guide will serve as a valuable resource as you navigate the college experience together. It will cover some of the most frequently asked questions asked by our newest family members.
We look forward to partnering with you and your student on their journey from student to professional. We invite you to stay connected with the university through our social media channels and meet other Wright State parents through our Wright State Parents Group Facebook page. 
Important Dates and Deadlines
Here are just a few of the important dates and deadlines you should make note of for your student's first semester and beyond. Visit our academic calendar for a full list of upcoming dates and deadlines. 
Sunday, August 15, 2021
Fees due for registrations occurring on or before August 15
Monday, August 23, 2021
First day of Fall Semester 2021 classes
Friday, September 3, 2021
Last day to purchase or cancel student health insurance
Last day to drop/withdraw and receive 100% tuition refund
Monday, September 6, 2021
University closed; Labor Day holiday
Friday, September 17, 2021
Last day to drop course without a grade
Friday, October 22, 2021
Last day to drop course with a W grade
Thursday, November 11, 2021
University closed; Veterans Day holiday
Wednesday, November 24, 2021
No classes; university offices open
Thursday, November 25 to Friday, November 26, 2021
University closed; Thanksgiving Break
Saturday, December 4, 2021
Last day of Fall Semester classes
Monday, December 6, 2021
Final exams begin
Saturday, December 11, 2021
Commencement
Monday, January 10, 2022
First day of Spring Semester classes
Monday, January 17, 2022
University closed; MLK Day holiday
Monday, February 28 to Saturday, March 5, 2022
Spring Break
Saturday, April 23, 2022
Last day of Spring Semester classes
Monday, April 25, 2022
Final exams begin
Saturday, April 30, 2022
Commencement
---
FERPA/Student Account Access
The Family Educational Rights and Privacy Act (FERPA) prevents third parties (parent, spouse, employer, etc.) from having access to your student's record without their consent. A student record can include active registration, detailed schedule, final grades, holds, graduation application, and academic transcript. Student records can also include billing information and financial aid such as the student billing account, financial aid application (ISIR/SAR), disbursement records, professional judgment documentation, verification records, cost of attendance, financial aid counseling documentation, financial documents, and your financial aid history.
Your student can, however, grant consent for their parent, spouse, employer, or other third parties to have access to their accounts through Student Proxy Access.
---
Paying for College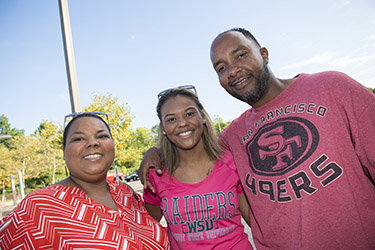 Wright State offers a variety of resources to help make your student's college education affordable. In addition to our Wright Guarantee Tuition program, which locks in the cost of tuition, dining, and housing for up to four years, we also offer a number of financial aid and scholarship opportunities to help reduce the costs of a college education.
Financial Aid, Scholarships, and FAFSA
To be considered for federal, state, and institutional need-based financial aid, your student must submit a Free Application for Federal Student Aid (FAFSA) each year. The FAFSA helps your student become eligible for grants, loans, work-study, and scholarships.
After submitting the FAFSA, your student will need to check WINGS Express to ensure all financial aid requirements are completed and all requested financial aid is accepted prior to the fee payment deadline each semester.
Cost Estimator
Check out our cost estimator for a better idea of the estimated expenses that your student could incur at Wright State University. With our Wright Guarantee Tuition Plan, your student's tuition, housing, and dining costs will be locked in for four years.
Payment Options
We offer a variety of payment options that can help you and your student plan for college expenses.
Payment Plans: Is your student looking for an affordable way to pay for their educational costs? Explore our installment payment plan to spread out the cost of their education.
College Savings Plans: Does your student have a college savings plan, like College Advantage or other 529 plan? We accept payment from those savings plans. Your student can work with the provider of their plan to make payment arrangements 30 days prior to the payment deadline.
Additional Loan Options: You and your student have loan options to help bridge the gap between their financial aid award notice and balance due.
A $50 late fee will be assessed each month your student's account goes unpaid, or when payment plan installments are unpaid or late. If your student's account is unpaid, a hold will be placed on their account and they will not be able to register for classes until the balance is paid.
Your Student's Bill
The best way for your student to pay their student account is online through WINGS Express. Here are the instructions they can use to access their bill:
Log in to WINGS Express.
Select the Student and Financial Aid link.
Select the Student Fees link.
Select Student Account Options and click "Make Payment."
Online payment options:
E-check—A debit entry is processed from a checking or savings account.
Debit card—Funds are deducted from the checking or savings account provided the transaction limit set by the bank is high enough to accommodate the payment. Check with the financial institution regarding the daily debit limit and if debit cards can be used in online transactions.
Credit card—VISA, MasterCard, Discover, and American Express are accepted online for tuition payments. A 2.85 percent convenience fee is assessed on all credit card payments.
Required Acknowledgments
Every semester, your student will be asked to approve or decline several services offered to all Wright State students. Review the options below with your student so they are prepared to decide on each of these options during registration.
---
Other College Expenses
RaiderCash
RaiderCash is loaded to your student's Wright 1 Card (student ID) and can be used anywhere the card is accepted, including most campus vending machines and laundry facilities. RaiderCash does not expire—the balance rolls over from semester to semester and year to year. Refunds are available upon request when your student permanently separates from the university. 
Adding RaiderCash to Your STUDENT'S Wright1 Card
Your student can make RaiderCash deposits online through your WINGS Express account, at the Wright1 Card Center at 238 Student Union, the Dunbar Library circulation desk, or at multiple deposit stations on campus. You also have the ability to deposit funds on your student's RaiderCash account provided your student gives you access to do so through WINGS, our university portal.
Steps your student can take to purchase RaiderCash online:
Log in to WINGS Express.
Select the Student and Financial Aid tab.
Select the Wright1 Card and Meal Plan Services option.
Select RaiderCash Deposits to buy RaiderCash with a credit card or electronic check.
RaiderCash is accepted at:
CaTS Home Base
Copy machines
Dunbar Library circulation desk
Dining facilities
Laundry facilities in housing
Student Union Box Office
Wright Copy
Campus bookstore
Vending machines
FA RaiderCash
If your student wants to use their financial aid refund to buy textbooks at the Wright State Bookstore with their Wright1 Card, they must transfer their remaining financial aid funds to their FA RaiderCash account. They can deposit excess financial aid funds to their RaiderCash account starting August 1 (Fall Semester), December 1 (Spring Semester), and April 1 (Summer Semester) at RaiderConnect in 130 Student Union or online through WINGS Express. These funds roll over each semester. Any funds remaining at the end of Spring Semester are automatically refunded to your student.
Steps your student can take to transfer their financial aid refund to FA RaiderCash online:
Log in to WINGS Express.
Select the Student and Financial Aid tab.
Select the Wright1 Card and Meal Plan Services option.
Select the Wright1 FA Deposit Using Financial Aid to deposit excess financial aid
---
Student Health and Safety
COVID-19 Information
Your student's health and safety are important to us, now more than ever. Throughout the COVID-19 pandemic, the safety of our campus community has been our top priority. Please review our COVID-19 response page for the most up-to-date information including our case dashboard and vaccine information. Our plans for Fall Semester 2021 will be added to this site as well once they become available. Be sure to check out the Parents and Families tab for the information that matters most to you.
Student Health Services
Student Health Services, located in the Wright State Physician's Health Center, is your student's source for primary health care and wellness services. The services provided at Student Health Services are comparable to those offered at a family practice setting. All professionals are certified, licensed, or registered in their respective fields. In addition to functioning as caregivers and administrators of treatment, the Student Health Services staff strive to be educators and promote prevention and wellness.
Services provided by Student Health Services can be billed to your student's insurance or to their Student Insurance Plan if they opt-in to the plan during course registration.
Counseling and Wellness Services
We all can experience personal problems that lead us to feel confused, anxious, overwhelmed, sad, and/ or depressed. If your student experiences any of these feelings, the Counseling and Wellness Services (CWS) staff is here to help. CWS offers therapy (individual, group, and couples' therapy), psychiatric services (psychiatric consultation and medication management), psychological assessment (career, learning disability, personality, and attention deficit assessment), and life coaching. Clinical services are located in 053 Student Union. 
A Counseling and Wellness Services Fee will appear on your student's bill. This fee is an optional $20 fee. If your student chooses to pay the CWS Fee, they will be able to receive mental health services (counseling, psychological assessment, and psychiatric services) and life-coaching services at CWS at no cost. They may choose to waive the fee and continue to utilize the counseling and wellness services but will be assessed $20 per session for mental health, psychological assessment, psychiatric, and/or life coaching services. For information regarding waiving the optional fee, see our Frequently Asked Questions section.
University Police
The Wright State University Police Department (WSUPD) is a force of sworn police officers who meet all state police training requirements. Officers are on duty 24 hours a day, seven days a week. The WSUPD ensures a safe and secure educational environment that promotes diversity, tolerance, academic freedom, and respect for the individual. Visit wright.edu/police to learn about the many services available and view the latest edition of the annual security and fire safety report.
Emergency Alert
Wright State University places the safety and security of its students, employees, and visitors as its highest priority. To keep you informed in emergency situations, we have developed Wright State Alert!, a comprehensive emergency notification system. The purpose of this system is to keep students and employees informed about emergencies and life-threatening situations on campus.
All students will automatically receive emergency notifications via email. They may also elect to receive emergency notifications via voice and text messaging as well. To do so, they will need to manage their alert notifications in WINGS Express. If you would like to receive email, text, or voice notifications of any Wright State Alert! messages, your student can add to their alert notification account up to two additional email addresses, up to three mobile phone numbers for texting and voice messages, and up to three voice-only phone numbers.
---
Campus Housing, Dining, and Commuter Resources
At Wright State, your student has the choice to live in our on-campus housing communities or commute from home or an off-campus residence. We also offer dining plans and options that both residential and commuter students can enjoy.
Campus Housing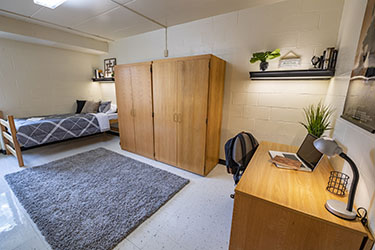 Living on campus is provides your student with the full university experience. Our Residence Life and Housing team works hard to create opportunities for your student to make connections and have fun.
We offer a variety of housing options for new students. First-year students can choose from traditional dorm rooms to suite-style residence halls.
Top reasons YOUR STUDENT SHOULD live on campus
Affordable: Your student can choose to live in one of the most affordable university campus housing communities in the state.
Convenient: Your student can go ahead and hit that snooze button one more time—they can roll out of bed and stroll to class.
Community: Your student can create a chosen family of close friends and forge relationships to last a lifetime.
Fair: Your student will not be locked into a contract beyond the academic year or if they are no longer a Wright State student.
Green: Your student can save some precious time and green by not needing to commute, and enjoy our forested campus and wildlife. Not to mention laundry and utilities are included!
Inclusive: With students from across the globe and of all abilities and identities, your student experience diversity of thought, culture, and expression. 
Options: From your number of roommates, to meals, to bringing their car, your student get to call the shots!
Spacious: Don't cramp your student's style…or their living space. 
Has your student Already applied for campus housing?
They will receive their housing assignment the last week of July through the housing portal. Review current resident resources and move-in guide for helpful information for you and your student.
Dining on Campus
Your student has access to a variety of meal plans at several price options. If your student lives on campus in either Hamilton Hall, the Woods, or the Honors community, they are required to have a meal plan. Our dining locations are located in various locations across campus and provide options to fit any palate. 
If your student purchases a meal plan that includes WrightSwipes, they can access these through their Wright1 Card.
Dining Dollars are loaded to your student's Wright1 Card and used like a prepaid debit account at all on-campus dining locations and are useful for purchasing snacks or drinks.
Running low on Dining Dollars? Your student can purchase more through their WINGS Express account.
Commuting to Campus
Many Wright State students commute to campus every day. We offer services designed to make life easier and provide opportunities for our commuter students to become involved members of our Raider community. These opportunities include fun events, student organizations, and services that help them to meet other new students.
One of the best ways to make connections is to get involved. The Commuter Student Association hosts events just for commuters. Your student will be able to meet other students and enjoy campus life. 
We offer a commuter student handbook, events to help your student connect with other commuters, and a commuter lounge in 029 Student Union with microwaves and space to relax and hang out.
---
Student Support Services
Academic Success Centers
Successful students use the academic support services available to them. Why should your student work alone when someone in our Academic Success Center, who has already taken the same class, can work with them? Our Tutoring Services, Math Learning Center, and University Writing Center employs friendly, trained peer leaders to help your student succeed. Individual tutor and study coach sessions are available for many undergraduate courses.
Career Services
Career Services can be a valuable resource for your student during their first year and beyond. Our advisors are available to help your student during each step of their journey—from choosing the right major to landing their dream job. They can also assist your student with experiential learning opportunities, such as internships and co-ops, and on-campus employment opportunities.
Cultural and Identity Centers
Diversity makes our community stronger and more vibrant. Your student has the opportunity to get involved in one or more of our Cultural and Identity Centers to meet other students, learn about the various cultures, and experience events and activities that promote understanding among cultural/identity groups and individuals.
Disability Services
The Office of Disability Services recognizes disability as an aspect of diversity that is integral to society and to our campus community. A student's college experience should offer opportunities to develop academically, vocationally, and personally. More than 1,000 students with ADD/ADHD, learning, medical, physical, and/or psychological disabilities participate in Disability Services' programs, which guide students on their personal journey. A focus on independence is the reason Wright State is ranked as a national leader in accommodating students with disabilities. We teach students skills that will assist them as they transition into the professional world.
If your student has a disability and would like to receive accommodations, they should contact the Office of Disability Services prior to enrollment. An application (separate from admissions), professional documentation of disability, and a college accommodation planning meeting are required prior to services.
---
Virtual Tours and Maps
Be sure to check out our virtual tours, videos, and upcoming events and explore campus from the comfort of home. Visit wright.edu/virtual for more information.