As of 2020, effort reporting has been moved to the Office of Research & Sponsored Programs (RSP) Post Award Services under Juwanna Higgins, Director of Post Award.
Effective December 1, 2020, WSU upgraded Effort Reporting and Labor Redistributions in Banner 9.
What is effort reporting?
Effort reporting is a federally-mandated process used to confirm that the salaries and wages charged to each sponsored agreement are reasonable in relation to the actual work performed. 
Effort reporting consists of effort and payroll certification, as well as various research administration source information like defined faculty and staff appointments, proposal developments, salary charging and cost sharing.
Why effort reporting?
Effort reporting is a federally-mandated process. It is a federal requirement under the Uniform Guidance 2 CFR Part 220.
Sponsors use these reports to confirm that effort expended by an individual working on the research matched what the sponsor paid. The percentage of salary charged to an award should be no more than the percentage of effort expended on the award.
Effort reporting at Wright State University provides a systematic certification process and formal effort reports that ensure our institution is always prepared to respond to sponsors with the required information.
What is effort?
Effort is the amount of time spent working on professional activities such as research, teaching, administration, clinical activity and service.
Committed effort is the proportion of effort explicitly devoted to a sponsored activity.
All effort (activities) must total 100%, even if an appointment is less than 1 FTE.
Who is subject to effort reporting?
Every individual who devotes effort to sponsored activities, whether paid or unpaid, is responsible for certifying the amount of effort he/she spent on sponsored activities.
For WSU the following are subject to effort reporting:

Faculty
Staff (monthly)
Graduate Students
Post-Docs

Bi-weekly paid employees are not included in our effort reporting because they report their actual effort/hours after-the-fact via timesheets.
When is effort certified?
Effort is certified each semester for all employees on an externally sponsored agreement.

March–(Fall: Sept–Dec)
August–(Spring: Jan-May)
November–(Summer: June–Aug) & (SU1-SU4)
Where can effort reports be accessed?
The Online Effort Certification system here at Wright State University has a web-based user interface. Therefore, it is accessible from virtually any location. Online Effort Certification is integrated with other existing enterprise systems to gather required information. It is reachable via the normal campus access control of WINGS Express.
How to sign on to Effort Certification:
Effective December 1, 2020, WSU VPN is no longer a requirement in order to access Effort Reports or Labor Redistributions.
Please use your WSU Credentials to sign into WINGS:
---
Click on WINGS Express icon

---
Click on the Employee Tab

---
Click on Banner 9 Employee Self Service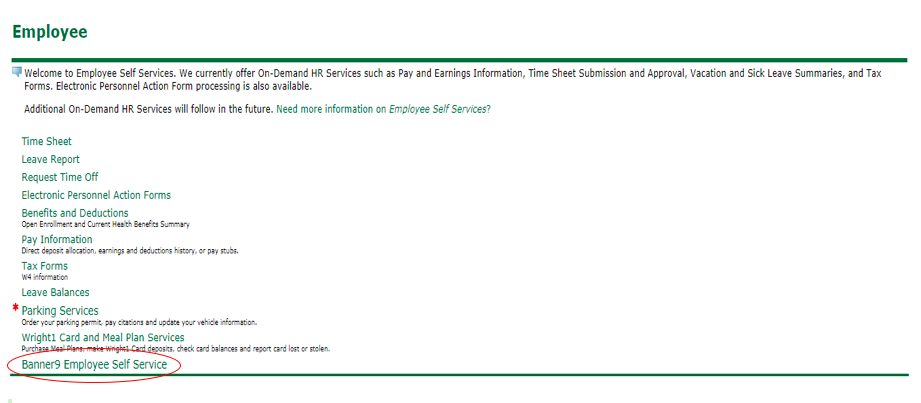 ---
This will take you the Employee Dashboard
Under My Activities click on Effort Certification

Click on the Review Or Certify My Effort tab to the left

How to certify effort reports?
For directions on pre-reviewing, certifying, and post-reviewing effort reports go to the Effort Certiciation Manual.
Effort Reporting Schedule: 2020 – 2021
Effort Reporting Periods

Dates

Release of Effort Reports

Pre-Review

Period

Certification

Period

Post-Review

Period

EFFORT REPORTS DUE DATE

Fall 2019

9/1/19-12/31/19

3/30/20

3/30/20-4/13/20

4/14/20-4/28/20

4/29/20-5/13/20

5/13/20

Spring 2020

1/1/20-5/31/20

8/3/20

8/3/20-8/17/20

8/18/20-9/1/20

9/2/20-9/16/20

9/16/20

Summer 2020

6/1/20-8/31/20

11/2/20

11/2/20-11/16/20

11/17/20-12/1/20

12/2/20-12/16/20

12/16/20

Fall 2020

9/1/20-12/31/20

3/1/21

3/1/21-3/15/21

3/16/21-3/30/21

3/31/21-4/14/21

4/14/21

Spring 2021

1/1/21-5/31/21

8/2/21

8/2/21-8/16/21

8/17/21-8/31/21

9/1/21-9/15/21

9/15/21

Summer 2021

6/1/21-8/31/21

11/1/21

11/1/21-11/15/21

11/16/21-11/30/21

12/1/21-12/15/21

12/15/21
Additional files and resources:
Effort Reporting Training Session: Will be scheduled in 2021
(Revised November 2020)