National Transfer Student Week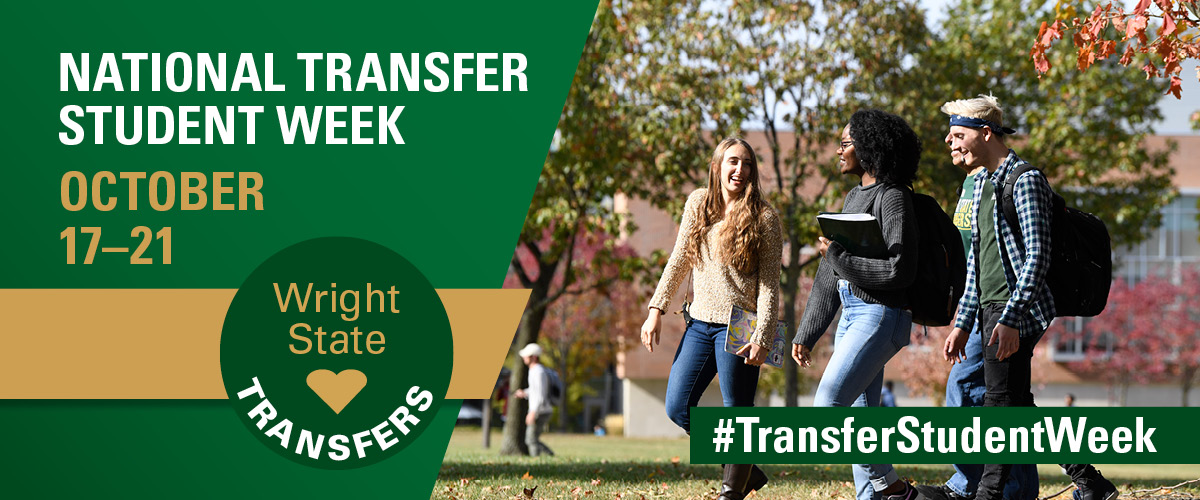 On this page:
Celebrating Our Transfer Students During National Transfer Student Week
Transfer students are a valuable part of the Raider and Laker communities. To celebrate our transfer students and the faculty and staff who help them feel welcome, Wright State will host several events during National Transfer Student Week, October 17–21, 2022. These events will bring awareness to the contributions of our transfer community and engage the entire campus about the transfer experience. 
National Transfer Student Week is celebrated each year during the third week of October. Colleges and universities across the country join in to celebrate their transfer students. 
#TransferStudentWeek
 
Transfer Student Profile—Fall 2022
New transfer students make up 31 percent of our student population.
The average age of our new transfer students is 22.
The average number of credit hours transferred to Wright State is 62.
The top five majors for new transfer students are elementary education, psychology, nursing, biological sciences, and computer science.
View the Fall 2022 Transfer Student Profile to learn more about our transfer students.
 
Events
Prospective Students
| Date | Time | Event Name | Event Description | Location |
| --- | --- | --- | --- | --- |
| Tuesday, October 18, 2022 | 11 a.m.–2 p.m. | Sinclair Fall Transfer Fair | Interested in transferring from Sinclair to Wright State? The transfer team would like to know more about your interests and educational goals. Stop by and let's chat about your transfer options, including the Wright Path program. | Sinclair College Welcome Center |
| Wednesday, October 19, 2022 | 10 a.m.–noon | Clark State Transfer Visit | Interested in transferring from Clark State to Wright State? The transfer team would like to know more about your interests and educational goals. Stop by and let's chat about your transfer options, including the Wright Path program. | Clark State Springfield Campus |
| Thursday, October 20, 2022 | 10 a.m.–2 p.m. | Clark State Transfer Fair | Interested in transferring from Clark State to Wright State? The transfer team would like to know more about your interests and educational goals. Stop by and let's chat about your transfer options, including the Wright Path program. | Clark State Springfield Campus |
| Thursday, October 20, 2022 | 2:30–4:30 p.m. | Clark State Transfer Fair | Interested in transferring from Clark State to Wright State? The transfer team would like to know more about your interests and educational goals. Stop by and let's chat about your transfer options, including the Wright Path program. | Clark State Greene Center |
| Thursday, October 20, 2022 | 4–7 p.m. | Lake Campus Open House | Join us for Lake Campus Open House to tour our campus, explore our academic programs and campus life, and learn about transferring credit. Visit lake.wright.edu/OpenHouse to learn more and register. | Sinclair College Welcome Center |
| Friday, October 21, 2022 | 9 a.m.–noon | Edison State College & Career Fair | Interested in transferring from Edison to Wright State? The transfer team would like to know more about your interests and educational goals. Stop by and let's chat about your transfer options, including the Wright Path program. | Edison Piqua Campus |
| Saturday, October 22, 2022 |   | Raider Open House | Join us for Raider Open House to explore our campus, connect with faculty and students, and learn why it's a great time to be a Raider. Visit wright.edu/RaiderOpenHouse to learn more and register.  | Student Union |

Current Students
| Date | Time | Event Name | Event Description | Location |
| --- | --- | --- | --- | --- |
| Monday, October 17, 2022 | 11:30 a.m.–1:30 p.m. | Transfer T-Shirt Swap | Bring one, get one! Bring a t-shirt from your previous institution and swap it out for a free Wright State t-shirt. | Outside of the Student Union Pathfinder Lounge |
| Tuesday, October 18, 2022 | 1–1:30 p.m. | More Than Books: Transfer Library Tour | Not all college and university libraries are the same. Join us for a quick tour of the Paul Laurence Dunbar Library and discover the unique services and resources available to you. | Dunbar Library |
| Wednesday, October 19, 2022 | 1–3 p.m. | University Center for International Education Pop-In Wednesday | Stop by for free popcorn and explore the study abroad opportunities at Wright State. Learn about scholarships that can help fund your study abroad experience. | 334 Student Union |
| Thursday, October 20, 2022 | 11:30 a.m.–1:30 p.m. | Transfer T-Shirt Swap | Bring one, get one! Bring a t-shirt from your previous institution and swap it out for a free Wright State t-shirt. | Outside of the Student Union Pathfinder Lounge |

Faculty and Staff
| Date | Time | Event Name | Event Description | Location |
| --- | --- | --- | --- | --- |
| Tuesday, October 18, 2022 | Noon–1 p.m. | Transfer Raiders 101 | Join the Transfer Center staff to learn more about the role of transfer student success at Wright State. | Student Union Discovery, A & B |
| Wednesday, October 19, 2022 | Noon–1 p.m. | Transfer Raiders 101 | Join the Transfer Center to learn more about the role of transfer student success at Wright State. Contact rachel.fulton@wright.edu to receive a Microsoft Teams meeting invitation. | Microsoft Teams |
| Thursday, October 20, 2022 | 10:30–11:30 a.m. | Evaluating International Transcripts | Ever wonder how international transcripts are evaluated? Join the International Admissions team for a virtual presentation and Q & A session to learn about immigration and academic transfer, official and unofficial transcripts, GPA conversion, calculating equivalent Wright State credit, and posting international transfer credit to the Wright State transcript. Contact teresa.roth@wright.edu to receive a WebEx meeting invitation. | WebEx (see calendar) |
| Friday, October 21, 2022 | 8:30 a.m.–12:30 p.m. | SOCHE Articulation & Transfer Conference | Join colleagues from around the state to discuss national, statewide, and local trends in transfer. The theme for this year's conference is Beyond Articulation: Purposeful Transfer. Learn more and register by October 16. | Zoom |
Downloads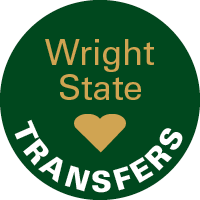 Wright State Loves Transfers Button