On this page:
Overview

Service animals play an important role for many students with all types of disabilities. Service animals offer their owners significant emotional and physical support, as well as an additional level of mobility and access to daily living activities. 
Nationally recognized for its commitment to students with disabilities, Wright State University was one of the first universities in the country to offer an on-campus dog park reserved for service animals. 
Park Features
Located on Wright State's Dayton campus, Wingerd Service Dog Park offers a full acre of accessible, fenced exercise space near the academic buildings and residence halls. The park features:
one acre of accessible, fenced green space
convenient location near academic buildings and residence halls
paved accessible paths
double-gated entrance 
electric gate openers
water station
waste disposal stations
emergency response phone
covered patio area
lighting
seating
More improvements are planned for the near future, including:
dog agility training equipment
non-toxic flower beds & landscaping
Location
Park Rules
Service animals within the fenced park area are permitted to be off leash in the safe and secure environment, allowing both animals and their student owners to exercise, relax, and socialize.
The park is strictly designated for use by service dogs and trainees only. Pets are not permitted under any circumstances.
The service dog park is open 7 days a week, from sunrise to sunset.
All service dogs must be licensed and wear current license and vaccine tags.
All service dogs must be leashed when entering and exiting the fenced area.
Gates should be closed at ALL times.
Owners/handlers must be in voice control of their service dog at all times.
Owners/handlers must pick up after their service dog and dispose of all litter.
Owners/handlers are responsible for any injuries or damage caused by their service dog.
No smoking, no alcoholic beverages, no glass containers, and no eating is permitted in the park.
Agility/exercise apparatus is for service dogs only. Please do not sit, walk, or climb on the equipment.
Owners/handlers who fail to comply with these rules will be asked to leave.
Please contact the Office of Disability Services at 937.775.5680 with any questions or concerns.
History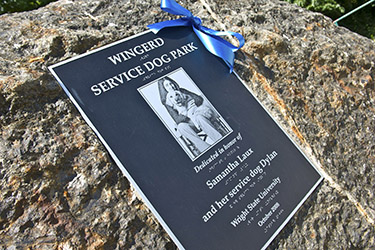 Dedicated in honor of former Wright State student Samantha Laux and her service dog, Dylan, the park exemplifies the university's commitment to creating an inclusive and dynamic learning environment.
Established in 2008, the Wingerd Service Dog Park construction was funded by generous gifts from:
the Wallis Foundation of California,
the Laura J. Niles Foundation of Connecticut, and
The Kenneth A. Scott Charitable Trust, a Key Bank Trust
Brick Donation Program
Disability Services would like to extend the opportunity for Wright State students, alumni, family, friends, and advocates to support the mission of the Wingerd Service Dog Park. Show your love and dedication to your loyal companion by ordering a custom brick, which will be installed in the service dog park on campus. All proceeds from the sale of bricks will support the maintenance and continued improvement of the park. 
Memorialize or honor a beloved:
service animal
emotional support animal
therapy animal 
pet
Brick Giving Levels
Bronze Paw Donors ($50)
one 4" x 8" paver brick installed in Wingerd Service Dog Park
laser-engraved custom message, up to 3 lines of text or symbols* (18 characters/line) 
installation of brick in the park 
invitation to annual brick installation ceremony 
gift recognition on ODS website 
Silver Paw Donors ($100)
Bronze Paw level items listed above, plus
certificate of recognition 
personal thank-you email from ODS director 
Gold Paw Donors ($500)
Bronze Paw level items listed above, plus
certificate of recognition 
personal thank-you letter from ODS director 
replica mini-brick (1.5" x 3") 
Create a digital mockup of your custom brick using the brick generator tool!
Donors
Brick Program Donors
Gold Paw Donors
Gail and Chris Laux
Bronze Paw Donors
Jean Denney
Gate Installation Donors
The Laura J. Niles Foundation
The Kenneth A. Scott Charitable Trust, a Key Bank Trust