Career and Vocational Support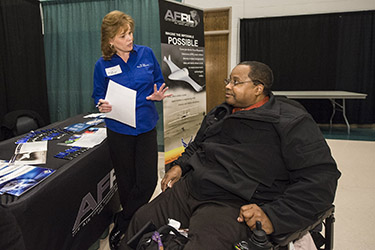 On this page:
College2Careers
Ohio College2Careers is a collaboration between Wright State University and Opportunities for Ohioans with Disabilities (OOD) to offer support to students with disabilities in completing their degrees and preparing for their future careers. The Wright State College2Careers counselor can assist students with the following:
Career exploration & counseling
Assistive technology
Resume & interview preparation
Internships & permanent employment
Assistance navigating OhioMeansJobs and other employment resources
Connection to an expansive employer partner network
Our embedded OOD counselor is: Phil Penrod
call or text 937.776.7679
walk-in hours Thursdays 9:00 a.m. until 1:00 p.m.
Workforce Recruitment Program
The Workforce Recruitment Program (WRP) is a program that connects college students and recent graduates to internships and permanent jobs with federal employers nationwide. The WRP process begins each fall leading to internship placements for the following summer. The Office of Disability Services at Wright State coordinates the early stages of the WRP process such as assisting in completing the student registration, assistance with résumé writing and mock interviews.
To participate in WRP, an individual must meet the following criteria:
Be a person with a disability and eligible for hiring under the Schedule A Hiring Authority for persons with disabilities.
Be a U.S. citizen.
Be a current, full-time undergraduate or graduate student OR have graduated from Wright State on or after April 1, 2018.
If you are interested in participating in WRP, contact Wright State's school coordinator, Evan Mason.  
Career Services
Wright State Career Services supports students with major and career exploration, résumés and interviewing, job and graduate school opportunities, and experiential learning. A Career Consultant is embedded within each college to help guide students in their specific career paths. Career Services also oversees student employment and work-study positions.
To access Career Services, please visit their website and contact your Career Consultant.
Internship/Career Resources