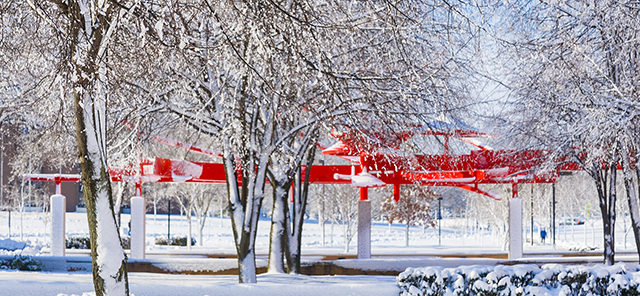 Dear Wright State Family,
Happy New Year and welcome back to campus! I am very excited for what lies ahead in 2020 for Wright State. As we start a new chapter in Wright State's history, I would like to highlight what I believe are our most critical priorities and share some campus updates that I'm confident will help us achieve our goals.
The key mission of Wright State has been and will continue to be to provide an educational experience that drives the economic engine of our region and our state. It is one that empowers all of our students, faculty, staff, and alumni to develop professionally, intellectually, and personally.
As you are aware the needs of a campus community as large and diverse as ours are countless and complex, but most of them tie back to three broad and pressing priorities for Wright State University: Recruitment, Retention, and Relationships.
In the coming weeks you will see these words appearing around campus to remind us all each day of our priorities. You will also hear myself and others repeat them often. They are simple and to the point and are critical to our long-term success.
For Wright State to succeed, we must increase Recruitment efforts. Some in the community have lost confidence in us, and it is our job to restore that confidence and trust.
For Wright State to succeed we must improve Retention. Too many of our students don't come back after their first year. Connecting with and supporting our students in a more holistic manner is imperative. We are committed to the long-term success of our student body.
For Wright State to succeed we must build solid, productive Relationships. Internally we must work together to break down silos and collaborate across colleges and units. Externally we must enhance and build meaningful relationships with community partners such as Wright-Patterson Air Force Base and the local health care industry. These areas, as well as other organizations in the region, employ many Wright State graduates and it is imperative that our graduates continue to fulfill their workforce needs.
Making headway in these areas requires all of our efforts, and I'm confident there is only one path that will be the most effective and enjoyable. It is the path we take together.
In addition, I also wanted to highlight several administrative changes we have recently made that will help our pursuit of these goals together.
I am happy to remind our campus community that Douglas Leaman is now serving as Interim Provost. Doug moved into the role after serving as the Dean of the College of Science and Mathematics since 2016.
We are replacing and re-casting the Interim Vice Provost, Enrollment Management position with a new position: Chief Recruitment and Admissions Officer. Student recruitment is a top priority, and I am making it my responsibility as president. Therefore, this person will report directly to me and will be solely focused on executing a strategic recruitment plan. This person will oversee Undergraduate Recruitment, Admissions, Financial Aid, RaiderConnect, UCIE, Transfer, College Credit Plus, and the Office of Marketing. The position has been posted, and we've placed a priority on getting it filled as quickly as possible.
As a part of our restructuring, the Provost will continue to take responsibility for all of our retention efforts. The Division of Student Success and Retention Specialists will fall under his leadership.
Greg Sample has absorbed all of the responsibilities of the former Chief Business Officer position and has moved into the role of Executive Vice President, Chief Operating Officer.
The Chief Financial Officer position has been posted and we are receiving applications. We hope to have the position filled this spring. The CFO will be supported by a new position: the Director of Academic Resourcing. Over 70 percent of our budget is focused on our academic enterprise, and we need to be strategic in our approach to budgeting around academics. This position will provide analysis, evaluation, and recommendations around the funding of our academic enterprise. I've asked Burhan Kawosa, Senior Lecturer of Finance and Financial Services, to fill the position on an interim basis in order to provide immediate help with the 2020-2021 budget planning process while the permanent position will be filled this summer.
I have also created the Office of Audit, Risk, and Compliance. These three areas have traditionally operated independently with little integrated effort. Following a growing trend, we are merging these units together with a goal of enhancing our approach to enterprise risk management. The group will be led by Peter Cheng, Assistant Vice President, Chief Audit, Risk, and Compliance Officer. During this initial phase, the office will report to the COO. Once operational the office will report directly to the Board of Trustees with dotted line reporting to the President.
Shari Mickey-Boggs, Associate Vice President and Chief Human Resources Officer, will step into the role of Secretary to the Board of Trustees. This is a common model in higher education, and Shari will serve the board exceptionally well.
I am excited to begin this journey with you. We are Wright State, we are Dayton Strong, and we are the best choice for anyone pursuing higher education as a way to expand their knowledge and move their life in any direction they wish!
I want you to know that I truly appreciate each and every one of you for your efforts, contributions, and care for our students. In 2020 and beyond we will work together toward a brighter future that enhances the lives of the extended communities in which we work and live. I wish you all an excellent start to the new year.
Best wishes,
Sue