About President Susan Edwards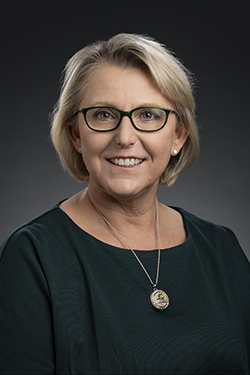 Susan Edwards, Ph.D., is the eighth president of Wright State University. She took office January 1, 2020.
Edwards joined Wright State in 2018 as executive vice president for academic affairs and provost. She was drawn to Wright State because of the university's core values and dedication to students. She is proud of how Wright State serves its students and the region and is honored and humbled to serve the university and its partners as president.
During her presidency, Edwards will focus on recruitment, retention, and relationships. She is personally committed to student success, especially in terms of retention, experiential learning, and high quality classroom education.
Edwards is committed to fostering a welcome and inclusive campus for students, faculty and staff. She will also focus on strengthening relations with the community and being very vocal about telling the Wright State story.
Prior to coming to Wright State, Edwards served as vice provost for faculty affairs and professor of biology at Appalachian State University in Boone, North Carolina. She was responsible for overseeing all areas of faculty evaluation and development and served as the academic affairs liaison on all personnel matters.
In 2007, Edwards left her native Australia to join the Department of Biology at Appalachian State. She then took on a leadership role as assistant chair for three years before being appointed chair of the department in 2012.
Previously, she was the Australian equivalent of an associate professor in the Department of Physiology and Pharmacology in the Faculty of Medicine, Health and Molecular Sciences at James Cook University in Australia. She also served as a visiting assistant professor in the Department of Biology at Georgia Southern University.
She has taught numerous courses in 10 different degree programs including veterinary science, medicine, biology, pharmacy, biomedical science, aquaculture, medical laboratory science, physiotherapy, exercise science, education, and nursing. In addition, she has taught in university programs localized within indigenous communities in Victoria, Far North Queensland, and the Torres Strait Islands in Australia.
In her research career, she served as a research assistant in the Brain Research Unit and Autonomic Neuroscience Group at The University of Melbourne. She has secured almost $1.3 million in research funding from the National Science Foundation and $108,000 in funding from the Australian Research Council.
Edwards has published more than 30 research papers and two book chapters, co-edited the book Hagfish Biology, and served on the editorial board of Comparative Biochemistry and Physiology from 2006 to 2018. She is a former president of the Physiology Section of the American Fisheries Society. She also participated in the American Council on Education's Spectrum Aspiring Leaders Program in 2016 and the BRIDGES Academic leadership for Women at the University of North Carolina in 2014.
Edwards received a Ph.D. in comparative physiology from Deakin University in Victoria, Australia, an M.S. in neuroscience from The University of Melbourne and a B.S. in biology from Deakin.