About TurnItIn Plagiarism Detection
TurnItIn is a plagiarism detection service that is integrated within Pilot. GradeMark, an online tool for grading and annotating student assignments is also available through the TurnItIn tool. Both of these services are available simply by enabling OriginalityCheck when you create a Dropbox in Pilot.
When you create a Dropbox folder, the option for Turnitin is found under the "Turnitin" tab on the tool navigation bar.

Check the box to "Enable GradeMark" and then you will be able to select the box to "Enable Originality Check." GradeMark is an assessment tool built-in to Turnitin and is required to be able to generate an originality report (you have to enable GradeMark, but you are not required to use it).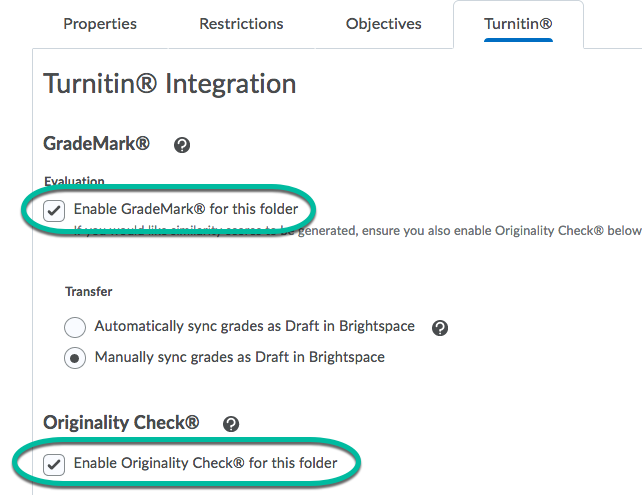 Under the "More Options in Turnitin" button, you can choose the sources against which the submission is compared as well as choosing the criteria you want used for the report creation.  If you want students to be able to view the originality reports for their submissions, check the box under the "Display" setting.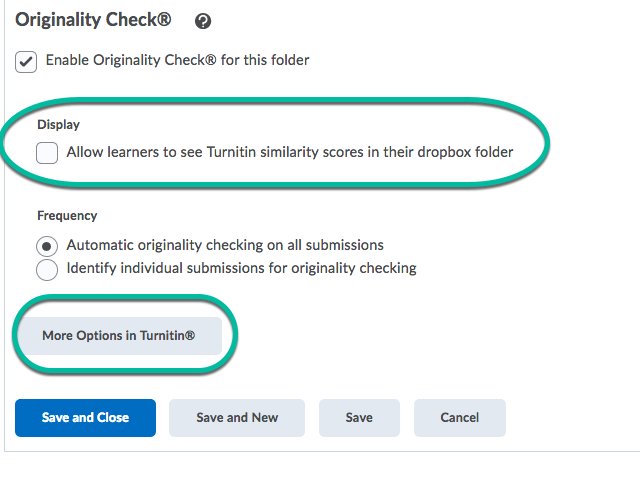 To view the originality reports, click on the Dropbox folder title, and click on the colored box that is located beside the originality report score to open the TurnItIn report.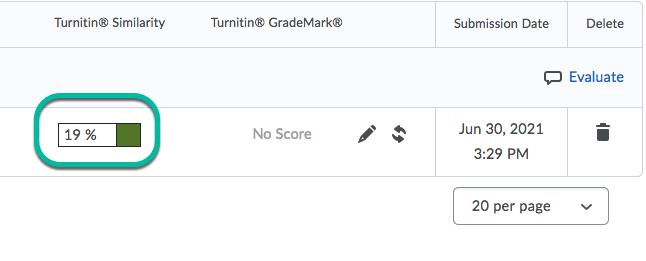 ---
What is TurnItIn's Feedback Studio?
In addition to plagiarism detection, Turnitin has five ways to give your students precise feedback on their assignments.
Click anywhere and add expandable inline comments.
Save and reuse frequent feedback as "QuickMark" comments that you drag and drop onto students' assignments.
Type notes anywhere on a page of a student's submission.
Record voice comments.
Grade with rubrics, also called "Scorecards."
How to Use Feedback Studio
---
How do students access TurnItIn's feedback?
If you use Turnitin to grade or give feedback, students will be able to view your feedback through their Dropbox submission. First, though, you have must allow students access to the feedback.
Give Students Access to Turnitin Results
Under "Assessment," choose "Dropbox."
In the list of dropbox folders, click the downward arrow to the right of the name of the folder and choose "Edit Folder."
On the "Edit Folder" page, scroll to the bottom and click "Show Advanced Originality Checking Options," if that section is not already expanded.
Check the box to "Allow submitters to see Originality Reports," then "Save."
How Students Find the Feedback
Here is what students must do.
Under "Assessment," choose "Dropbox."
To view an assignment's Turnitin feedback, click the number in the assignment's "Submissions" column. It's usually a "1". That will take you to your "Submission History" for that assignment.

On the "Submission History" page, in the "Turnitin® Similarity" column, you will see a box with a percentage and a color swatch. Click the color swatch.

That will take you into Turnitin, which will offer a short tutorial the first time you go there.
You may need to click the "Wordmark" tab at the top to see the instructor's detailed feedback.
More Information for Students
---
Can I use Turnitin outside of Pilot?
While you can use Turnitin outside of a Pilot course, it requires a number of additional steps. For further information about using Turnitin outside of Pilot, please contact the CaTS Help Desk at 937-775-4827 or helpdesk@wright.edu.