Communication Tools in Pilot
Communication Tools in Pilot provide digital spaces for faculty and students to interact with each other. These tools include discussion boards, email, groups, and online video conferencing platforms.
About Discussion Tool
The Discussions tool is a collaboration area to post, read and reply to threads on different topics, share thoughts about course materials, ask questions, share files, or work with your peers on assignments and homework. See the following link for D2L Brightspace's YouTube videos on the discussion tool: YouTube Playlist page for Discussions
 
---
How do I create forums and topics?
In Pilot, every discussion has to have at least two parts: a Forum and a Topic. A forum is like a folder. A topic is what goes inside the forum. Topics are where discussions actually take place. If you don't have topics, you won't have discussions. Every topic has to be in a forum. A forum can have as many topics as you want, but must have at least one.
Create a Forum
To get started, click "Communication" on your course navigation bar, then click "Discussions."
Click the blue "New" button and choose "New Forum."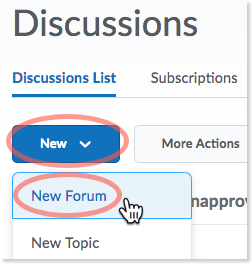 On the "New Forum" page, add a title for your forum. A "Description" is optional, but can be a good place to include instructions for discussions.
Create Topics
A forum is useless without a topic. Topics in Pilot are where discussions take place and each topic must be in a forum. You can put as many topics in a forum as you like.
To create a new topic, go to your Discussions page and click the blue New button. Select New Topic.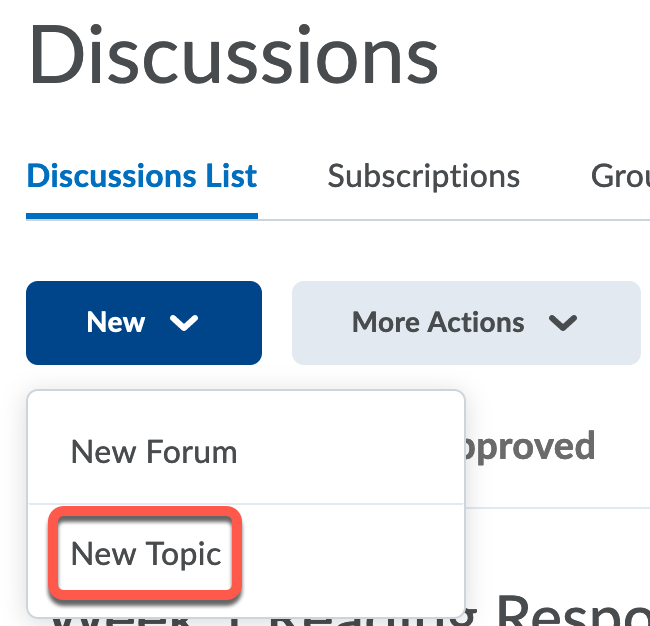 Select the Forum you want to place your topic in from the drop-down list. Click New Forum if you want to create a new forum for your topic. Enter a Title and Description for your topic, the topic type, and then select from the following options:
If you want to enable anonymous posting to the topic, select the Allow anonymous posts check box (Note: You cannot evaluate anonymous posts.)
Select the A moderator must approve individual posts before they display in the forum check box to require moderators approve posts before they appear in the topic.
Select the Users must start a thread before they can read and reply to other threads check box if you want users to start a thread before they can read and respond to other threads in the topic.
Next, go to the restrictions tab and select a Visibility option for your topic. Note: If your topic is visible for a specific date range, select the Has Start Date and Has End Date check boxes to set your availability. You can also have dates Display in Calendar. Make sure you Save your changes.
---
What are Locking Options? Is that different from Availability?
Availability vs Locking Options
Further down the page when you're creating a forum, you'll find two sections that determine students' access to the forum—and all the topics in it:
Availability lets you set a period of time during which students can see the forum. Outside that range, the forum disappears to them. You will still see it, but your students won't. You can also hide the forum and make it visible manually. You don't have to choose a date range.
Locking Options let you prevent students from making new posts or editing existing posts. They can still see a locked forum and read everything there. But they can't change anything.
---
How do I use release conditions for my discussions?
For forums and topics, the Restrictions tab lets you customize availability based on Release Conditions, such as whether the student has viewed a specific content topic, posted in a particular topic, etc.
From the restrictions tab, scroll down to release conditions and click on the gray button labeled Create and Attach. This will prompt you to select the Condition Type and complete the Condition Details. Click Create.
Once release conditions have been created, they will appear under the release condition section of the restriction tab. You can have more than one release condition, and can decide whether students must meet ALL or ANY of the conditions before being granted access to the discussion board. Make sure you Save any changes.

---
How do I participate in a discussion?
Create a thread in Discussions
Click on the topic where you want to post and click Start a New Thread. Enter a Subject and type your post. After you've typed your post, you can also select the following options:
Selecting Pin thread keeps the thread at the top of the list.
Select Post as Anonymous to post anonymously (this is only available if the discussion board settings allow anonymous posts)
Select Subscribe to this thread to receive updates on the thread via your selected notification method.
Pilot provides options to Add attachments from your computer files or record a response. The discussion tool also allows you to post to several topics at once. To post to other topics, click Post to Other Topics and then Add Topics. Here, you'll select the topics you would like your thread to appear in. To post in every topic simultaneously, select the Select All check box, then click Add Topics. When you're finished, click Post.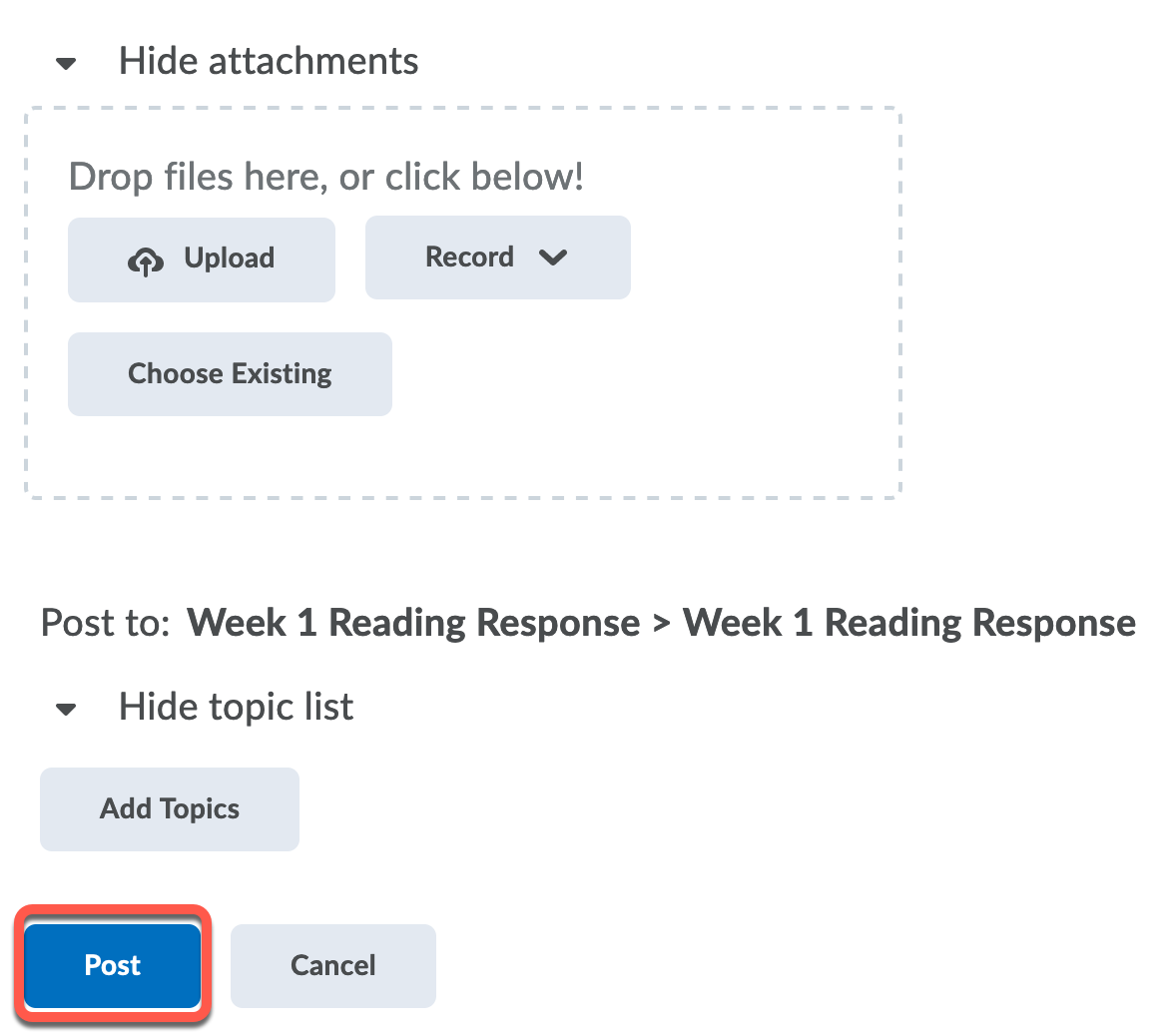 If the topic is moderated, your post will not appear until a moderator approves it. Moderated topics will display Moderated beside the topic name in Discussions List. Inside the topic, all threads track how many Unapproved replies each thread contains. Inside the thread, any posts requiring approval display Approve Post in the subject header.
Reply to a thread in Discussions
Locate the thread you want to reply to and click on the title of the post. Select the blue button labeled Reply to Thread.

Enter your reply in the HTML Editor. To include the original post's text in your reply, click the Add original post text link. Set any other options you want including:
Select Post as Anonymous to post anonymously.
Select Subscribe to this thread to receive updates to the thread via your selected notification method.
Select Add attachments and click on Upload or Choose Existing  to locate the file(s) you want to attach, or, if you are using a supported browser, drag and drop your files onto the attachments upload target. You can attach as many files as you want or record a response. When finished, click Post.
---
Can I grade student discussions?
---
What if I want a discussion board available for a specific group of students?
From within the discussion forum or topic, go to the restrictions tab and scroll down to Group and Section Restrictions. Under "Group and Section Restrictions," you can limit access to a forum to only the students in a group or section. This is especially helpful when you want students to do activities in small break-out groups.
There is also an easy way to create topics for groups. At the time that you create the groups for your course, have Pilot also create discussion items for the groups. See the video below for more information.
---
How can I see the statistics for a discussion topic?
To review statistics for discussions based on users, groups, or topics, go to your Discussion List and click on the Statistics tab. 

From this page, you can view the number of posts a student has written, replied to, and read. You can also filter the stats by groups or by the forums and topics. To print, click on the gray button labeled "Export to CSV File" in the upper left corner of the page.
---
Can I export all discussion posts for a topic?
Exporting All Posts in a Topic
Follow the procedure below for each Discussion topic from which you want the posts exported.
Go to the Discussions tool. Click on Settings near the upper-right corner

Select Grid View under "Personal Settings" if not already set.

Next, select a topic within a forum and change the view to "All Posts" (press the Apply button).

Change the number of posts viewed at a time to the highest possible option; typically, this is 50. If there are more posts than the number viewed at a time, you will have to repeat this procedure for each page to include all posts.
Select the 'Select all rows' box just above the message headings and select the "Print" icon.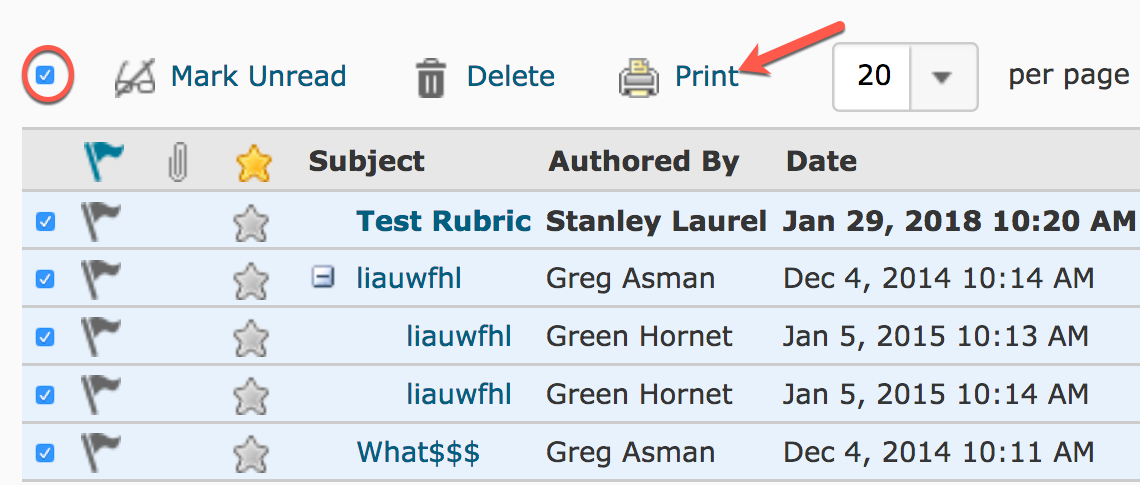 This brings up a scrolling "Printable View" window containing the posts.  Select "PDF" to save as a .pdf file and press the Print button.