About Research Toolkit
The University Libraries provides a series of modules you can add to your course to help students do better research by focusing on the foundational skills and abilities of information literacy. Two are available as .zip files that can be downloaded from a Libraries web page. Four Research Toolkit workshops have been adapted into Qualtrics Learning Modules. Each workshop is delivered through a series of short instructional videos that students can access through the Qualtrics survey link . At the end of each section of the workshop, students are prompted to complete a multiple-choice quiz that assesses their comprehension and ability to apply the knowledge presented in the section. If you would like to embed the updated workshops into your Pilot course(s), follow these Steps for Adding University Libraries Research Toolkit Qualtrics Link into a Pilot Course. Faculty who integrate a workshop into their course material and are assigning the workshop(s) for credit can email library-rtworkshops@wright.edu for a summary of class results.
Download modules from "Research Toolkit: For Instructor Use"
Some computers will automatically unzip a zip file when you download it. If you end up with both a .zip file and a folder by the same name, ditch the folder. It's the .zip file that you want to import.
 
---
How do I add a Research Toolkit module to my course?
Click "Content" on the navbar, then click "Table of Contents" on the left.
In the right column, click the "Import Course" button just below the "Table of Contents" heading.
Choose "Import Course Package."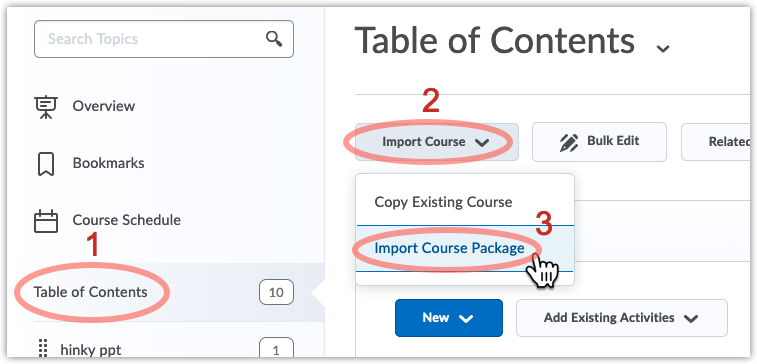 On the next screen, upload the zip file you downloaded from the Libraries site, then click "Import All Components."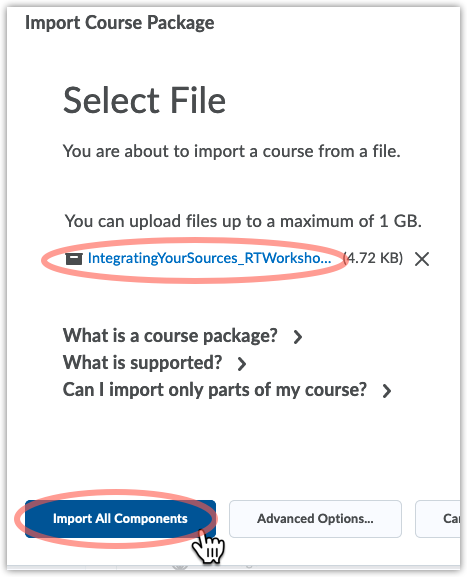 You will then see a progress page. When all three steps have green circles with check marks in them, you have imported the module.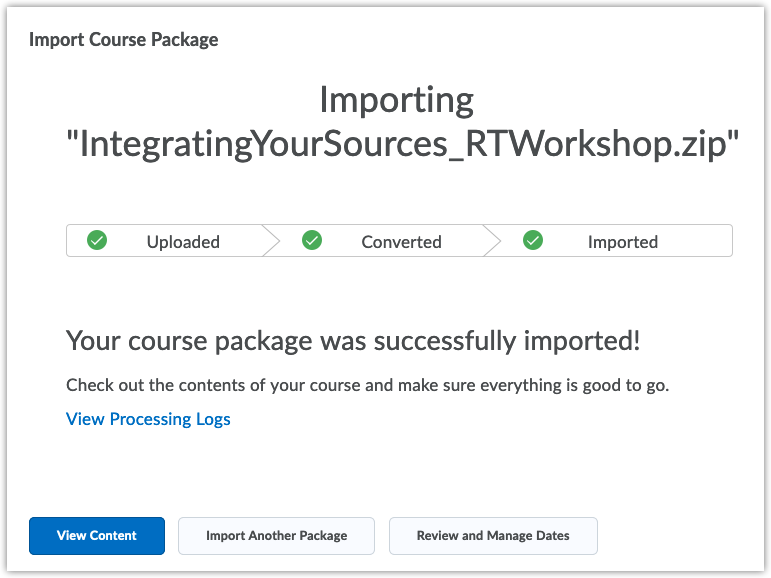 Click "View Content" to go back to Content in your course. The imported module will be at the bottom of your Content modules. Click the double dots icon to drag the module to a different place in your table of contents.
---
How do I set up the Research Toolkit quiz?
Set up the quiz
Among the contents of your new module is a review quiz. Click that link and you can set a lot of quiz options right there in Content. Click "Add dates and restrictions," for example, and you can add a Start Date, Due Date, and End Date for the quiz.
You'll want to click the "Quiz Setup" button if you need more in-depth settings, though. That way, you'll edit the quiz in the quiz tool. There you can associate a grade item, assign special access, set submission views, etc.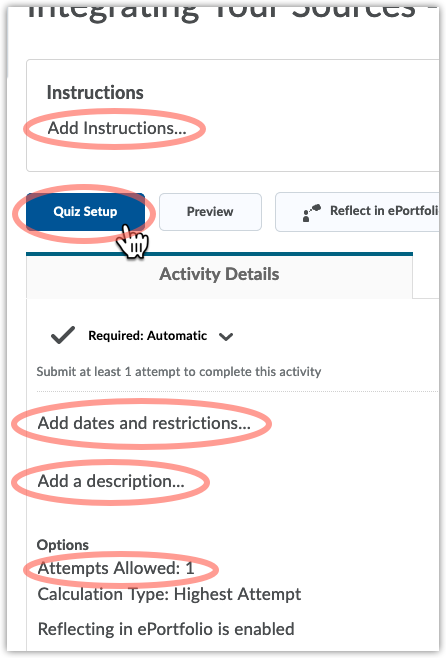 Import only some items from the module
If you want, you can choose what you import from the zip file, rather than load the whole module into your course. If that is your preference, then after you upload your .zip file, click the "Advanced Options" button.