Faculty Guide: Introduction and Frequently Asked Questions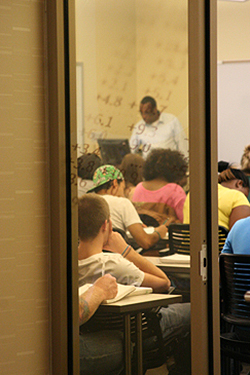 Welcome and thank you for your commitment to students with disabilities! The purpose of this page is to acquaint faculty members with ODS procedures and best practices for the accommodation and inclusion of Wright State students with disabilities. The most crucial take-away of this training is to help faculty and staff understand their roles and responsibilities for facilitating accommodation(s) and access. It is also our hope to share some information about The Office of Disability Services (ODS) and the partnerships we hope to foster between faculty and ODS.
Introduction to Accommodations
Wright State University is committed to providing equal access to University programs and facilities for students, employees and visitors who self-identify with a qualified disability. In accordance with The ADA Amendments Act of 2008 (ADAAA) and Section 504/508 of the Rehabilitation Act of 1973, the University provides reasonable academic adjustments (accommodations) in order to minimize or eliminate the impact of a disability by allowing equal access and opportunity to participate in University programs.
The provision of academic accommodations is a shared responsibility between students, faculty, and disability services staff. Reasonable accommodations serve many functions, including:
To provide access to course content and academic opportunities by mitigating the impact of the disability
To allow students with disabilities to be evaluated on the basis of their ability (not their disability), and
To maintain the integrity of the faculty's academic content.
Frequently Asked Questions
What happens if I am approved for a face covering exemption/alternative?

Students who have been approved will receive an accommodation letter that they are encouraged to print and keep on their person while on campus. Additionally, the student's faculty, student conduct office, and student housing (if applicable) will also be notified once a student is approved for a mask/face covering exemption/alternative.

If I am a person with a disability, how do I get an exemption/alternative to the face covering policy?

The Office of Disability Services will work with each request on a case by case basis. Individuals seeking a face covering exemption/alternative will need to provide documentation from a licensed medical provider that substantiates the impact of the disability on the individual's ability to safely wear a face covering. Accommodations/adjustments to the face covering policy may include using a university-approved face shield or, when a face shield is not possible, the option to take courses remotely.   

Please contact mask-ada@wright.edu for additional information on how to request a face covering exemption/alternative.

Is there a reason a person might not be able to wear a face mask?

The CDC states that a person who has trouble breathing, is unconscious, incapacitated, or otherwise unable to remove the face mask without assistance should not wear a face mask or cloth face covering.[6]

Examples of a person with a disability who might not be able to wear a face mask:

Individuals with respiratory disabilities such as asthma, chronic obstructive pulmonary disease (COPD), or cystic fibrosis may not be able to wear a face mask because of difficulty in or impaired breathing. People with respiratory disabilities should consult their own medical professional for advice about using face masks. The CDC also states that anyone who has trouble breathing should not wear a face mask.[7]
People with post-traumatic stress disorder (PTSD), severe anxiety, or claustrophobia (an abnormal fear of being in enclosed or narrow places).[8] may feel afraid or terrified when wearing a face mask. These individuals may not be able to stay calm or function when wearing a face mask.
Some people with autism are sensitive to touch and texture. [9] Covering the nose and mouth with fabric can cause sensory overload, feelings of panic, and extreme anxiety.
A person who has cerebral palsy may have difficulty moving the small muscles in the hands, wrists, or fingers. Due to their limited mobility,  they may not be able to tie the strings or put the elastic loops of a face mask over the ears. This means that the individual may not be able to put on or remove a face mask without assistance.

How do I give students their accommodations for online quizzes/exams in Pilot?

Tests given via Pilot with time limits will need to have the time limit adjusted according to the Access Plan emailed to you earlier in the semester. Instructions on adjusting time limits for individual users: CTL Instructions for Individual Time Extensions

Extra Time - 1.50x - 50% Additional Time: The student is eligible for 50% additional time of what is allowed for the test. For example, if the class is allotted 60 minutes, the student with this accommodation should be allotted 90 minutes.
Extra Time - 2.00x - 100% Additional Time: The student is eligible for 100% additional time of what is allowed for the test. For example, if the class is allotted 60 minutes, the student with this accommodation should be allotted 120 minutes.
Extra Time - 3.00x - 200% Additional Time: The student is eligible for 200% additional time of what is allowed for the test. For example, if the class is allotted 60 minutes, the student with this accommodation should be allotted 180 minutes.
Extra Time - Stop Time (Breaks) - To account for this need, please add 50% additional time of what is allowed for the test. For example, the class is allotted 60 minutes, the student with this accommodation should be allotted 90 minutes. (In the ODS Test Proctoring Center environment we stop the clock as needed for students with this accommodation.)
Bathroom Breaks - Video monitoring in Respondus may find that the student leaves the screen during the test.

RESPONDUS Lockdown Browser

Text-to-speech/Read&Write Gold software utilized for print related accommodations is not compatible with Respondus. Please remove the lockdown browser requirement, concerns can be addressed with Sheri Penwell, our Test Proctoring Coordinator.  

If you do not use time limits or Respondus for your Pilot tests, you will not need to make any changes for your students with disabilities.

You can utilize our Faculty Portal to review a full list of students who have requested accommodations for your classes and view their accommodation letters.

If you have follow-up questions, please let us know: Disability_services@wright.edu or 937-775-5680.

How will exam accommodations work? Will ODS proctor online exams?

Extended time on exams as an accommodation generally only applies to traditional, time-limited exams. If you decide to offer alternative means of assessment (e.g. essays, non-timed exams, project work), then a student's extended time may no longer be applicable.

ODS will not be proctoring exams while the University's remote instruction remains in place.  All exams should be administered online or through other remote assessment methods by faculty. Instructors are responsible for setting up extended testing time in Pilot.

Please communicate with your students to discuss their exam accommodations in your courses. ODS is available to instructors and students to consult.

As I am adapting my course materials for virtual instruction, what should I be considering with regards to disability access? How do I best support my students?

We acknowledge the significant effort required to quickly adapt your courses to online instruction. We want to collaborate with you to ensure that access for students with disabilities is maintained through this transition. Some students may encounter disability-related barriers with online instruction or assessment (e.g. students who use assistive technology, students with medical limitations on screen usage). ODS staff are available for consultation regarding best practices and accessibility. (937-775-5680; disability_services@wright.edu)

If you have students in your course who are utilizing closed-captions, ASL Interpreters, or C-Print captioning, please notify Shonda Jones to discuss implementing accommodations for your remote instruction method. ODS, Interpreters of the Deaf, and the the Center for Teaching and Learning teams wish to proactively work with instructors of Deaf/Hard of Hearing students to ensure captioning for prerecorded videos and/or arranging interpreting/transcribing services for real-time class meetings via Pilot, WebEx, etc. The Technology Center is available to work proactively with instructors of blind students to discuss accessibility strategies for course lectures, documents, activities, etc.

Below are some tips to keep in mind as you are creating virtual course content (adapted from DO-IT):

Use clear, consistent layouts and organization schemes for presenting content, and make instructions and expectations clear for activities, projects, and assigned reading.
Offer outlines, scaffolding tools, and adequate opportunities for practice to help students learn.
When selecting new materials, try to find videos that are already captioned, and articles that are available in a text-searchable format (meaning you can highlight and search the text within the document).
Images can be made accessible to blind and low-vision students by providing captions or inserting alt text into the image. Use large, bold fonts on uncluttered pages with plain backgrounds and color combinations that are high contrast.
Provide flexibility and understanding as this experience may cause disruption to the student's home life and available resources – which may negatively impact a student's disability symptoms.

With the switch to all-remote instruction, I anticipate barriers and would like to request new accommodations. What are my next steps?

If you are not currently registered with ODS, please follow the steps outlined on the ODS registration process.

If you are a ODS-registered student, please use AIM to request any accommodations you need or contact your Case Manager to address concerns.

Does this affect Course Attendance Agreements (CAA)?

Completed CAAs will be honored, though reasonable modifications to the structure of the agreements may be needed with the shift to online instruction. Please contact your instructors to discuss any additional barriers presented by changes to the course format. Let your Case Manager know if you need any assistance right away.

I currently have a volunteer note-taker assigned in my in-person class. Now that class is online, will I still receive a copy of the notes?

Once you have learned from your instructor on how they will adapt the course for virtual instruction, please let Shonda Jones know if you would like to continue receiving notes.

You may find that you no longer need a note-taker due to the course design changes. For example, lectures that are prerecorded videos can be watched at your own pace. On the other hand, some instructors may still opt for scheduled class meetings with real-time communication using Pilot.

Regardless of your decision to continue receiving notes, all established note-takers will receive compensation for their notes.

What happens now that exams are online? How do I get extended time for an online exam?

ODS will not be proctoring exams while the University's instruction method remains remote only. Please communicate with your instructors to discuss your exam accommodations in their courses.

Some instructors may opt for alternative assessments (e.g. essays, untimed exams) which would not require exam accommodations.
If your instructor is creating online timed exams, please notify your instructor if you will need extended time. Instructors are responsible for setting up extended testing time in Pilot.

ODS is available to instructors and students to consult about unique circumstances.

Is Paratransit still operational?

Paratransit is suspended for the remainder of spring and semesters.

Is the Office of Disability Services (ODS) open?

Yes, ODS is still operating remotely Monday – Friday, 8:30 a.m.–5 p.m. All walk-ins and student appointments will be conducted via phone or Webex until further notice. The Test Proctoring Center will not be proctoring exams while remote instruction is in place. The PA Station has adjusted operations for Spring 2021.  

If you have a question or concern, please either call the office (937-775-5680) or email ODS.

How Are Accommodations Facilitated?

The implementation of academic accommodations is a shared responsibility between the student and the course instructor. ODS is available to advise faculty on making appropriate accommodations that maintain their course's academic objectives.

Students registered with ODS are advised to contact their instructors regarding their approved accommodations, either before classes start for the semester, or as soon as the student becomes eligible for services. In some circumstances, it may be permissible for the professor to contact the student prior to the first class session or prior to the student personally broaching the topic of accommodations. Remember to conduct any conversation regarding accommodations in a private, confidential manner.

When communicating with the student, an agreement should be made outlining how the requested accommodations will be provided during the course, within the specific framework of your course. Faculty should contact ODS if they have any questions about providing any approved accommodations, or if students request accommodations that are not listed on their accommodation notification email from ODS.

How Will I be Notified of a Student's Request for Accommodation?

Once their academic accommodations are approved, students must request their accommodations via their account in the ODS accommodations portal, AIM.  Upon submission of the AIM request, a notification is sent to each of the students' instructors, listing their approved accommodation(s) for each course. The notification is usually generated automatically from the AIM portal, directly to the course instructor's University email address.

Instructors may also receive messages from ODS staff members, especially if there are accommodation instructions that are very specific to a particular student. ODS may also contact faculty in order to understand course requirements while trying to determine appropriate accommodations for a student who is registered with ODS. The student and faculty member should have a private conversation to discuss how the accommodation(s) will be provided in the course.

ODS is always available to consult with faculty about student accommodations. Feel free to contact ODS at any time if you have questions about accommodations, procedures, referrals to ODS.

Who Do I Contact for Guidance?

Each student's needs are unique, and specific situations may necessitate further discussion between faculty and ODS in order to appropriately and effectively accommodate each student. If you have questions or concerns about accommodating a student who is registered with our office, please contact their case manager:

| Caseload | Staff | Email |
| --- | --- | --- |
| A-C, F, G, T-Z | Angela Masten | angela.masten@wright.edu |
| D, E, N, O, P, S | Heather Rando | heather.rando@wright.edu |
| H-M, Q, R | Katherine Myers | katherine.myers@wright.edu |

What Are My Responsibilities as an Instructor?

Our partnerships with faculty are essential in providing access and engaging all students in University activities and educational programs. ODS can be a helpful resource for you to ensure that your courses are accessible to all students. You may also work with the Center for Teaching and Learning while developing content. Please refer to the ODS website for the most updated information, and feel free to consult with an ODS staff member at any time if you have questions, ideas, clarification, or need more information.

How Do Students Register with ODS?

Any student who discloses a disability and/or requests accommodation from the University should be directed to ODS. Once the student initiates the registration process with ODS, a case manager communicates with each student about the documentation needed in order to substantiate a disability.  An ODS case manager reviews the submitted documentation and determines the student's individual eligibility for reasonable accommodation of the disability. To complete the registration process, the student must attend an College Accommodation Plan (CAP) meeting with an ODS case manager to discuss/establish their approved accommodation(s), learn the process for implementing the accommodation(s) and to learn about the responsibilities involved in using accommodations in college. Referrals to other helpful campus resources will often be made, as well (tutoring, etc.)

To receive accommodations, students must complete a confidential registration process (separate from admissions):

Complete the online application
Submit professional documentation of disability, and
Attend a College Accommodation Planning meeting
Implementation of certain services may require additional action or coordination.

Each student is provided with a letter that summarizes all of the accommodations and referrals discussed in the CAP meeting with ODS.

Who Registers with ODS?

ODS serves more than 750 students with disabilities, including:

ADD/ADHD
Autism Spectrum Disorder
Blindness and Low Vision
Deaf and Hard of Hearing
Health Conditions
Learning Disabilities
Mental Health Disabilities
Mobility Impairment
Temporary Disabilities
Traumatic Brain Injury

ODS By the Numbers

761 registered students
382 have more than one disability
12% have a visible disability
88% have an invisible disability

Why Do Students Establish Accommodations?

Reasonable accommodations are determined on the basis of each specific disability and the ways each disability impacts the student (some sort of functional limitation). Accommodations may be adjusted in consideration of specific course requirements, as well. In these cases, collaboration between the student, faculty and ODS is ideal, if not necessary.

The needs among students with a disability vary greatly, sometimes even amongst those with the same type of condition or diagnosis. Therefore, accommodations are individualized on a case-by-case basis and are generally determined through an interactive narrative process with the student.

Once the student is eligible for reasonable accommodation(s), they must request specific accommodations for each semester. When a student request accommodations for specific courses, the student's course instructors are notified of the approved accommodation(s) via email.

When students express intention to use the approved accommodations in a course, they are encouraged to discuss their needs with their instructors. During this discussion, an agreement should be reached regarding specifics of how the student's accommodations will be provided in your specific course.