Supplemental Instruction Faculty Resources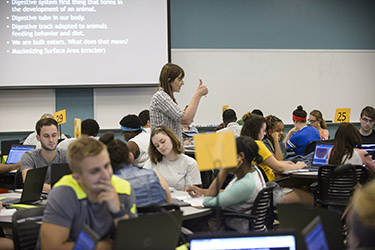 On this page:
What is Supplemental Instruction?
SI is:
A facilitated group review session offered in addition to and outside of the lecture or class
Active review sessions in which students compare notes, discuss readings, develop organizational tools, and predict test items
Peer-assisted
Led by SI leaders
Open to all students
Free of charge
SI is not:
A Q&A session
Extended review sessions for "last minute" help
A session to take the place of class
Tutoring
Re-lecturing
Purpose
To increase retention within targeted historically difficult courses
To improve student grades in targeted historically difficult courses
To increase the graduation rates of students
Goals of SI
Improve learning
Improve student performance
Increase continued enrollment/retention
Benefits to Faculty Members
Feedback regarding class comprehension
More academically prepared students
Higher student satisfaction and faculty evaluation
Effectiveness
Studies show that students who attend supplemental instruction sessions earn statistically significantly higher final course grades than those students who do not attend-even among students who have lower incoming SAT or ACT scores (Congos and Schoeps, 1993, Congos, Langsam, and Schoeps, 1997). 
---
History of SI
Supplemental instruction was developed at the University of Missouri-Kansas City (UMKC) in 1973. It was developed to address high failure rates among minorities in medical school at UMKC. The program quickly spread to UMKC's health and professional schools as a result of initial success. By 1981, the U.S. Department of Education had named SI an Exemplary Education Program. Very few post-secondary programs hold such a distinction. Today, more than 1,800 institutions in the U.S. and 27 countries have implemented SI on their campuses.
---
Who Leads Supplemental Instruction? SI leaders
Before sending recommendations, please make sure students have:
Demonstrated academic success
Received a recommendation from the faculty member assigned to the corresponding course
Earned a grade of A or B in the corresponding course
Earned a 2.8 or higher cumulative GPA
The ability to communicate effectively
An interest in helping others
What You Can Share With Students
Responsibilities
Attend training at beginning and mid-semester
Attend all lectures (possibly rotating classes that have multiple sections and professors)
Find two common times students can meet for sessions during the first week of classes. Report the results to the SI Coordinator so they can find rooms for the sessions
Start SI sessions by the second week of classes (no sessions during finals week)
Obtain class email lists from corresponding course instructors so they can send out a welcome email to students and regularly remind them of SI sessions
Take attendance for every SI session
Complete a Planning the Session sheet for session guidance and preparation
Meet with the course instructor regularly and maintain communication with the SI Coordinator
Pay Breakdown
SI leaders are paid $12.00 per hour for the following:
2-3 hours per week sitting in on class
2 hours per week for your SI sessions
3 hours per week for session prep
Total: 8 hours per week (additional hours must be approved by SI Coordinator)
After Starting, You Can …
Help Promote SI Sessions

Class Announcement
Since SI attendance is voluntary, it's important to let the SI leader speak for a few minutes at the beginning of your first or second lecture of the semester to promote the SI sessions
Endorsement
Include SI information in your syllabus and endorse the session at the beginning and throughout the semester by displaying a PowerPoint slide with session times prior to class. Provide the SI leader a few minutes at the beginning of class to make weekly announcements (optional).

Meet With SI Leader
Meet with your SI leader bi-weekly or at least once per week to discuss what took place in the session and share ideas about how to present difficult subject matter.
---
How to Sign Up for Academic Support Services