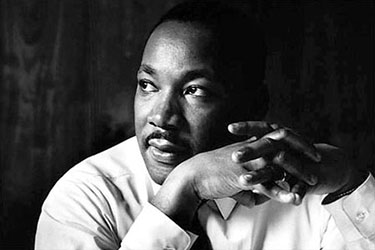 Wright State University's Bolinga Cultural Center provides a variety of special programs, activities, and student services that celebrate diverse African cultural identities while fostering lasting friendships among all people.
The Bolinga Black Cultural Resources Center (BBCRC) opened on January 15, 1971, as a tribute to the memory of Dr. Martin Luther King, Jr. The word Bolinga means love in Lingala, an African language. The center's focus is to serve Wright State University's community through a series of programs intended to attract, educate, and share with all in a spirit of unity, harmony, and love. The center functions to address a broad spectrum of academic, cultural, and personal concerns of Wright State's Black student population.
The center, in conjunction with WSU departments, organizations or community groups, hosts visiting minority scholars and professionals from various segments of the Miami Valley community for lectures and presentations. The Video Series sponsors documentary and culturally-beneficial films/videos. Additionally, the center subscribes to newspapers, magazines and other forms of literature and information reflecting African American culture and interests.
Center History
When the Bolinga Black Cultural Resources Center was founded on Dr. Martin Luther King, Jr.'s birthday, January 15, 1971, its stated purposes were:
to promote an understanding of the culture and heritage of Black Americans;
to make easily accessible, by housing in one central location, variety of resource materials on the black experience;
to encourage research about black people and aid in the resolution of problems that have resulted from racial discrimination and prejudice; and
to work for the advancement of the black creative arts.
Vision
The vision of the Bolinga Black Cultural Resources Center is to be a premier organization that contributes to the success of every individual we encounter in gaining a deeper awareness and appreciation of African American history and culture by providing excellent programs, services and experiences.
Mission
The mission of Bolinga Black Cultural Resources Center is two-fold. First, we support, advocate for, and empower students of the African Diaspora in receiving excellent academic, personal, financial, and social experiences at WSU.  Second, we are an important source in assisting faculty, staff and members of the surrounding community develop structures and strategies to promote and highlight African American history and culture.
Staff
Department:
Chief Diversity Office
Title:
Assistant Director, Bolinga Black Cultural Resources Center
Address:
Millett Hall 142, 3640 Colonel Glenn Hwy, Dayton, OH 45435-0001