On this page:
Affinity Networks
Our affinity networks are an opportunity for students to come together around a shared identity or interest they hold and provide an affirming space for individuals to discuss their needs, challenges, and successes. These networks are free and open to all Wright State University undergraduate and graduate students. Groups meet on campus and are peer– and staff–facilitated. If you are looking for confidential support provided by Counseling and Wellness Services staff, visit the Counseling and Wellness Services website to learn more about the Safe Haven group.
TAIGA Network
Facilitators: Renaissance Craver and Shanna Meek
Meets every Friday from 5 to 6:30 p.m. in the Medical Sciences building.
Transgender, Agender, Intersex, Genderqueer, and Allies (TAIGA) provides both social and support for people of diverse gender identities and/or expressions. We are a space for transgender, gender-queer, intersex, and agender friends and their allies to connect in an open, tolerant environment. We strive to create an atmosphere of confidentiality and friendship where we can express ourselves and connect with others. TAIGA meets every Friday at 5 pm during the academic year. Please contact the facilitators for the room location and number.
Queer People of Color (QPOC) Network
Facilitators: Meme Augustine and Airelle Mcqueen
Meets every Thursday from 6:30 to 8 p.m. in the Medical Sciences building.
QPOC is mean to be a safe sapce for people who self-identify as queer people of color. Join us to find community, support, and empowermen. For location information, contact the facilitators.
Bisexual, Pansexual, Ally, Queer (BPAQ) Network
Facilitator: Mariah Paynter 
Meets every Tuesday from 6:30 to 8 p.m. in the Medical Sciences building. 
BPAQ seeks to provide a supportive space for people who identify as bisexual, pansexual, and/or queer to discuss their experiences navigating both queer and heteronormative spaces. For more information and room location, please contact the facilitator.
COMING OUT and Questioning NETWORK
Facilitated By: Petey Peterson and Emily Yantis-Houser
Meets every Wednesday from 5 to 6:15 p.m. in the LGBTQA Community Engagement Room.
---
LGBTQ and Ally Alumni Society
The LGBTQ and Ally Alumni Society exists to provide assistance and support for the continuing success of Wright State University's LGBTQ and Ally students, faculty, staff, and alumni through diverse activities and services, and enriched camaraderie for its members. We help assist, recruit, and retain LGBTQ and Ally students, faculty and administration and act as an advisory organization to the LGBTQA Center.
---
Student Organizations
Boonshoft Pride
Boonshoft Pride provides a safe, supportive, and inclusive environment for lesbian, gay, bisexual, transgender, questioning, and ally people by promoting awareness and establishing an identifiable network of allies. We aim to extend our medical education to encompass health-related LGBT issues through talks, panels, and community outreach.
Rainbow Alliance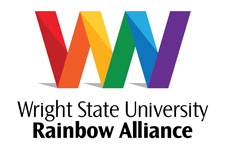 Rainbow Alliance supports, educates, and provides outreach and advocacy to the lesbian, gay, bisexual, transgender, and queer community and their heterosexual allies. We work to provide education and programming towards a better understanding of the LGBTQA+ community and work with other organizations to obtain this goal.  We provide a safe and healthy atmosphere that nurtures personal growth and we create a mutual support network that encourages respect and trust among all members of the organization. We will maintain absolute confidentiality on the basis of a member's sexual orientation. No outing of other members is tolerated.  Rainbow Alliance meets every Wednesday during the Fall and Spring semester from 7:30-9pm.
Out in Science, Technology, Engineering, and Mathematics (oSTEM)
oSTEM is a non-profit professional society that focuses on LGBTQA+ people in the STEM community. We empower LGBTQA+ people in STEM to succeed personally, academically, and professionally by cultivating environments and communities that nurture innovation, leadership, and advocacy. If you are a faculty member, chair, or dean who would like to be included on our lsit of allied campus members, please contact the LGBTQA Center.
---
Faculty and Staff Organization
Allies: Organization for Lesbian, Gay, Bisexual, Transgender, Questioning, and Ally (LGBTQA) Faculty and Staff
Mission
We affirm the full humanity and dignity of every human being, regardless of their sexual orientation or gender identity/expression. We create and maintain an open and supportive environment for LGBTQA faculty and staff by providing educational programs, opportunities for social interaction and advocacy.
Meetings
We are an informal group and open to all Wright State University faculty, staff, and retirees. We partner with community organizations and agencies and welcome representatives to our meetings. We encourage members to participate when they are available to do so and at a level they feel comfortable. Individuals are welcome to join us or rejoin us at any time.
Organization Leadership
Chair: Dawn Wooley, Ph.D., Neuroscience Cell Biology & Physiology
Advocacy Chair: Vacant
Secretary: Becca Webb
Allies Listserv
The Allies listserv was established about 15 years ago as a way for LGBTQA faculty and staff and LGBTQA friendly faculty and staff to communicate. A few years ago, the listserv was expanded to include partners of Wright State employees, alumni, and even adult children of Wright State employees. Anyone who is on the list can send an email to the list by posting it to allies@wright.edu. However, if you are not on the list you cannot send a message to the list. The names of the members of the list do not appear on emails. When you post to the list, your name does appear as the sender of the message. There are about 100 people currently on the list. At this point, the focus of the list is on issues of interest to this community. Members often forward links, but the list is also there for discussion. Otherwise, it is our group and our list. Feel free to initiate gatherings or projects. To join the Allies listserv, contact lgbtqa@wright.edu.