Chapter 1: Introduction to Banner Finance
On this page:
What is Banner?
Banner is ERP software from the Ellucian vendor used by hundreds of universities, including many in the State of Ohio.
WSU finance went live July 2005 (fiscal year 2006). Before Banner, Finance used the FAS system, which could also be accessed via FDS (Financial Desktop Services) application.
Banner was implemented out-of-the-box with some CaTS extensions & a few critical modifications, "french-vanilla" implementation. Upgrades occur periodically and are noted in the What's New section of the wiki.
Approximately 900 Finance users at WSU.
Other Banner modules feed data into Banner Finance: HR/Payroll, Student, Advancement, Sponsored Programs, Budget.
Other applications feed into Banner such as WrightBuy.
Banner is a real-time system! Posting and approvals for typical transactions run every few minutes. Some systems feed daily or monthly (e.g., Payroll posts at the end of a pay period).
Finance module information is used for WSU management/operations as well as external reporting.
 
---

WINGS Express Finance Menu Links
In WINGS Express, the Finance tab includes the menu below. Our Finance menu changed to 1-page, instead of 2-pages, 3/24/16.
Documents
Approve/Disapprove Documents Primarily used to approve/disapprove Journal Vouchers. See Chapter 4.
Create Expense or Budget Transfer Create an expense transfer or budget transfer Journal Voucher. See Chapter 4.
View Document View Banner finance documents(e.g., journal vouchers, invoices, purchase orders, etc.) See Chapter 3.
WrightBuy Services WSU's electronic procurement "WrightBuy" system to create, view or approve a purchase requisition.
Queries and Reports
FOAPAL Codes
Misc. Services
Delete Finance Template Delete any finance templates you created that you no longer need. See Chapter 10.
Grant Attributes List Available to users having access to grant funds. Shows information related to each specific grant. See Chapter 8.
Open Accounting Period(s) Displays accounting periods that are currently open. See Chapter 2.
Targeted Services (display for those users with special access)
---

Banner Admin vs WINGS Express vs COGNOS
Banner Admin, WINGS Express Finance, and COGNOS all work with Banner Finance data:
Banner Admin Finance
Banner Admin is used by WSU Administrative offices (Controller, AP, BPRA, RSP, Foundation, etc) for processing needs.
WINGS Express Finance
WINGS Express Finance provides a point and click environment for departmental users, which are the majority of WSU users. You may go to WINGS Express from the icon in the upper right of the WINGS portal. A "Finance" tab will appear if you have access to WINGS Express Finance.
COGNOS
COGNOS is separate software used for reporting, is refreshed nightly, and is provided to a limited number of WSU licensed users. Please contact your Business Manager to discuss COGNOS reports that he/she may request for your use. (Training materials for COGNOS users are located in a SharePoint site titled Cognos Connection and are not included in the Finance Wiki.)
 
---

Tips and Techniques
Maximize your browser window
You can easily maximize your browser window by selecting the maximize button in the top right of the window. See image at right.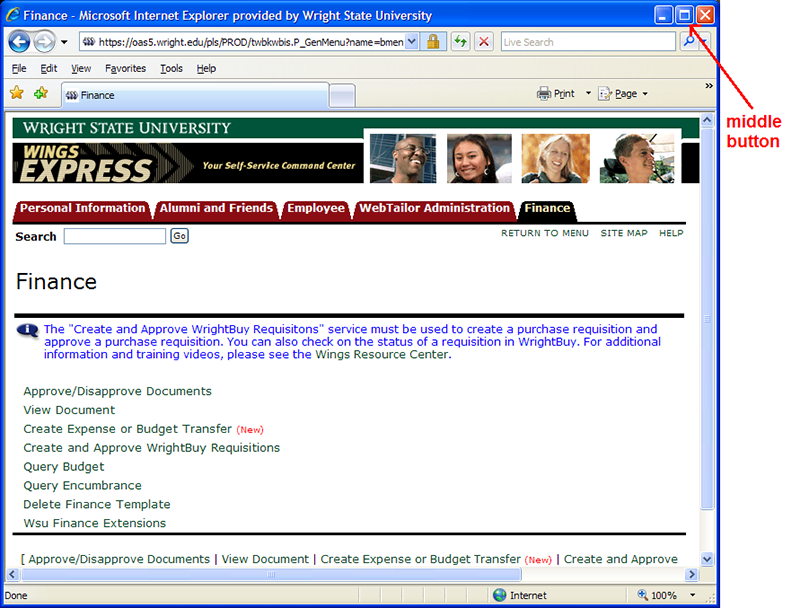 Open Multiple Tabs
You can open WINGS Express Finance in multiple tabs! Simply right-click on a link using Internet Explorer and select Open in New Tab.
 
---