Americans with Disabilities Act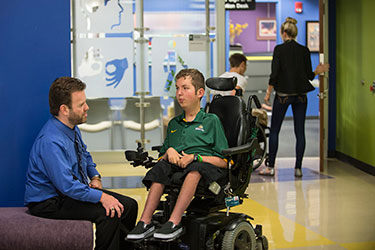 In accordance with the Americans with Disabilities Act (ADA), as amended, and Section 503 of the Rehabilitation Act of 1973, as amended, the Office of Equity and Inclusion (OEI) coordinates reasonable accommodations for Wright State University faculty and staff and applicants for employment at Wright State with qualifying disabilities through an interactive process. To request a reasonable accommodation per the ADA, an individual should self-disclose their request to OEI.  This can be done in person (280 University Hall, Dayton Campus), via phone (937-775-3207), via U.S. mail to the address listed below or via fax (937-775-3027). In order to be eligible for services through OEI, individuals will be asked to provide supporting documentation of their disability by completing the Employee Accommodation Request Form and the Employee Accommodation Request: Medical Information Form which are available on OEI's website or by contacting OEI.  The Employee Accommodation Request Form should be completed by the employee and returned to OEI.  The employee should give the Employee Accommodation Request: Medical Information Form to their licensed medical provider and ask their licensed medical provider to complete the form and return it to OEI.  These two forms are used to collect the following information:  
The medical condition;
How the medical condition may impact the individual;
What are the recommended accommodations, if any, that will help the individual perform the essential functions of his or her academic program or employment position;
Any other information relevant to promoting an equitable experience for the individual in the University setting.
For more information related to disability accommodations, please contact the OEI Director at (937) 775-3207.
ADA accommodation request forms may be faxed to (937) 775-3027 or sent to the Office of Equity and Inclusion, Wright State University, 280 University Hall, 3640 Colonel Glenn Highway, Dayton, Ohio 45435.  For privacy purposes, please do not submit completed forms to OEI via email.