DoSS Spring/Summer 2022 Newsletter

---
Welcome from Tim Littell, Associate Vice Provost of Student Success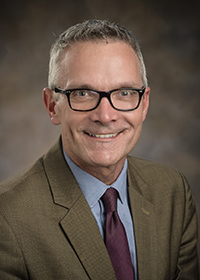 We're back! Well, we never really were gone, but as the region continues to see a rapid decline in COVID cases and the mask mandate is lifted at the university, it's exciting to move ever so closely back to normal. As hints of spring continue to sprout, so too do some of the activities that we are excited to see back—the President's Awards for Excellence Celebration, April Craze, and Arts Gala just to name a few.
Another activity we are very excited to have back on-campus is our orientation program which is highlighted in this edition of our newsletter.  Additionally, in this issue, you'll read about our "Pop-up" Course Registration Center, as well as some changes in our student employment program.  Also, you'll meet our award-winning peer mentors as well as new members of the Student Success staff.
And as we approach the close of another academic year, join me in congratulating all our Spring 2022 grads. Twenty-nine of our student staff from the Division of Student Success will be joining their peers from across the university as they walk across the stage to receive their diplomas. They've endured some very challenging times these past couple of years, so their accomplishments are extra special this year.
We are proud of the work we do for and with our students at all stages of the process: from their beginnings as new students, through engaging and supportive programs and services throughout their educational career with us, and as they achieve success beyond Wright State into their chosen professional careers.
Best regards,
Tim
---
Summer 2022 Orientation

What have we learned from the past couple of years? Well, we've learned a lot. One thing is that students like flexibility and many prefer to be on-campus.
So, this summer's new student orientation will be delivered using a hybrid model. Students will attend an on-campus orientation program where they will meet faculty, staff, and students in their academic colleges; learn about financial aid and how to pay their tuition bill; register for their fall courses, if they haven't done so already before orientation; and more. Additionally, we will utilize courses in Pilot to help students learn how to make the most of their college experience.   
One week before their on-campus orientation session, students will receive instructions to complete a pre-orientation course. This course contains the essentials to help our new students succeed—Academic Advising, Academic Success Centers, Career Services, CaTS, Raider Connect, and more.   
After the student attends their on-campus orientation, they will have access to another orientation course in Pilot called Raider Resources course. This course contains information from each college, Campus Safety, Student Involvement and Leadership, the Bookstore, Housing, and so much more. Students will have access to the Raider Resources course until the end of the Fall 2022 Semester. 
Academic advisors play a big role in orientation and helping our new Raiders. Advisors will email recommended courses to each student before they come to their on-campus orientation. Students will be able to choose if they want to register for their Fall 2022 courses from home or during their orientation experience. During orientation, advisors will be on-hand to speak with students and answer their registration questions.   
The on-campus orientations are offered in morning and afternoon sessions and are scheduled for June 6, June 14, June 24, July 9, July 14, July 27, August 4, and August 12. For more information, visit https://www.wright.edu/orientation
---
"Pop-up" Course Registration Center
As we gear up for orientation season, we are exploring ways to make it easier for new and continuing students to get assistance scheduling their classes. Starting in May, the "Pop-up" Course Registration Center will open in SC 014 in the Student Success Center. The pop-up center will be staffed from 10 a.m.–2 p.m. Tuesday–Thursday.
The goal is to provide a space for students who need help building a schedule for the upcoming semester. The "Pop-up" will be staffed with peer leaders who know their way around Wings Express and know how to register for classes. After a student meets with their advisor, a success coach, or an enrollment advisor, they can just walk down to the "Pop-up" Course Registration Center and ultimately walk away with their printed schedule for the upcoming semester. As the summer proceeds, we will look at opportunities to expand hours in August as the needs may grow as we prepare for Fall Semester.
---
Career Services 
Student Employment Website and Forms Updates 
In an effort to increase our compliance with federal mandates and record keeping, Career Services has revised its website and useable forms. The web pages are organized to guide on-campus employees and students through the student employment process, from onboarding to termination. 
Federal Form I-9 Completion for New Hire Student Employees 
Per federal law, any student who has accepted a student employment job but who has never before been paid on the student employment payroll at Wright State must FIRST comply with the federal I-9 verification process and THEN wait for confirmation of employment and a start date, emailed from Career Services/Student Employment. Student employees are not eligible to work until confirmed to do so. 
Questions? Email career_services@wright.edu 
New Office Location
Student Employment is now located in the Student Success Center in Room 101.
---
Congratulations to our Spring 2022 Graduates!
We wish to extend our sincerest congratulations to our student employees who graduated in Spring 2022. We are very proud of your commitment to successfully complete your degree amid these challenging times. It has been our pleasure to work with each of you within the Division of Student Success.
From Career Services:

Reilly Matsumoto, Biomedical Engineering

From University Academic Advising:

Noor Siddiqui, Public Administration 

From Orientation:

Jonathan Ciero,  Engineering
Johnny Holloway, Public Health
Sahar Kazmi, Biological Sciences
Travis Lovely, Biological Sciences
Josiah Pugh, Psychology
Logan Rex, Accounting & Finance 
Anna Vandeweile, Marketing

From the Academic Success Centers:

Ibrahim Abdulhalim, Biomedical Engineering
Andrea Acevedo, Industrial and Systems Engineering
Amy Anand, Neuroscience
Courtney Draper, Dance
Ryan Elam, Neuroscience
Hailey Fleck, French
Sydney Glendenning, Intervention Specialist
Megan Henry, History
Jordan Landis, French
Sarayu Kunisetty, Biochemistry & Molecular Biology
Madison Knab, English
Nate Mack, Computer Science
Emily Malek, Rehabilitation Services
Katy McClelland, Middle Childhood Education
Paige Meriwether, Neuroscience
Alana Mullins, Biological Sciences
Josiah Pugh, Psychology
Jeemi Shah, Biological Sciences
Amir Shoja, Biological Sciences
Bailey Stammen, Biological Sciences
Cameron Sterrett, Mathematics
Shelby Stevens, Middle Childhood Education
Matthew Tobin, Electrical Engineering
---
Peer Mentorship Awards
On March 24, Wright State students were honored by the Peer Mentorship Council for the vital help and support they provide classmates during the inaugural Peer Mentorship Award Ceremony. The Peer Mentorship Council is made up of 12 peer mentorship program representatives who work together to foster a spirit of collaboration, share resources and discuss peer mentorship best practice.
The Peer Mentorship Council honored seven exceptional peer mentors as the Best Peer Mentors for the 2021–2022 academic year. The students were recognized for their accomplishments and commitment to their peers' growth. Two of the seven peer mentors honored are student employees for the Division of Student Success.
We would like to congratulate Jeemi Shah, Lead Study Coach in Tutoring Services, and Lydnsey Ramsaw, Peer Success Coach in Retention, for all the hard work they have done for the Division of Student Success!
---
Staff Updates
Welcome to the Team!
The Division of Student Success recently welcomed the following members to our team! Read their bios below and visit our staff directory to learn more about our team.
Lauren Warner
Lauren joined the Academics Success Centers team as a tutoring coordinator in November 2021. Lauren earned a B.A. and M.A. in English from Indiana University, where she was recognized as the Outstanding Graduate Student in her class. Most recently, Lauren worked in academic support at Indiana University East in Richmond, Indiana.
Sarah McGinley
Sarah became the interim director for developmental writing in January 2022. Sarah is a senior lecturer in the Department of English where she's taught for 23 years. She is a Wright State alum with a B.A. in Liberal Studies and three master's degrees—an M.A. in English, a M.Hum., and an M.Ed. in instructional design.
Megan Conley
Megan joined the retention team as a success coach in January 2022. Megan is a Wright State alum with an M.A. in English, joining our Retention team with over 15 years of experience in secondary and higher education.
Bill Runyan
Bill is originally from Kingsville, Ohio. He has a B.S. in criminal justice and a M.S. in college student personnel administration from the University of Central Missouri (UCM). He is an 11-year U.S. Air Force Veteran. After his years of service, Bill began his career in higher education as an academic advisor at UCM. He later spent one year as a director of advising for Ohio State's College of Education and Human Ecology before returning to academic advising at UCM. Bill's wife, Lisa, was just announced as Wright State's new registrar. They are excited to return to Ohio and join Wright State's amazing team. Bill will be advising in the Student Success Suite for the College of Health, Education, and Human Services.
Mike Khasawneh
Mike joined the academic advising unit in the College of Liberal Arts in January 2022. He earned his undergraduate and graduate degrees at The Ohio State University. Mike comes to us with teaching and advising experiences from the University of Dayton, Sinclair Community College, Columbus State Community College, and Miami Valley Career and Technical Center.
Shannon Myers
Shannon joined the academic advising unit in the Raj Soin College of Business (RSCoB) in February 2022. She grew up in the Akron/Canton area of Northeast Ohio, and while she misses being so close to her family, she does not miss the weather. Shannon earned her B.A. in general music from Malone University and her M.A. in music education from Liberty University. Her love for higher education became apparent while she was working as a grad student in student affairs at Liberty. Shannon is still fairly new to the area as she moved here in July 2021 with her cat, Louis, and her husband, Jake. She is thrilled to be a part of the RSCoB academic advising team at Wright State!
---

Text representation of above infographic