Welcome from Tim Littell, AVP Student Success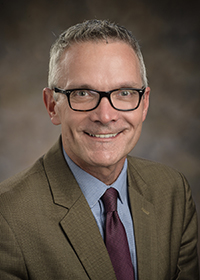 Welcome to the Fall Semester! 
So, I'm walking into the Student Success Center earlier this semester and I see a student (who I later learned was called Chase) walk off the sidewalk into the adjacent garden to pick something up out of the plants. With his hand full of something, I asked "Did you just pick up trash?"  He said, "yes," looking at me oddly.  Staying with my odd line of questioning, I said, "why?"  He replied, "Because I love my university." 
Many of our students, staff, and faculty agree with Chase.  We love our university and are committed to student success and have a passion for doing so.  In that spirit, the Division of Student Success has kicked off a new initiative to enhance our culture of service. We are making a renewed commitment to exceptional service to our students and the overall university community.   
 In meeting our exceptional service mandate, we've crafted a framework around 4 key themes; what we've referred to as the 4 Cs.  To reach exceptional service, every DoSS staff member adheres to the following qualities:   
Competence 

Be an expert in what you do 
Have the requisite skills, knowledge and abilities 
Demonstrate accuracy and efficiency 
Be resourceful and self-directed 

Commitment 

Do what you say you are going to do 
Do it on time and do it well 
Be available 
Be honest and trustworthy 

Curiosity 

Ask questions, offer solutions 
Adopt a "what-if" attitude 
Seek to understand 
Pursue professional growth opportunities 

Courtesy 

Be helpful to others 
Be approachable and responsive 
Treat others with respect 
Exhibit empathy and demonstrate active listening 
We are dedicated to the "4 Cs" and believe that enhancing our culture of exceptional service will be invigorating and help us to take on the challenges ahead. 
In this newsletter, you will learn more about some of the departments and programs that help us to achieve exceptional service and meet some of our professional and student staff that make it possible. 
RaiderConnect joined our division last year and have been incredible partners in helping facilitate enrollment in collaboration with success coaches and academic advisors. After a busy summer of Orientation programming, the First-year Seminars continue the important work of acclimating our new students to the University experience.  And, our excellent team of staff and students in the Academic Success Centers continue to provide support for student coursework.  
I hope you enjoy our newsletter and are having a productive and enjoyable Fall semester. 
---
Raider Connect
Wright State's Raider Connect is the single-point of contact for students' financial aid, registration and student account needs.  We exist to assist students, alumni and their families navigate the process of how to get registered for classes, options on how to pay for college, directions on how to order a transcript, and how these three diverse offices interact with each other. 
Like the Undergraduate Admissions office, fall term is our time to become 'Road Warriors.'  The staff of Raider Connect works with area high schools, and community organizations, to give presentations to students and families on financial aid, what it is, how to apply for it, and how to keep it.  During this time, we also offer workshops to help students file the FAFSA (Free Application for Federal Student Aid) through the federal website www.StudentAid.gov.  We work with our educational partners on and off campus, to assist students with the financial aid process, as we cannot file for them, and inform them of what is available. 
Through our new Financial Aid 101 virtual presentations, the Raider Connect staff is ready to help our incoming and current students understand their financial options and provide them with tips and tools that they need to maximize their financial aid award. This virtual presentation is available twice a week, every week during our office hours.  We strongly encourage students who want to participate in this presentation to complete the Pre-FAFSA Worksheet before attending this session which includes a link to install WebEx on their computer or mobile device, as well as a list of documents to have available, and how to create their FSA (Federal Student Aid) ID username and password. 
Fall term is not only the time that we reach out to our educational partners to help students get on the road to higher education, but also the time to work with our current students to get ready for the next financial aid year. The 2022-2023 FAFSA becomes available on October 1st.   Available in November, Wright State's Online Scholarship application will be available for the next academic year, with a submission deadline date of February 1st.
We hope that our university partners, as well as our students, will remember that we are here to assist with the registration process, to understand their financial aid options, and clarify their billing statements. With our education partners in the high schools and in our community, we seek to assist students on their path to higher education.
---
UVC 1010 - First-Year Seminar
Supporting students from start to finish
The Division of Student Success provides First-Year Seminars to first-year students who share academic and social interests. A First-Year Seminar promotes high engagement opportunities and encourages cognitive inquiry for first-year learners in diverse instructional modalities. Students have a chance to build their collegiate identity and clarify their values through engaging with the campus community, making connections with the instructor and peers, and experiencing diversity. This course also explores learning strategies to help students set goals, plan classes, develop communication skills, and explore careers. 
First-Year Seminar Advisory Team
The Division of Student Success created the First-Year Seminar Advisory Team in Spring 2020 to meet the emerging needs of the global pandemic by providing instructional support and administrative oversight for first-year seminars. The team includes experienced faculty and staff professionals, Pam Beatty, Sarah Cicora, Keith Douglas, Marsha Henderson, Erik Potts, and Mariann Weiss. 
Major Accomplishments
First-Year Seminar Demo Course in Pilot: The team developed a First-Year Seminar Demo Pilot course that UVC 1010 instructors could use as is or customize to meet their course modality and instructional needs. The page includes fully developed course modules adapted for face-to-face courses, synchronous or asynchronous online courses, or mixed modality courses.
First-Year Seminar Instructors Resource Page: The team expanded the Instructors Resource page to provide a wide variety of training topics for novice and experienced instructors. Additionally, the resource page includes a repository of additional course materials that instructors can use in their courses, such as lesson plans and class activities.
First-Year Seminar Peer Mentors
Engagement with instructors and peers is an essential component for assisting first-year students in their transition to college. First-Year Seminar Peer mentors can support instruction by fostering connections and identifying early areas of concern for first-year students. The First-Year Seminar Peer Mentors serve as role models, sources of information for new students, and representatives of Wright State University. Peer Mentors develop valuable skills in communication, leadership, organization, and creativity. Each Peer Mentor works with a UVC 1010 instructional team. The following students have joined our Peer Mentor team for this fall:
Sahar Kazmi, Senior Peer Mentor – Biological Sciences Major
Rachel Caughey – Medical Lab Science Major and Classical Language and Cultures Major
Shaiann Ferguson – Public Health Major
Paige Murry – Industrial and Systems Engineering Major
Jacob Shaw - Elementary Education P-5 Major
---
Academic Support
The Academic Success Centers include Tutoring Services, University Writing Center, and Math Learning Center. We provide a welcoming environment for all students, so that they can become more skilled, confident, and independent learners. Wherever students are at in their learning journey, we encourage them to come visit us early and often.
Covid-19 has brought forth many challenges, but it has also brought us an opportunity to grow and adapt our services. The Academic Success Centers, now offers hybrid support, in-person and virtual. Our hours for virtual support have been extended and students will utilize either Microsoft Teams or BlackBoard Collaborate Ultra for their session. For more information on our virtual tutoring, students can visit remote appointment scheduling. For in-person support, we ask that all students continue to follow the University's Covid-19 policies.
We also like to congratulate Rahul Shah, a biological sciences major, who was appointed to the Wright State University Board of Trustees by Ohio Governor Mike DeWine for a two-year term ending June 30, 2023! Rahul is currently a peer tutor in Tutoring Services, assisting students in accounting and financial management courses. 
---
Staff Changes   
The Academic Success Centers will be reorganized as follows:
Emanuel Clayton -  Assistant Director of the Academic Success Centers: In this role, he will serve as the Program Director of Tutoring Services and the Math Learning Center.
Jennifer Lobo - Tutoring Services Coordinator: In this role, she will oversee Supplemental Instruction.
The Division of Student Success would like to say farewell to the following staff members:
Amy Neher - University Academic Advising
Yao Wu - University Academic Advising
Brittany Erwin - University Academic Advising
Madison Garrison - Academic Success Centers
Yvette Mott - Enrollment Services/Raider Connect
Tranise Robinson - Enrollment Services/Raider Connect
Megan Stevens - Enrollment Services/Raider Connect
Genevieve Jomantas - Retention
Denise Anderson - Student Success Planning