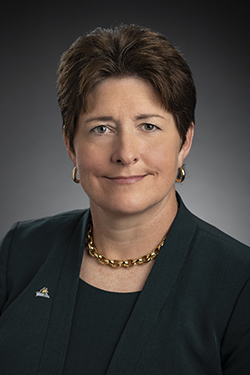 Dear Colleagues,
This time of the semester is always full and exciting—it is one of my favorite times of the year. Today is the last day to submit nominations for the inaugural University Awards for Student Success Champions. With a strong emphasis on student success, we want to celebrate the good work you and your colleagues are doing. There is also one week left to submit nominations for the Faculty Awards for Excellence (PDF).
We are also nearing our Higher Learning Commission (HLC) Focused Visit on April 24 and 25. We look forward to meeting with members from HLC and showcasing how we are living our mission: "We empower all students to excel in their lives and chosen careers through integrated learning, research, innovation, and experience." During the Focused Visit, we will also highlight the five objectives from the Bridge Strategic Plan (PDF): (1) Student Success—Transformational Student Experience (2) Advancing Knowledge through Research, Entrepreneurship, and Creative Endeavors, (3) Forging and Sustaining Strong, Collaborative Relationships, (4) Inclusive Excellence, and (5) Resource Management and Sustainable Operating Budget.
Additional information about the Focused Visit will be available in the coming weeks.
Spring Commencement Ceremonies
Graduate Ceremony: Friday, April 28, 7:00 p.m.
Undergraduate Ceremony: Saturday, April 29, 10:00 a.m.
Commencement is an event that marks a significant moment in the lives of our students and their families. The granting of a degree and the admission to the "rights and privileges" associated with a given degree are extraordinarily important events for those receiving degrees.
The presence of faculty is especially important for the graduates and their families. All faculty should prioritize their attendance, and bargaining unit faculty are reminded of their responsibility under Article 7.4.8.
I encourage all faculty to attend one or both ceremonies. Registration beforehand is mandatory and is open now until April 10.

Register online today.
Events
All students and alumni are welcome to attend the spring Virtual and In-Person Career Fairs. Faculty and staff are encouraged to promote the Career Fairs to students and support attendance:
Virtual Career Fair, 9:30 to 11:30 a.m., Wednesday, March 15, inside Handshake, with group or individual meet-the-recruiter sessions. Students should register online for meet-the-recruiter sessions.
In-Person Career Fair, 1 to 4 p.m., Wednesday, March 15, in the Dayton Campus Student Union. Students may register in advance or at the fair at the student check-in station in 156 Student Union. Students may participate as their schedule permits.
More information, including lists of participating employers and their opportunities, is available at wright.edu/events/wright-state-career-fairs-2023-spring-semester-hosted-career-services.
Faculty Resources and Workshops
Open Access Publishing vs. Predatory Publishers
Thursday, March 16, 1:30 to 2:30 p.m., 441 Dunbar Library
Register online

Presenters: Joanna Anderson, medical librarian, and Ximena Chrisagis, nursing, kinesiology, and health sciences librarian

You've heard of "predatory" publishers, but what exactly are they and how do you avoid them? It is increasingly common to receive email solicitations from questionable publications and to encounter journals with poor quality control or deceptive publishing practices. Although some clearly come from "junk journals," in many cases, the journal or publisher's reputation cannot be determined by looking at the solicitation alone. In this workshop, participants will learn the signs of "predatory" venues compared to legitimate open-access publishers, identify how to benefit from OhioLINK open-access deals, and develop strategies to check publisher reputations to feel more confident about where to publish.
 
SOCHE Live Webinars: SOCHE provides our members access to unlimited live webinars. To access the webinars listed below, you will first need to create an account on our webinar site. Once you create that account, log in and you will have access to all the webinars. Keep your login information handy or save it in your browser to access all the great professional development content available for free to SOCHE members. If you encounter difficulty while creating your account, please contact support@ieinfo.org.
Promoting Student Well-Being Webinar: Dr. Amanda Hinson-Enslin, assistant professor of population and public health sciences in the Boonshoft School of Medicine, will host a virtual lunch and learn on "Practical Methods to Promote Well-Being in the Classroom" on Thursday, April 13, at noon.

Burnout, disengagement, and technology fatigue are on the rise among college students. Student obligations, such as family care, work, multiple classes, and maintaining engagement in their courses, are a challenge and can be stressful, which can impact student learning outcomes. The well-being of our students is being stretched. However, providing a well-designed course with effective communication and a supportive environment helps students tend to their obligations and maintain their engagement in your course(s).

Practical solutions will be provided to incorporate into courses that promote well-being through inclusive design, proactive communication, and embedded support. Also discussed will be integrating well-being moments and other elements that help students maintain their mental health and limit technology fatigue. Attendees will also have opportunities to practice and discuss their experiences in preventing student burnout, disengagement, and technological fatigue, and promoting well-being.

Learn more about the event and Dr. Hinson-Enslin.
When a Student Needs Support
Wright.edu/help is a great resource for helping students or making referrals. This site contains contact information for emergency or essential departments that can assist your students all in one location.
I hope you all have a wonderful week! You are appreciated!
Amy Thompson, Ph.D.
Provost and Senior Vice President for Academic Affairs