Madisyn Crabtree
Student Trustee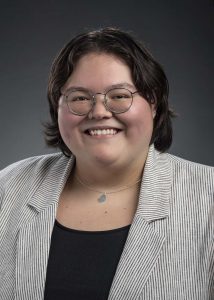 Madisyn Crabtree, a marketing major from Beavercreek, was appointed by Ohio Gov. Mike DeWine as a student trustee on the Wright State University Board of Trustees.
Crabtree received a two-year term on the Board of Trustees, ending on June 30, 2025. She replaces Rahul Shah, a 2023 biological sciences graduate whose term expired at the end of June.
Crabtree is one of two Wright State student members on the Board of Trustees. Student trustees serve as a voice of the student body in university matters.
Crabtree, who is expected to graduate in 2026, is also pursuing a certificate in business analytics and minors in mathematics and organizational leadership.
"I am so grateful for my time at Wright State and excited to represent the student body on the Board of Trustees," she said.
Crabtree is an active member of the Wright State community. She serves as an office assistant in the offices of the President and Provost and as a tutor in the Math Learning Center. Tutoring, she said, provides her with both the satisfaction of helping other students and the opportunity to improve her mathematical, professional and social skills.
She serves as director of student affairs for the Student Government Association, director of philanthropy for the College Panhellenic Council, and fundraising chair for Delta Zeta, Kappa Iota chapter. She is also a member of the Rainbow Alliance, the Korean Club and Raider Pups.
Last spring, she received a Wright State University Emerging Leader Award from Student Involvement and Leadership.
Crabtree is also a marketing and sales intern for Ignyte at the Entrepreneurs Center at the Arcade Innovation Hub and assistant manager at Winans Chocolates and Coffee in Centerville.
She gives back to the local community by volunteering for the Dayton Q+ Youth Center Project and 4 Paws for Ability.
Term Ends June 30, 2025.