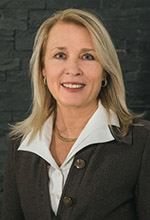 Dawn Conway, the president and CEO of Boost Engagement in Dayton, was appointed to the Wright State University Board of Trustees for a term ending June 30, 2029.
"I am honored to be appointed to the Wright State University Board of Trustees by Ohio Governor DeWine," said Conway, who is from Oakwood. "Wright State is an important asset to Ohio and the Dayton region. I look forward to serving on the board."
"We are excited to have Dawn join the Board of Trustees," said Wright State President Sue Edwards. "Her skills and experience will be great additions to the work of the university."
Conway is responsible for Boost Engagement's corporate leadership and execution of the brands in the company's portfolio, which includes Shumsky, Boost Engagement and Outta the Box Dispensers.
She is the former chief operating officer of Cision, where she led sales, marketing, finance, analysis, research and content acquisition. Prior to joining Cision in 2012, she held key leadership positions at LexisNexis over a 20-year career in the areas of corporate responsibility, global licensing, business development, sales and marketing.
An attorney, Conway is a member of the District of Columbia Court of Appeals and a former member of the American Bar Association Anti-Human Trafficking Task Force. She is a frequent speaker on the role businesses can play to combat human trafficking. She is also the co-author of "Doing Well by Doing Good 'CSR for Bars,'" published in the Bar Leader Magazine.
Conway received a Bachelor of Arts from Regis College and her J.D. from California Western School of Law. She also completed the Strategic Alliances – Creating Growth Opportunities Program at the Wharton School at the University of Pennsylvania and the Reed Elsevier Business Leadership Program.
Conway is passionate about the arts and served on the Board of Trustees of the Dayton Art Institute and the Board of Directors of Culture Works. She also served on the board of the International Association for the Measurement and Evaluation of Communication and chaired its Copyright and Content Committee and on the Content Board of the Software and Information Industry Association.
Term ends June 30, 2029.