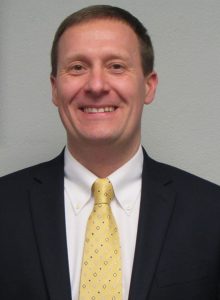 Jared Ebbing, the community and economic development director of Mercer County and a Wright State University MBA graduate, was appointed to the Wright State Board of Trustees by Ohio Gov. Mike DeWine.
Ebbing was appointed to the nine-member board for a term that runs from Jan. 1, 2023, to June 30, 2031. He replaces William Montgomery, whose term on the board expired on June 30, 2022.
"I am honored to be appointed to the Wright State University Board of Trustees by Ohio Governor DeWine," Ebbing said. "Wright State is an important asset to Ohio, the Dayton region, and the Grand Lake Region here in West Central Ohio. I am proud to have received my MBA from Wright State and look forward to contributing to its success in the future."
As the community and economic development director of Mercer County, Ebbing works with local communities and organizations to plan and collaborate on local projects and obtain the funding to complete them.
In addition, he works with every local school district, career center, and Wright State's Lake Campus to promote the many career opportunities in the community available to students. As part of this effort, he created HometownOpportunity.com, a job board and recruiting website for Auglaize, Darke, Mercer, and Shelby counties.
In 2018, he received the Image Award from the Ohio Association for Career and Technical Education in recognition of his effort to bring positive attention to the career-technical and adult education fields.
In his efforts to support business development, Ebbing works closely with local companies, regularly communicating and addressing their needs and working to ensure local businesses possess the tools and the workforce necessary to grow in the region. He meets regularly with companies, conducts retention and expansion surveys, holds business breakfast forums, and shares news and updates through Mercer County's newsletter, website, and social media accounts.
Before joining Mercer County, Ebbing served as the executive director of the Civil Engineering Division at Fanning Howey.
Ebbing received his Master of Business Administration from Wright State's Raj Soin College of Business and a bachelor's degree in civil engineering from the University of Dayton.