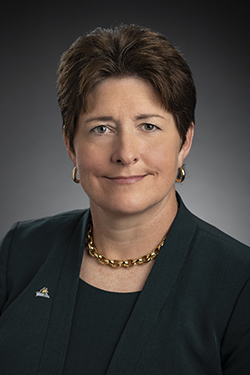 Dear Colleagues,
I hope you enjoyed the long holiday weekend, got to recharge and spend some time with family and friends, and soaked some of the final days of summer.
This week, I am thrilled to report some exciting news! Through all of your collective efforts, Wright State went from 25% of instructors reporting student participation last spring to 87.95% reporting this semester. Special thanks to all faculty who worked hard to complete these reports on time. I especially want to commend Lake Campus for raising the bar to 98.03% of faculty reporting.
Important Reminders and Information
Student Success Initiatives
Progress Reports and Early Alerts
In week three of the semester you will receive the first of three emails from Amanda Watkins, associate director of retention, providing a link to your class roster to provide a progress report and issue alerts for your students who are experiencing attendance, performance (grades), technology barriers, and/or other concerns in your course.
We will request Progress Reports from you again at weeks five and eight. Cases generated from your alerts will be assigned to the most appropriate staff among success coaches, academic advisors, enrollment advisors, and/or advocates in Counseling and Wellness. You can also issue alerts at any time ("anytime alerts") outside of the Progress Reports schedule by logging into Navigate (formerly known as RAPS). Navigate is accessible through WINGS on the right-hand tab under Faculty and Advisor Resources. When you log in, you will see a full roster of your classes and can raise an alert on individual students at any time. Learn more.
Mid-Term Grades
This fall we will be piloting an optional process for faculty to submit mid-term grades. Issuing mid-term grades is a high-impact practice for student success and provides our faculty and our Student Success staff the ability to provide meaningful interventions that give our students ample time to course-correct if they are in academic difficulty. This will be an optional process for Fall Semester. We want as much participation and feedback from you so we can sort out any kinks in the system. Further information will be provided by Lisa Runyan, university registrar, in the days to come. Check out the registrar's faculty resource webpage.
Here is a summary of key dates for Fall Semester:
 

Due Dates

Notes

Full Term

A Term

B Term

Participation Roster*

Weeks 1–2
Friday, September 2, by 11:59 p.m.

Week 1
Friday, August 26, by 11:59 p.m.

Week 8
Friday, October 14, by 11:59 p.m.

Last day to drop/withdraw and receive 100% tuition refund

Progress Report #1

Week 3–4
September 6–16

N/A

N/A

 

Progress Report #2

Week 5–7
September 20–October 7

Week 2–4
August 30– September 16

Week 9–11
October 18–November 4

 

Mid-Term Grades

Week 8
Wednesday, October 12, by noon

N/A

N/A

 

Progress Report #3

Week 8-13
October 11–November 18

Friday, October 21


N/A

Friday, September 16


N/A

Friday, November 4


Last day to drop with a W grade
*X Term: coincides with the last day for a 100% refund. Look up date here.
For even more information, please check out the Student Success faculty resource page for FAQs, or feel free to contact me with questions.
September 16: Deadline for application to join the 2022-23 Equity Academy through the Center for Faculty Excellence. The Equity Academy is supported by a grant from the Wright State University Foundation Fund in collaboration with the vice provost for faculty affairs, the provost, CFE, and the Division of Student Success. Email Regina Klotz for further information.
B Term Participation Roster Due Dates: Week 8: Friday, October 14, by 11:59 p.m.
The window for reporting student participation in the first week of B term courses opened on the first day of the semester. Faculty teaching B Term courses can access participation rosters in WINGS Express under the Faculty Tab.
Promotion and Tenure
September 15: Deadline for NTE faculty with continuing appointments to request two peer evaluations for the academic year (Article N13.5.2.3).
September 30: Deadline for NTE faculty and their chairs to choose peer evaluators (N13.5.2.3.3).
September 30: Deadline for eligible NTE faculty to submit PDCR proposals to their department chair (Article N29).
Announcements
College of Liberal Arts
Martin Fahrer, a 1989 B.F.A. Design/Technology Theatre alumnus, won his first primetime Emmy award for production design on "Only Murders in the Building." He won two previous daytime Emmy awards in 2014, but this is his first primetime Emmy award in a highly competitive category. Congratulations, Martin!
Candidate Forum
The forum for the position of director of adult and online learning is Thursday, September 8, from 9:30 to 10:30 a.m. in 033 Rike Hall. You can also participate on Webex.
The candidate is Dominic Christison, coordinator of online faculty development and instructional design, at Northeast Oklahoma A&M College.
The deadline to complete the candidate survey is 5 p.m. on Friday, September 9.
Have a great week and thank you for all that you do for our students!
Best,
Amy Thompson, Ph.D.
Provost and Senior Vice President for Academic Affairs