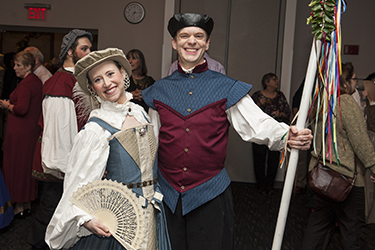 In 1983, the University Center (now the Student Union) and the Department of Music (now the School of Music) embarked on a magical, musical journey that was the Madrigal Dinner.  For 33 years, the Lord and Lady of Wright Manor have graciously welcomed nobles, players, and peasants into the great hall each holiday season for evenings filled with feast, song, merriment, and dance.

We thank the legions of talented manor folk and honorable guests who have chosen to join our revelry over the years.   Alas, time and circumstance have brought that revelry to an end.  So, with both joy for a life well lived and sorrow for an era gone by, we forever close the doors of the great hall with these familiar words from the Lord of the Manor:

The hour is late.
Full well we see our revels now must ended be.
But pray this memory never ends;
The bells of time ring softly now
Sweetly reflecting our spirit's vow
To let our love and songs this eve
Ring in thy hearts as we bid the leave.