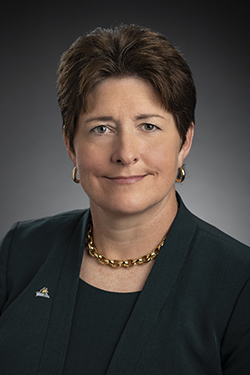 Dear Colleagues,
I hope you had an enjoyable and restful spring break and are energized for the remainder of the semester! I have been enjoying some of the warmer temperatures and am excited for the arrival of spring later this month.
Today is the panel discussion on "AI and the Future of Education." This exciting and very timely discussion will be held in the Student Union Atlantis Room (157A/B) from 3:30 to 5:00 p.m. A panel of faculty, staff, and students will discuss the use of ChatGPT on our campuses and how robots will influence and impact higher education. I look forward to attending this panel and seeing you there. Learn more about the event (PDF).
Midterm Grading
Thank you to the faculty who submitted midterm grades for the spring semester. As this was the first semester where midterm grading was a requirement, 88% of faculty participated. As we know that issuing midterm grades is a high-impact practice for student success, we look forward to improving this process as we strive for 100% compliance.
Faculty and Student Success Awards Accepting Nominations
As announced in our last newsletter, I encourage you to review the faculty and university awards that are currently open for nomination. I am excited to celebrate the great work of our faculty and staff in support of student success.
2023 Faculty Awards for Excellence
Something I look forward to each spring semester is the opportunity to recognize the outstanding achievements of our faculty. As announced last month, nominations for the 2023 Faculty Awards for Excellence are now open. The Faculty Awards for Excellence recognize select faculty members for their excellent work in the areas of teaching, research, community engagement, professional service, and early career achievement. These awards are truly a highlight of the year.
Nominations are due by March 22. Learn more about the Faculty Awards for Excellence (PDF).
University Awards for Student Success Champions
As also previously announced, the university is thrilled to honor faculty, staff, and student employees who have performed exemplary work in student success through the inaugural University Awards for Student Success Champions. These awards recognize the nominees' contributions to programs and services that significantly support and impact student success metrics and student satisfaction. We are setting lofty goals and continue to make progress on student success initiatives—your dedication does not go unnoticed, and we are thrilled to have an opportunity to celebrate your good work.
Nominations are due by March 15. Learn more about the University Awards for Student Success Champions.
Mental Health First Aid Training
Wright State University and Mental Health America of Northern Kentucky and Southwest Ohio are hosting Mental Health First Aid training sessions on April 6 and 13. Mental Health First Aid (PDF) teaches you how to identify, understand, and respond to signs of mental illness and substance use disorders. This training gives you the skills you need to reach out and provide initial support to someone who may be developing a mental health or substance use problem and help connect them to the appropriate care. Register online.
Graduate Programs and Honors Studies Update
The Three Minute Thesis/Dissertation Competition on February 21 attracted 110 attendees. Eleven students competed, and a panel of faculty judges selected one first-place, two second-place, and three third-place winners. The audience also voted for a People's Choice Award winner.
Our first-place winner was William Cvammen, a biomedical sciences Ph.D. student in the College of Science and Mathematics. His advisor is Dr. Michael G. Kemp.
Congratulations to all winners: William Cvammen, Shikshita Singh, Cassidy Alspaugh, Ryanne Cimatu, Mia Williams Burnett, Peter Swartz, and Vamshi Beemanapalli.
Events
All students and alumni are welcome to attend the spring virtual and in-person Career Fairs. Faculty and staff are encouraged to promote the Career Fairs to students and support attendance:
Virtual Career Fair, 9:30 to 11:30 a.m., Wednesday, March 15, happening inside Handshake, in the form of group or individual meet-the-recruiter sessions. Students should register and sign up electronically in advance for meet-the-recruiter sessions.
In-Person Career Fair, 1 to 4 p.m., Wednesday, March 15, in the Dayton Campus Student Union. Students should register in advance or on the day of the fair at the student check-in station in 156 Student Union. Students may arrive at the In-Person Career Fair as their schedule permits.
More information, including lists of participating employers and their opportunities, is available at wright.edu/events/wright-state-career-fairs-2023-spring-semester-hosted-career-services.
Faculty Resources and Workshops
Open Access Publishing vs. Predatory Publishers
Thursday, March 16, 1:30 to 2:30 p.m., 441 Dunbar Library
Register online

Presenters: Joanna Anderson, medical librarian, and Ximena Chrisagis, nursing, kinesiology, and health sciences librarian

You've heard of "predatory" publishers, but what exactly are they and how do you avoid them? It is increasingly common to receive email solicitations from questionable publications and to encounter journals with poor quality control or deceptive publishing practices. Although some clearly come from "junk journals," in many cases, the journal or publisher's reputation cannot be determined by looking at the solicitation alone. In this workshop, participants will learn the signs of "predatory" venues compared to legitimate open-access publishers, identify how to benefit from OhioLINK open-access deals, and develop strategies to check publisher reputations to feel more confident about where to publish.
 
SOCHE Webinars: Dr. Amanda Hinson-Enslin, assistant professor of population and public health sciences in the Boonshoft School of Medicine, will host a virtual lunch and learn on "Practical Methods to Promote Well-Being in the Classroom" on Thursday, April 13, at noon.

Burnout, disengagement, and technology fatigue are on the rise among college students. Student obligations, such as family care, work, multiple classes, and maintaining engagement in their courses, are a challenge and can be stressful, which can impact student learning outcomes. The well-being of our students is being stretched. However, providing a well-designed course with effective communication and a supportive environment helps students tend to their obligations and maintain their engagement in your course(s).

Practical solutions will be provided to incorporate into courses that promote well-being through inclusive design, proactive communication, and embedded support. Also discussed will be integrating well-being moments and other elements that help students maintain their mental health and limit technology fatigue. Attendees will also have opportunities to practice and discuss their experiences in preventing student burnout, disengagement, and technological fatigue, and promoting well-being.

Learn more about the event and Dr. Hinson-Enslin.
When a Student Needs Support
Wright.edu/help is a great resource for helping students or making referrals. This site contains contact information for emergency or essential departments that can assist your students all in one location.
I hope you all have a wonderful week! You are appreciated!
Amy Thompson, Ph.D.
Provost and Senior Vice President for Academic Affairs