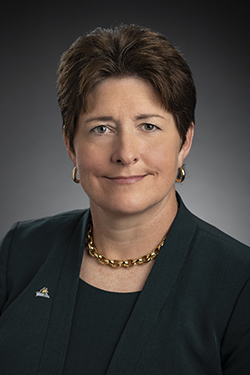 Dear Colleagues,
Everyone is talking about the intersection of artificial intelligence with higher education. In addition to the challenges large language models (LLMs) such as GPT-3 and familiar chatbots such as ChatGPT pose for academic integrity, the new AI landscape offers opportunities for creatively rethinking how we teach and how we assess student learning. It's important for institutions like ours to talk about these challenges and opportunities together. The Center for Faculty Excellence is compiling resources for your use and will continue to add important information—we encourage you to visit this site as it will be updated regularly. I also encourage you to read "Teaching: Rethinking Research Papers, and Other Responses to ChatGPT" from the Chronicle of Higher Education's Teaching newsletter.
As you continue to learn about LLMs, please save the date for an interdisciplinary panel on "AI and the Future of Education" on March 8 from 3:30 to 5 p.m. Panelists include Wright State University faculty, staff, and students. Additional information will be communicated in the coming weeks.
Events
On display in the main level of Dunbar Library is a new exhibit, Finding Africa: Dayton's First Black Community. This exhibit, designed and created by Heidi Parker, Kirsten Dilger, and Raquel Lightner, graduate students in Wright State's Public History Program, and using research materials collected by Drs. Marlese Durr and Geoffrey Owens, gives an overview of the first autonomous Black community in Dayton, the history of property ownership, and fellowship through Dayton's first African Methodist Episcopal Church. This exhibit will remain on display throughout the rest of the semester.
Provost's Faculty Fellows
It is not too late to apply for the Provost's Faculty Fellows Program. Additional information, including the application, can be found on the Faculty Affairs website. The deadline to submit your application is February 15, 2023, at 3 p.m.
Faculty and Staff Appreciation Night
I'm looking forward to seeing you all at the Faculty and Staff Appreciation Night on Friday, February 10, prior to the men's basketball game versus Northern Kentucky at the Wright State Nutter Center. The festivities begin at 7 p.m. in the McLin Gym, and tipoff is at 9 p.m.
All faculty and staff may claim up to four complimentary tickets by filling out this request form. Digital tickets will be sent to the sent to the cellphone number
listed on the form.
When a Student Needs Support
Wright.edu/help is a great resource for helping students or making referrals. This site contains contact information for emergency or essential departments that can assist your students all in one location.
Have a wonderful week!
Amy Thompson, Ph.D.
Provost and Senior Vice President for Academic Affairs