Wright Passport Grant Project is Now Closed
The Wright Passport Grant has reached the 25-student capacity, and applications are no longer being accepted at this time.
On this page:
About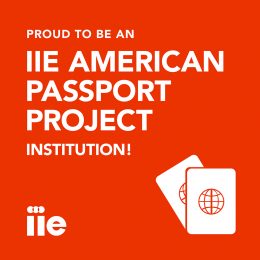 The Institute of International Education (IIE) American Passport Project Wright Passport Grant aims to break down one of the barriers to meaningful international travel by funding passports for Raiders.
A U.S. Passport is valid for for up to 10 years and offers opportunities to travel around the world. These opportunities include study abroad, international internships, and volunteering abroad. If you're unsure about what a passport is and why you might need one, check out this short video from HowStuffWorks. 
Students who are selected will receive support and advising on the passport application process with our UCIE study abroad team. If you are a student who does not fit the eligibility criteria outlined below, UCIE can still provide support and advising on the process.
 
Student Eligibility
Must be enrolled as a full-time, degree-seeking undergraduate student at Wright State University
Must be a U.S. citizen by birth or naturalization or U.S. national (e.g. native of American Samoa or Swain's Island).
Must be applying for a first adult U.S. passport (using DS-11 form, not renewing a previous passport)
Preference will be given to:
First- or second-year undergraduate students
Students who receive the Federal Pell Grant
Students from diverse backgrounds underrepresented in international education. For more insight into current trends in international education, visit the IIE Open Doors report.
 
Award Amount
The award amount is $165. The $165 will cover the costs of the application fee for a U.S. passport book ($130) and the execution/acceptance fee ($35).
This award will not cover other fees, which may include passport photos, expedited delivery fees, or travel expenses to submit application materials at the nearest passport application processing center.