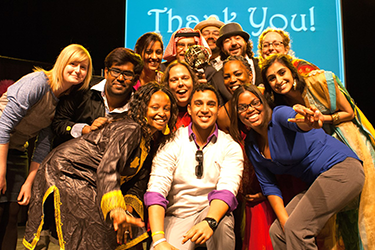 The University Center for International Education is a valuable resource to over 1,000 international students from over 60 different countries. UCIE seeks to serve you, International Student and Scholar, by coordinating efforts to advise and assist you in achieving academic and personal success here at Wright State University. Here are some of the student support services UCIE provides to help you adjust to life here campus:
Orientation
​UCIE offers mandatory orientations to new international students in order to provide critical information needed to be successful at Wright State:

Courtesy Airport Pickup
Immigration Check In for all International Students
Fall, Spring, and Summer Orientation Seminars for New International Students
International Undergraduate Math and English Placement Testing
International Student Health Insurance
Wright State ID Card
Bank Account
International Resource Fair

International Student Arrival Planning
International Student Advising
Support Services for J-1 Students and Scholars
Tax Workshops
Family Invitation Letters
Driver's License Request Letters
Updates on Community Events
Programming

International Friendships Affair- IFA is one of the most unique and anticipated events at Wright State University. This event is an exciting opportunity for you to showcase your culture through musical performances, dance performances, country displays, and food from all over the world.
International Education Week- A week set aside to learn and celebrate the benefits of international education and exchange worldwide.
Welcome Receptions- UCIE welcomes new students into a friendly environment through welcome receptions.
Graduation Receptions- UCIE celebrates international student graduates in their great accomplishment of completing their degree program and beginning the process of becoming future world leaders.
Brown Bag Seminars- These educational seminars are a time during lunch to learn more about being a global citizen.
Global Connections– Connect with people from all over the globe every Friday from 3-5pm at the UCIE Conference Room (344 Student Union):

Chinese National Day
Saudi National Day
Nigeria National Day
Indian Independence Day
Soccer Tournament
Resume Workshop
Halloween Pumpkin Carving
Volleyball Tournament
International Potluck
Norooz Persian New Year

International Women's Programming- UCIE creates programming specifically tailored to international female students. Past events include:

Interview Workshops
Personal Safety Seminars
Winter Health Seminar
Professional Clothes Drive

Intercultural Exchange Programming- Led by the ICE student group, Intercultural Exchange Events seek to celebrate a multitude of cultures, expose international students to American culture, and foster friendship between WSU international and American students. Past events include the following:

Clifton Mill
Bowling
Ice Skating
Kayaking
Scene 75 Entertainment Center
Valentine's Dance Party

Immigration Advising
The friendly UCIE immigration services team is here to assist you with any needs related to immigration:

Travel Request
Reduce Course Load Request
Transfer Request
Program Extension Request
Student Work Authorization
CPT
OPT and OPT Extension
Change of Status Request
International Undergraduate Change of Major Request
F-1 and J-1 Visa Status Reinstatement Advising

Student Groups
There are a number of student groups you can join in order to increase your support system and involvement here at Wright State University. Here are some student groups associated with International students:

Indian Student Association
Saudi Student Association
Bangladesh Student Association
Chinese Student & Scholar Association
Arabic Club
International Women's Association
African Student Union
French Club
German Club
Persian Club
Kuwait Student Organization
Nepali Raiders
Exchange Student Association
International Cultural Exchange- ICE is a student group dedicated to celebrating cultural diversity and fostering international friendships among American students and international students.
For more information about International Student Services, please contact:
The University Center for International Education (UCIE)
344 Student Union
937-775-5745
www.wright.edu/ucie/
askucie@wright.edu