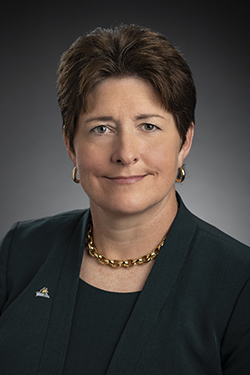 Dear Colleagues,
We are almost a third of the way through Fall Semester and I hope your classes are going well.
This week I want to highlight our Center for Faculty Excellence (CFE) and the support it provides to faculty for teaching and scholarship. You have probably noticed the weekly Monday Morning Mentors (PDF) arriving in your inbox each week. These short 20-minute video programs can be viewed anytime during the week and cover topics as varied as "Instilling a Growth Mindset in Students" or "Calendar Hacks to Avoid Stress and Burnout." A complete list of this fall's topics is available in today's newsletter (PDF) and archived on the CFE website.
This year CFE debuts Wright State's first Equity Champions Academy, thanks to a grant from the Wright State University Foundation Fund, with additional support from our office, the Center for Faculty Excellence, and the Division of Student Success. You can learn more and download an application by visiting the CFE website. Applications for the academy are due September 16—I hope you will consider applying!
Faculty eligible for professional development leave in 2023-24 should plan to attend CFE's brown-bag workshop on Preparing your Professional Development Leave Proposal on September 28. The workshop will be streamed for Lake Campus faculty. Registration is required.
Finally, the center is building a collection of library reserves for seven-day loan on diversity, equity, and inclusion in pedagogy and is curating a growing list of articles on teaching and learning on its website. This article, "10 Course Policies to Rethink on Your Syllabus," which appeared just over a year ago in The Chronicle of Higher Education, is definitely worth a read.
With that in mind here are a couple of upcoming reminders:
Important Reminders and Information
Suicide Prevention Awareness Month
September is Suicide Prevention Awareness Month. The National Alliance on Mental Illness, or NAMI, has tons of free resources for your classrooms, including support and education and NAMI on campus. If you or someone you know is experiencing a mental health crisis, call or text 988 immediately.
Hispanic Heritage Month
September 15 to October 15 is Hispanic Heritage Month. View a list of Fall Semester events (PDF) sponsored by the Latino Center.
Friday, September 16: Deadline for application to join the 2022-23 Equity Academy through the Center for Faculty Excellence. The Equity Academy is supported by a grant from the Wright State Foundation Fund in collaboration with the vice provost for faculty affairs, the provost, CFE, and the Division of Student Success. Visit the CFE website for further information.
Promotion and Tenure
September 15: Deadline for NTE faculty with continuing appointments to request two peer evaluations for the academic year (Article N13.5.2.3)
September 30: Deadline for NTE faculty and their chairs to choose peer evaluators
(N13.5.2.3.3)
September 30: Deadline for eligible NTE faculty to submit PDCR proposals to department chair (Article N29)
University Libraries Pilot Content Toolkit
The Research Toolkit is a series of foundational information literacy workshops designed to address the most common challenges students face in working on college-level research. These workshops can be embedded in Pilot as online modules with quizzes. Content has been updated and new workshops are being added. Find the most recent workshops on the Research Toolkit: Pilot Content webpage. For more information, contact library-rtworkshops@wright.edu.
Webinar Invitation
Experiential Learning Projects for Spring Semester—$500 Faculty Stipends Available
Join this informational webinar on using the Student Opportunity Center (SOC), Alexandria, Virginia, to connect to top employers with experiential learning projects with your class. This is a no-cost service to the faculty and university. In fact, $500 faculty stipends are available.
This academic year, over 500 large employers are looking for class partners for their four- to 12-week experiential learning projects. These employers run these projects as a talent pipeline to develop and engage with students in the hopes of hiring them in paid internships for summer or full-time positions after graduation.
SOC is hosting an informational webinar on Thursday, September 15, at 11:30 a.m. to explain the initiative, how these experiential learning projects work, how it benefits your class, and how you can participate.
Have a great week!
Amy Thompson, Ph.D.
Provost and Senior Vice President for Academic Affairs