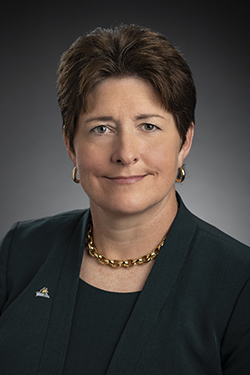 Dear Colleagues,
With the fall semester well underway, I wanted to express my appreciation for your dedication and commitment to our students. We know that Wright State University serves students in many ways and I appreciate all that you do. As we look to continue the forward momentum, our faculty and staff are the drivers of this good work.
Thank you to everyone who helped make our pilot midterm grading process a success! Issuing midterm grades is a high-impact practice for student success and will help many students stay on course or get vital assistance this semester.
Next week we are hosting Open Houses for future students. I encourage you to invite prospective students and their families to register and attend:
Lake Campus Open House: Thursday, October 20, starting at 4 p.m.
Raider Open House: Saturday, October 22, starting at 9 a.m. in the Student Union
Please encourage prospective students to attend and learn why it's a great time to be a Raider and Laker!
Events
The forum schedule for candidates for the position of assistant director of the Asian and Native American Center has been set. Students, faculty, and staff are encouraged to participate. Candidate forum schedule:

Ting Li, Director of International Engineering Student Engagement, School of Engineering, University of Dayton
Open forum: Wednesday, October 12, 1:30–2:30 p.m. 009 Student Success Center
Webex link for virtual attendance

Nicolyn Woodcock, Ph.D., Assistant Professor and Director of the English Program, Department of Interdisciplinary Studies, Medaille University
Open forum: Thursday, October 20, 1:30–2:30 p.m. 009 Student Success Center
Webex link for virtual attendance

Supervisors and managers are asked to provide employees with the time to participate in the public forums as business conditions allow.

Position information, candidate cover letters and CVs, and candidate surveys are available at wright.edu/inclusive-excellence/about/job-searches.
 
All students from both campuses and our alumni are welcome to attend the fall in-person and virtual Career Fairs. Faculty and staff are encouraged to promote the Career Fairs to students and support attendance:

Virtual Career Fair, 9:30–11:30 a.m., Wednesday, October 19, inside Handshake, in the form of group or individual meet-the-recruiter sessions. Students should register in advance and sign up electronically for meet-the-recruiter sessions until full.

In-Person Career Fair, 1–4 p.m., Wednesday, October 19, Dayton Campus Student Union. Students should register in advance or on the day of the fair at the student check-in station. Students may participate as their schedule permits.

More information is available at wright.edu/events/wright-state-career-fairs-2022-fall-semester-hosted-career-services.
 
Wright State will be well-represented at this Friday's TEDxDayton. The speakers include Terry Oroszi, associate professor and vice chair of the Department of Pharmacology and Toxicology and director of the graduate Chemical Biological, Radiological and Nuclear Defense Program; John Dinsmore, professor of marketing; and alumni Stacey Lawson, Jonathan Platt, and Layla Akilan. Read more about the event.
Resources available on campus
The ombudsperson provides an impartial, confidential, and informal means for faculty, staff, and students to discuss campus-related concerns or problems off the record. The ombudsperson does not provide legal advice, psychological counseling, or advocacy, but instead seeks to inform and empower community members to handle their own concerns. The ombudsperson also provides input on policy and practices to reduce confusion, address gaps or chronic misinterpretation, and promote equity, inclusion, and institutional fairness. For more information, please visit wright.edu/ombuds-office.
 
The Raj Soin College of Business has just launched a Women Faculty Peer Mentoring program to connect with all women faculty, share information and resources, foster collaboration across units, and support personal and professional development needs. The program involves fun activities such as Girls' Night Out, a book discussion, trendy topics in higher education, and community connections. For more information, please contact Elizabeth Harding at elizabeth.harding@wright.edu.
Recognition
Ksenia Bonch Reeves, professor of Spanish, received the "La Amiga Querida" Faculty Award for 2022-2023 at the Amigos Latinos Gala. This award is in recognition of her support for our Latinx students, faculty, and staff and her unwavering support of Wright State's Latino Center. Congratulations, Professor Bonch Reeves!
When a Student Needs Support
Wright.edu/help is a great resource for helping students or making referrals. This site contains contact information for emergency or essential departments that can assist your students all in one location.
Faculty Affairs: Important Reminders and Information
October 17: Professional Development Leave proposals due to college deans (Article T29.5.1)
Research and Sponsored Programs
Ohio Department of Transportation (ODOT) Research Program University Visit: October 14, 9:00–11:30 a.m., Third Floor Neuroscience Engineering Collaboration Conference Room (NEC300)

Topics of discussion include:
Statistics and Projections
Important Upcoming Dates
ODOT Research Manual
ODOT's New Student Transportation Advancement Research Program
Developing Winning Proposals
Submitting Ideas to Ohio's Research Initiative for Locals
Defense Associated Graduate Student Innovators (DAGSI) Workshop
Engineering and science graduate students and faculty looking for additional research funding opportunities with AFRL at Wright-Patterson Air Force Base should consider the DAGSI fellowship program. Kim Marshall, executive program manager of Defense Associated Graduate Student Innovators (DAGSI), will host a workshop on SOCHE's intern program:
October 19, 10:30–11:30 a.m. in the Neuroscience Engineering Collaboration Auditorium (NEC101) or virtual via WebEx.
Have a great week and thank you for all that you do for our students!
Amy Thompson, Ph.D.
Provost and Senior Vice President for Academic Affairs