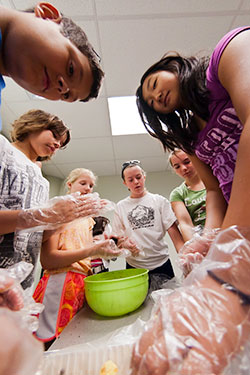 University Honors
"For the fourth year in a row, Wright State University's has been named as a "Best in the Midwest" college". -The Princeton Review 
We are proud of the programs we offer the community. Take a few moments and see what many parents and students have to say about our programs. Wright State University has been nationally ranked and honored. 
From our Parents
"My kids have attended enrichment courses in all parts of the country, and I am very impressed with the programs at Wright State." -Parent Comment
"It is an excellent program that many people should experience. I have recommended it to all of my friends." – Parent Comment
ment
"My son always enjoys his summer courses. They challenge his creative sense." 
My son's instructor did an excellent job helping him feel comfortable. He was worried about coming to the program but the staff helped him feel at ease."
"We are excited that WSU has programs geared for gifted children."
"Wright State's facilities are very nice, and the curriculum is excellent."
"The instructional staff is awesome."
"I hope to have my son attend again next summer. I was extremely happy and comfortable leaving him in your care which sometimes is difficult, but my son loved every minute he was there and wants to not only return next summer but go to college at WSU once he graduates." 
"I think it is a good opportunity for high school students to explore potential career field options so they can discover what career path they might want to follow once they enter college."
From our Students
"My courses were interesting and fun!" 
"This course has helped me decide my college major." 
"I got a "taste" of the college environment. Now I feel better prepared for college." 
"I Learned what it is like to live with a roommate."
"I learned that working with a group can be more effective than working alone. I would recommend this program to others." 
"I had a ton of fun at the camp and still learned a lot."