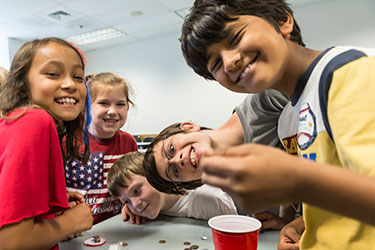 Kids on Campus (KOC) is a precollege program offered by the Office of Pre-College Programs at Wright State University for students in grades K through 6.  On selected Saturdays, students can choose from a variety of hand-on courses designed for motivated students which serve to foster creativity and stimulate students' thinking.  Pre-College Programs has been providing academic enrichment programs for over 25 years on the campus of Wright State University.
---
Class Schedule 
| Course | Date | Time(s) | Registration Deadline | Cost |
| --- | --- | --- | --- | --- |
| Science Myth Busters | Saturday, February 10, 2018 | 9 a.m.-noon or 1-4 p.m. | Tuesday, February 6, 2018 | $25 per session |
| Land, Water, Air | Saturday, March 10, 2018 | 9 a.m.-noon or 1-4 p.m. | Tuesday, March 6, 2018 | $25 per session |
Join us for an exciting morning or afternoon of enriching, creative and hands-on programming. Bring your children to campus to experience unique classes and activities that will stimulate their minds.
---
Available Classes by Grade Level
SCIENCE MYTH BUSTERS (FEBRUARY 10, 2018)
Registration deadline: Tuesday, February 6, 2018
Course: KOC 10 Pennies and Soda
Grades: K-1
Description: Can tapping on the lid of a shaken soda can stop it from erupting or is there another method? Students will explore the myth of a shaken soda can. Students will also make predictions to determine what kind of everyday materials will clean dirty pennies and then conduct experiments to see who is correct.
Course: KOC 11 Secret Messages and Pop Rocks
Grades: 2-3
Description: Does lemon juice really create a secret message on paper?  What about the age old myth that eating pop rocks and drinking soda will make your stomach expand. Students will conduct experiments to answer these questions and learn the science behind their answers.
Course: KOC 12 Diapers and Oreos
Grades: 4-6
Description: Is it true that name brand diapers are better than store brand diapers? Students will conduct experiments with a variety of diapers to determine which brand really does hold the most fluid. Also are double stuffed Oreos really double stuffed?  Experiment with volume and mass to compare and contrast the two Oreo sizes to determine if double stuffed is fact or myth.
 Land, Water, Air (March 10, 2018)
Registration Deadline: Tuesday, March 6, 2018
Course: KOC 13 Salty Seas
Grades: K-1
Explore the difference between maps and globes. Discuss the differences between land, air, and water transportation. Discover why some water is salty and how it impacts ships and sea life. Create your own cork boat.
Course: KOC 14 Land Movement
Grades:  2-3
Learn what makes up the Earth's core. Why do earthquakes and volcanic eruptions occur? Discover how buildings are made differently in earthquake prone areas. Create your own mini volcano.
Course: KOC 15 Air and the Atmosphere
Grades:  4-6
What sphere protects the earth from meteors? Which one contains the ozone layer? Discover the five "spheres" which make up the Earth's atmosphere. Experiment using different materials to create a parachute that can "catch" air and safely land a cup of water when dropped.
---
Daily Schedule
Morning Schedule
9-9:15 a.m. Student Arrival, Opening Introductions
9:15-10:45 a.m. Class Time
10:45-11 a.m. Snack Break
11-11:45 a.m. Class Time
11:45 a.m.-noon Discussion and Wrap up
Noon Dismissal
Afternoon Schedule
1-1:15 p.m. Student Arrival, Opening Introductions
1:15-2:45 p.m. Class Time
2:45-3 p.m. Snack Break
3-3:45 p.m. Class Time
3:45-4 p.m. Discussion and Wrap up
4 p.m. Dismissal
---
General Information
Please note. Morning and Afternoon course sessions may be combined contingent upon program enrollment.
Location: Once payment has been received, a link will be sent in an email with drop off and pick-up procedures. Classes are held in Allyn Hall.
Registration: To register, please complete the online application process. Register early to be sure to receive your first class choice. Maximum registration for each course is 16 students.
Confirmation: Confirmation letters will be sent to you by email.  The confirmation packets will include, classroom number, a campus map, information on parking, and arrival and departure details.
Parent Information: Parents will drop-off and pick-up their children at the appropriate classroom.
Snack Break: Students in both the AM and PM sessions will be provided with a snack of goldfish crackers and a drink. If allergies are a concern with your child, please send a snack for you child and let the instructor know that you are providing a special snack due to allergies. For December only, students will have tea with milk and sugar and shortbread cookies.
Permission Statement: The program participation statement on the Registration Form must be signed in order to process your child's registration.
Location: The Kids on Campus program is held on the main campus of Wright State University.  Maps will be included in your confirmation materials which will be sent by e-mail.
Inclement Weather: In the event of severe weather, please check your email and the Pre-College website for information. No refunds will be given if Wright State is open and students choose not to attend.
Refund Policy: A cancelation fee of $15 will be deducted from refunds requested by parents for reasons other than closed classes or class cancelations. Refunds will not be issued to any participant who is dismissed from the program for disciplinary reasons. Refunds must be requested two weeks prior to the class date.