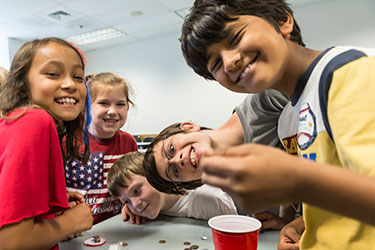 Kids on Campus (KOC) is a precollege program offered by the Office of Pre-College Programs at Wright State University for students in grades K through 6.  On selected Saturdays, students can choose from a variety of hand-on courses designed for motivated students which serve to foster creativity and stimulate students' thinking.  Pre-College Programs has been providing academic enrichment programs for over 25 years on the campus of Wright State University.
---
Class Schedule 
| Course | Date | Time(s) | Registration Deadline | Cost per Session |
| --- | --- | --- | --- | --- |
| Architectural Engineering | Saturday, February 22, 2020 | 9 a.m.–Noon or 1-4 p.m. | Tuesday, February 18, 2020 | $25 |
| Travel the World | Saturday, March 21, 2020 | 9 a.m.–Noon or 1–4 p.m. | Tuesday, March 17, 2020 | $25 |
Join us for an exciting morning or afternoon of enriching, creative and hands-on programming. Bring your children to campus to experience unique classes and activities that will stimulate their minds.
---
Available Classes by Grade Level
Architectural Engineering (Saturday, February 22, 2020)
9 a.m.—Noon or 1—4 p.m.
Registration Deadline: Tuesday, February 18, 2020
KOC 10: Straw, Sticks, and Bricks
Grades: K-1
Students will investigate the story of The Three little Pigs while they learn the importance of building homes and other structures out of strong materials. Students will look at different homes and their designs while using different materials to build their own miniature homes.

KOC 11: Bridge Builders
Grades: 2-3
Bridges are used every day. Students will investigate the different styles and designs of bridges, why we use them, and the materials used to construct them. Students will put their own engineering skills to the test when they build their own bridges.

KOC 12: Tower Designers
Grades: 4-6
How are skyscrapers made? Students will explore how these structures are built, the purposes of the different structures, materials used, and how they have evolved. Students will design and build their own towers out of a variety of fun materials.
Travel the World (Saturday, March 21, 2020)
9 a.m.—Noon or 1—4 p.m.
Registration Deadline: Tuesday, March 17, 2020
This month students will meet by grade level and then rotate with their classes into each country/room for 1 hour. All three classes will rotate through the countries listed. However, the complexity of the activities will change for the different grade levels.
KOC 13: Grades K-1
KOC 14: Grades 2-3
KOC 15: Grades 4-6
Japan: Discover the art of paper folding as students create a variety of origami pieces. Students will put their culinary skills to work as they create their own fruit sushi roll.
 
Ireland: Learn the history of Irish traditions. Play Irish children's games and compare and contrast the games found in the USA. Make traditional Irish tea and have a snack of shortbread cookies.
 
Nigeria: There are over 520 languages in Nigeria. Explore Igbo, one of the three main languages. Learn some simple phrases. Make a cowrie shell bracelet.
---
Daily Schedule
Morning Schedule
9-9:15 a.m. Student Arrival, Opening Introductions
9:15-10:45 a.m. Class Time
10:45-11 a.m. Snack Break
11-11:45 a.m. Class Time
11:45 a.m.-noon Discussion and Wrap up
Noon Dismissal
Afternoon Schedule
1-1:15 p.m. Student Arrival, Opening Introductions
1:15-2:45 p.m. Class Time
2:45-3 p.m. Snack Break
3-3:45 p.m. Class Time
3:45-4 p.m. Discussion and Wrap up
4 p.m. Dismissal
---
General Information
Please note. Morning and Afternoon course sessions may be combined contingent upon program enrollment.
Location: Once payment has been received, a link will be sent in an email with drop off and pick-up procedures. Classes are held in Allyn Hall.
Registration: To register, please complete the online application process. Register early to be sure to receive your first class choice. Maximum registration for each course is 16 students.
Confirmation: Confirmation letters will be sent to you by email.  The confirmation packets will include, classroom number, a campus map, information on parking, and arrival and departure details.
Parent Information: Parents will drop-off and pick-up their children at the appropriate classroom.
Snack Break: Students in both the AM and PM sessions will be provided with a snack of goldfish crackers and a drink. If allergies are a concern with your child, please send a snack for you child and let the instructor know that you are providing a special snack due to allergies. For December only, students will have tea with milk and sugar and shortbread cookies.
Permission Statement: The program participation statement on the Registration Form must be signed in order to process your child's registration.
Location: The Kids on Campus program is held on the main campus of Wright State University.  Maps will be included in your confirmation materials which will be sent by e-mail.
Inclement Weather: In the event of severe weather, please check your email and the Pre-College website for information. No refunds will be given if Wright State is open and students choose not to attend.
Refund Policy: A cancelation fee of $15 will be deducted from refunds requested by parents for reasons other than closed classes or class cancelations. Refunds will not be issued to any participant who is dismissed from the program for disciplinary reasons. Refunds must be requested two weeks prior to the class date.