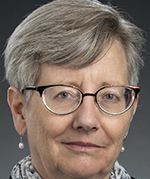 Dear Colleagues,
I am pleased to announce that Dr. Carol Loranger has been appointed vice provost for faculty affairs.
I want to thank Dr. Loranger for her many vital contributions as interim vice provost for faculty affairs. Her permanent appointment is the first of several key positions I plan to fill soon in the Office of the Provost.
As interim vice provost, Dr. Loranger has focused on building and strengthening partnerships with faculty in their various roles, with faculty governance, and with the units that support faculty.
One such unit is The Center for Faculty Excellence, which has shifted its focus from primarily supporting teaching to the development of the whole faculty. The center and its two Faculty Fellows are planning teaching and research symposia for the 2022–2023 academic year and a slate of workshops and other offerings. The center also awarded Teaching Enhancement Grants to university faculty in the spring and plans to award more small grants in the coming year.
Working with university partners, Dr. Loranger has implemented training modules for new and continuing department chairs and planned a comprehensive summer orientation for Wright State's new deans.
During her time at Wright State, Dr. Loranger has built a solid record of successful teaching, research, and service. Her teaching ranges across and beyond American literature, including courses on Ohio writers, American poetry, the works of Henry James, Melville's Moby Dick, seminars in cultural periods, the Theory and Practice of Literary Criticism, and extending to Effective Written Discourse and Business Writing.
Her research addresses questions of reception, recovery, and textual formation in the genres of American literary naturalism, early 20th century American poetry, and mid-20th century experimental fiction. Most recently, she has edited or co-edited two collections of poetry, short fiction, and reportage by American proletarian writer Sanora Babb. Dr. Loranger is frequently consulted on Babb's early unpublished work. Especially noteworthy in terms of Dayton is her publication on Paul Laurence Dunbar, whom she examines with Edwin Arlington Robinson within the context of Naturalist poetics.
Dr. Loranger joined Wright State as an assistant professor of English in 1993, becoming a tenured associate professor of English in 2000.
During her career at the university, she has also served as director of graduate studies in English, chair of the Department of English Language and Literatures, president of the Faculty Senate, and associate dean of the College of Liberal Arts.
She is currently the university's liaison to the Wright State University Retirees Association.
Dr. Loranger was named the Frederick A. White Distinguished Professor of Service from 2016 to 2019 in recognition of her extensive service to the university and the Dayton community, including her leadership roles in the College of Liberal Arts and in faculty governance. She continues to serve on the boards of Culture Works and the Dayton Literary Peace Prize and regularly volunteers as a precinct election official for the Montgomery County Board of Elections.
Dr. Loranger earned her Ph.D. in English from the University of Colorado, Boulder, and her Master of Arts and Bachelor of Arts in English from the University of Nevada-Reno.
Please join me in congratulating Dr. Loranger on her permanent appointment.
Best,
Amy Thompson, Ph.D.
Provost and Senior Vice President for Academic Affairs