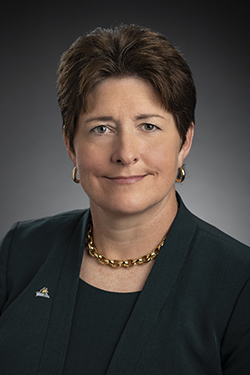 Dear Colleagues,
Wright State University has memberships with EAB and the American Association of Colleges and Universities (AAC&U). EAB's mission is to drive transformative change through data-driven insights and best-in-class capabilities in five major areas: enrollment; student success; data and analytics; institutional strategy; and diversity, equity, and inclusion. AAC&U is a global organization dedicated to advancing the vitality and democratic purposes of undergraduate liberal education. As a member institution, all faculty and staff can access the many resources the organizations offer. I hope you find their resources helpful and use them as needed
Here are step-by-step instructions to create an account for both organizations:
Events
The School of Fine and Performing Arts is currently presenting the feel-good musical comedy Sister Act through November 20.
 
The Raj Soin College of Business will host two informational sessions about Wright Venture, a Shark Tank-style competition with a grand prize of $5,000. If you know of any students who might be interested in participating, please share the following information with them: The sessions will be held November 30 and December 1 at 5:00 p.m. in 036 Rike Hall, and students only need to attend one session if they are interested in competing.
Registrar Updates
Beginning with the registration period for the fall 2023 semester, the Registrar's Office will move all course prerequisites with the current status of "department managed" to the status of "registrar managed." This shift makes use of the existing automated system to help manage prerequisites for courses and facilitate multi-term registration for students while lessening the strain on departmental support personnel. With registrar-managed prerequisites, the registrar will run reports when final grades are submitted to identify those students who should be dropped from a course for not meeting a prerequisite. Departments and instructors will still have the ability to request an exception for individual students, but the reporting from the registrar would help make this more manageable for faculty and staff.
As mentioned during the November 14 meeting of the Faculty Senate, the decision to move these prerequisites was made with agreement from the Faculty Senate Executive Committee and the chairs of the University Undergraduate and Graduate Curriculum Committees.
Individual programs will have the opportunity to opt out of the move to registrar-managed prerequisites. Programs must opt out by December 5, 2022. Deans should provide the registrar with a list of programs that wish to opt out by 5:00 p.m. on December 5.
Commencement
Commencement marks a significant moment in the lives of our students and their families. The granting of a degree and the admission to the "rights and privileges" associated with a given degree are extraordinarily important events for those receiving degrees.
The presence of faculty is especially important for the graduates and their families. All faculty should prioritize their attendance and bargaining unit faculty are reminded of their responsibility under Article 7.4.8.
All faculty are encouraged to attend one or both ceremonies in December. Registration is required and is open now through November 21. You can register online.
Graduate Ceremony: Friday, December 9, 7:00 p.m.
Undergraduate Ceremony: Saturday, December 10, 10:00 a.m.
Noteworthy News
In response to updated requirements by the Commission on Accreditation of Athletic Training Education (CAATE), Wright State University's undergraduate program in athletic training transitioned to a master of athletic training and received approval from its accreditor.
When a Student Needs Support
Wright.edu/help is a great resource for helping students or making referrals. This site contains contact information for emergency or essential departments that can assist your students all in one location.
Have a wonderful week!
Best,
Amy Thompson, Ph.D.
Provost and Senior Vice President for Academic Affairs