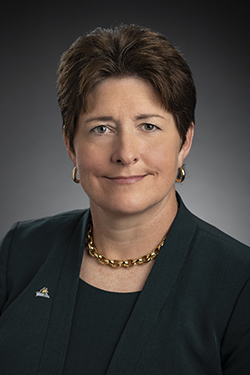 Dear Colleagues,
Something I look forward to each spring semester is the opportunity to recognize the outstanding achievements of our faculty. As announced earlier this week, nominations for the 2023 Faculty Awards for Excellence are now open. The Faculty Awards for Excellence recognize select faculty members for their excellent work in the areas of teaching, research, community engagement, professional service, and early career achievement. These awards are truly a highlight of the year.
As also announced this week, the university is thrilled to honor faculty, staff, and student employees who have performed exemplary work in student success through the inaugural University Awards for Student Success Champions. These awards recognize the nominees' contributions to programs and services that significantly support and impact student success metrics and student satisfaction. We are setting lofty goals and continue to make progress on student success initiatives—your dedication does not go unnoticed, and we are thrilled to have an opportunity to celebrate your good work.
Learn more about the Faculty Awards for Excellence (PDF) and the University Awards for Student Success Champions. The linked information includes deadlines and procedures for nominations. I look forward to reviewing all of your nominations.
Mental Health First Aid Training
Wright State University and Mental Health America of Northern Kentucky and Southwest Ohio are hosting Mental Health First Aid training sessions on April 6 and 13. Mental Health First Aid (PDF) teaches you how to identify, understand, and respond to signs of mental illness and substance use disorders. This training gives you the skills you need to reach out and provide initial support to someone who may be developing a mental health or substance use problem and help connect them to the appropriate care.
Midterm Grading: Open through February 26
Midterm grade collection is underway for spring semester! Midterm grade reporting is required by all undergraduate-level classes, with some exceptions.
Midterm grades are due by 11:59 p.m. on Sunday, February 26. Reporting is available for all full-term classes. A, B, and X term classes are not included in midterm grade reporting. Detailed instructions for posting grades can be found at wright.edu/registrar/grading.
Those faculty reporting grades in WINGS Express (and not via Pilot) only need to enter the midterm grade and can ignore the "Last Attend Date" and "Attend Hours" fields.
Slate CRM Transition
We are excited to announce the upcoming transition to a new CRM later this summer. Slate, by Technolutions, is tailored specifically to higher education and is used by more than 1,500 colleges and universities around the globe. The comprehensive platform is known as the nation's leading higher ed CRM solution and will provide a simplified and improved user experience for students, families, and other partners in the admissions process. Likewise, it will provide countless opportunities for efficiency, process improvement, and automations throughout the university.
The first phase of implementation will focus on all aspects of admissions, from the point of recruitment through the enrollment and registration process. More information and training will be forthcoming. If you have questions, please contact nova.lasky@wright.edu.
Faculty Resources and Workshops
When a Student Needs Support
Wright.edu/help is a great resource for helping students or making referrals. This site contains contact information for emergency or essential departments that can assist your students all in one location.
There will not be a newsletter next week—I hope you all have a wonderful Spring Break!
Amy Thompson, Ph.D.
Provost and Senior Vice President for Academic Affairs