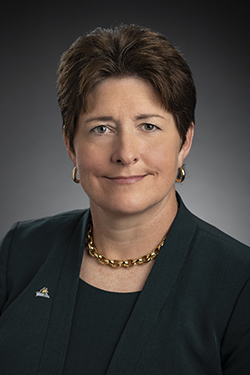 Dear Colleagues,
We have almost reached the midpoint of our spring semester, and I can feel the excitement on campus. It's not just the softer weather and the lengthening days—as we continue working together to make progress on so many fronts, there's a palpable energy and sense of possibility among our colleagues. As we prepare for the upcoming HLC Focused Visit, I encourage you to attend one of the remaining listening sessions if your schedule allows. Your involvement with this visit is greatly appreciated. Additional details about the Focused Visit and listening sessions are included below.
As mentioned in last week's newsletter, I also encourage you to hold the date of March 8 from 3:30 to 5 p.m. for a relevant and timely interdisciplinary panel discussing "AI and the Future of Education." In addition to this panel, included within this newsletter are resources and workshops that have been developed within our institution as well as several hosted by the Strategic Ohio Council for Higher Education (SOCHE). I hope you find these helpful and valuable.
Higher Learning Commission Focused Visit Update
The Office of the Provost is hosting listening sessions to answer questions about the upcoming Focused Visit by the Higher Learning Commission. All listening sessions will be hosted virtually on Webex from 1 to 2 p.m.
Listening session schedule:
We welcome your feedback and questions. You can submit comments about the HLC Focused Visit and the Focused Visit Report by February 22 through our listening session survey.
When available, the draft HLC 2023 Focused Visit Report will be posted on the Accreditation and Assessment website. A campus username and password are needed to access the report. The report must be submitted to the HLC by February 27.
The Focused Visit by the Higher Learning Commission will take place on April 24 and 25. If you have questions about the Focus Visit, contact Bruce Mackh, vice provost for assessment and chief accreditation officer, at bruce.mackh@wright.edu.
Midterm Grading: Open through February 26
Midterm grade collection is underway for spring semester! Midterm grade reporting is required by all undergraduate-level classes, with some exceptions. 
Midterm grades are due by 11:59 p.m. on Sunday, February 26. Reporting is available for all full-term classes. A, B, and X term classes are not included in midterm grade reporting. Detailed instructions for posting grades can be found at wright.edu/registrar/grading.
Those faculty reporting grades in WINGS Express (and not via Pilot) only need to enter the midterm grade and can ignore the "Last Attend Date" and "Attend Hours" fields.
Faculty Resources and Workshops
Mark your calendars for the Center of Faculty Excellence's Faculty Research Symposium on February 22. Faculty from COLA, COSM, CECS, RSCOB, and CHEH will present their original research throughout the day. Details and program schedule will be announced soon by CFE.
 
Selected Works: Faculty Profiles that Maximize Scholarly Impact
Tuesday, February 21, 11 to 11:30 a.m., 441 Dunbar Library
Register online

Presenters: Jane Wildermuth, head of Special Collections and Archives, and Alexis Whitney, digital initiatives librarian

Learn how a SelectedWorks faculty profile can help you to create a compelling online scholarly identity, share your scholarship, and measure your impact.

Scholars are taking advantage of online platforms to widen their readership, network with others in their field, and show the impact of their work. Staying up to date with these tools doesn't have to take hours. SelectedWorks lets you partner with the University Libraries to build an online scholarly presence that is reputable, sustainable, and complete. Most importantly, it can be done in minutes (not hours) of your time.
 
Open Access Publishing vs. Predatory Publishers
Thursday, March 16, 1:30 to 2:30 p.m., 441 Dunbar Library
Register online

Presenters: Joanna Anderson, medical librarian, and Ximena Chrisagis, nursing, kinesiology, and health sciences librarian

You've heard of "predatory" publishers, but what exactly are they and how do you avoid them? It is increasingly common to receive email solicitations from questionable publications and to encounter journals with poor quality control or deceptive publishing practices. Although some clearly come from "junk journals," in many cases, the journal or publisher's reputation cannot be determined by looking at the solicitation alone. In this workshop, participants will learn the signs of "predatory" venues compared to legitimate open-access publishers, identify how to benefit from OhioLINK open-access deals, and develop strategies to check publisher reputations to feel more confident about where to publish.
 
SOCHE Webinars: SOCHE provides members access to unlimited live webinars. To access the webinars noted below, you must first visit the webinar site and create an account. Once your account is created, you can log in and access all webinars. Contact support@ieinfo.org for assistance with creating an account, if needed.

Thursday, February 16, at 1 p.m.: Supervision Challenges & Opportunities: Managing Conflict, Staff Development, & Team Performance

Thursday, February 23, at 1 p.m.: Supervising Early-Career Professionals: Challenges, Support Strategies, & Motivation Techniques

Friday, February 24, at 1 p.m.: The Student Mental Health Crisis: How To Meet The Increasing & Lasting Demand For Services
Research and Sponsored Programs
Research and Sponsored Programs and the Office of Technology Transfer—Ask the Expert!
These 30-minute virtual sessions are a wonderful opportunity for Wright State University researchers to discuss ideas they would like to see in the market, the numerous types of intellectual property protection, and the various paths for commercialization.
Online appointments are available on Friday, February 17, between 9 a.m. and 3 p.m. Schedule your appointment with Dr. Julie Nagel.
Graduate Programs Open House
The Graduate Programs Open House is this Thursday, February 16, from 5 to 7 p.m. in the Student Union Apollo Room. Many of you will be at the event recruiting new students. Thank you! If you are not volunteering, please stop by and meet some prospective students.
Graduate Program Development
Beginning this semester, a new graduate certificate in medical devices engineering is available. This certificate was designed to meet the needs of the rapidly growing medical device industry in the nation. This program supports the unique needs of students currently graduating with a Bachelor of Science from the College of Engineering and Computer Science or the College of Science and Mathematics, as well as those who are in their early through mid-career in this industry. The certificate is applicable in important areas of medical device design, development, and manufacturing, along with regulatory requirements. The certificate may be completed in as few as two semesters. Students may earn the certificate as a stand-alone credential or as part of a Master of Science offered through the Department of Biomedical, Industrial, and Human Factors Engineering.
For more information, visit the graduate certificate program webpage.
Provost's Faculty Fellows
It is not too late to apply for the Provost's Faculty Fellows Program. Additional information, including the application, can be found on the Faculty Affairs webpage. The deadline to submit your application is Wednesday, February 15, at 3 p.m.
When a Student Needs Support
Wright.edu/help is a great resource for helping students or making referrals. This site contains contact information for emergency or essential departments that can assist your students all in one location.
Have a wonderful week!
Amy Thompson, Ph.D.
Provost and Senior Vice President for Academic Affairs