About Provost Amy Thompson, Ph.D.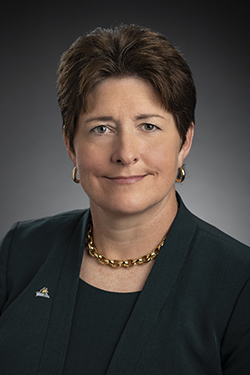 Amy Thompson, Ph.D., is provost and senior vice president for academic affairs at Wright State. She was named to the position June 1, 2022.
She oversees academic affairs at both of Wright State's campuses, including the undergraduate and graduating degree programs, faculty affairs, accreditation, the University Libraries, and research programs.
Since joining Wright State, Provost Thompson has taken the lead on important student success initiatives such as the implementation of multi-term registration, mid-term grading, progress reports, and other early alert mechanisms.
Provost Thompson has more than a decade of administrative experience in higher education. Her leadership roles in both academic and faculty affairs have provided her with experience in supervising both undergraduate and graduate curriculum, accreditation, assessment, classroom services and technology, and leading a variety of faculty-related work.
Before joining Wright State, Provost Thompson served as the senior vice provost of academic affairs and acting dean of the College of Graduate Studies at the University of Toledo.
She also chaired the University of Toledo's COVID-19 Pandemic Operations Team and the Ohio Inter-University Council Reopening Task Force and served as the university's liaison to the Ohio Department of Higher Education and Chancellor's Council on Graduate Studies.
From 2018 to 2020, Provost Thompson served as Toledo's vice provost and associate provost of faculty affairs, maintaining effective faculty and administrative relations for over 1,100 full-time and 850 part-time faculty.
She joined the Toledo faculty in 2008 and was promoted to professor of public health in 2013.
Thompson also served as director of the university's public health Ph.D. program and was the founding co-director of the Center for Health and Successful Living. As a former president of Toledo's faculty senate, she gained experience in facilitating shared governance and negotiation.
Provost Thompson has published more than 75 peer-reviewed articles and several book chapters, has given over 150 professional peer-reviewed presentations, and secured $1.7 million in grant funding.
She earned a Ph.D. in health education, with a minor in public administration, and a master of education in public health from the University of Toledo, and a bachelor's degree in community health and health promotion, with a minor in family life and human sexuality, from Central Michigan University.