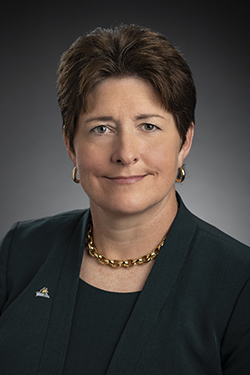 Dear Colleagues,
As the weather gets cooler, I am refreshed by the sight of students at their tables in the Student Union encouraging participation in student organizations or taking part in one of our many student life activities, thus enriching their Wright State experience. Students are at the core of our mission, inside and outside the classroom.
And many of those students, when they are not in the classroom, are also working for the University—as student employees in our libraries and offices, as researchers and technical assistants in our labs, and in other needed roles. When we employ students, it is crucial that we are compliant with state and federal law. If you missed yesterday's important email from Human Resources and Career Services about employment processes, I encourage you to review it here (PDF).
I also want to encourage everyone on campus to attend some of the many Wright State events, lectures, theatre performances, and athletic competitions throughout the year. Please check out the university calendar to see what is happening every week.
Below is some information that I hope you will find useful.
Events
September 23 to October 2: The 2022–23 Wright State Theatre season opens with Agatha Christie's The Mousetrap in the Festival Playhouse. View curtain times.
Library Research Access Event
The recent White House Office of Science and Technology Policy (OSTP) memo Ensuring Free, Immediate, and Equitable Access to Federally Funded Research (PDF) outlines updated guidance requiring that by 2026 all federally funded research be made freely available upon its publication. OhioLINK has invited Michael Clarke, managing partner at Clarke & Esposito, to brief OhioLINK library staff, researchers, faculty, and administrators on the OSTP memo. Registration for the talk is now open.
When a Student Needs Support
Wright.edu/help is a great resource for helping students or making referrals. This site contains contact information for emergency or essential departments that can assist your students all in one location.
Midterm Grading
This fall we are piloting a process for faculty to submit midterm grades. Issuing midterm grades is a high-impact practice for student success. Midterm grading gives our faculty and Student Success staff the ability to provide meaningful interventions and our students ample time to course-correct if they are in academic difficulty.
Midterm grading is optional for Fall Semester. Reporting is available for all full-term classes. A and B term classes are not included in midterm reporting. We encourage participation and feedback from faculty so we can improve the system for Spring Semester.
Instructors may report midterm grades via Pilot or WINGS Express now through noon on Wednesday, October 12. The reporting method is the same as reporting final grades, except there will be an additional option for midterm grades.
Download instructions on pushing midterm and final grades from Pilot to Banner (PDF).
Download instructions for entering grades in WINGS Express (PDF).
Additional information is available on the grading website.
Important Reminders and Information
Promotion and Tenure
September 30: Deadline for NTE faculty and their chairs to choose peer evaluators (N13.5.2.3.3)
September 30: Deadline for eligible NTE faculty to submit PDCR proposals to department chair (Article N29)
October 17: Professional Development Leave proposals due to College Dean (Article T29.5.1)
Finally, fall is college application season. Please remind future Raiders and Lakers to apply to Wright State University.
Have a great week!
Best,
Amy Thompson, Ph.D.
Provost and Senior Vice President for Academic Affairs