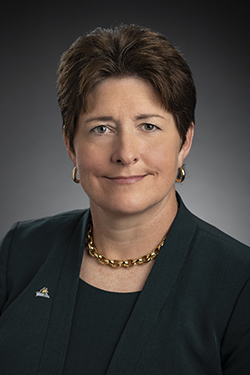 Dear Colleagues,
It is an exciting week for Wright State University. This week we welcome employers to our campus in person and virtually during our Career Fairs, we meet potential students at our Open Houses, and we are recognized for providing outstanding student opportunities through a national award. We are truly living our mission, "We empower all students to excel in their lives and chosen careers through integrated learning, research, innovation, and experience."
We have once again been recognized by the U.S. Department of State as a Top Producing Institution for Gilman Scholars. We last received this recognition in 2019. While it is indeed an honor to again be included in this list, I am thrilled to share that Wright State was recognized as the #1 university among medium-sized institutions! If you are not familiar with the Gilman Scholarship, it expands access and equity in study abroad and international internship opportunities among U.S. undergraduate students with high financial need. The top-producer award is organized by the Department of State.
This is an outstanding honor and a testament to the creative and innovative thinking of Michelle Streeter-Ferrari and Joy Wanderi in our University Center for International Education in their efforts to ensure students could have study abroad experiences despite the global pandemic. As you all know, this award perfectly aligns with our mission and enhances our recognition as a top school for social and economic mobility.
It is a great time to be part of Wright State University!
Midterm Grading
Thank you to all faculty who submitted midterm grades. During this pilot semester, 35% of faculty participated. A total of 14,623 grades were assigned for 7,481 students.
A survey will go out to all students beginning the week of October 24 in hopes of learning how this information was received. A separate survey will be emailed to all faculty aimed at understanding how the process went and how it can be improved. We know that issuing midterm grades is a high-impact practice for student success and provides our faculty and our student success staff the ability to provide meaningful interventions that give our students ample time to course-correct if they are in academic difficulty. 
Registrar Reminder
Friday, October 21, is the last day for students to drop a full semester class. Students who do not have a hold that impacts registration can drop courses in WINGS Express. Students who have a hold that impacts registration need to fill out a registration form (PDF) and submit it to RaiderConnect by the deadline.
Events
All students from both campuses and our alumni are welcome to attend the fall virtual and in-person Career Fairs:

Virtual Career Fair, 9:30–11:30 a.m., Wednesday, October 19, inside Handshake, in the form of group or individual meet-the-recruiter sessions. Students should register in advance and sign up electronically for meet-the-recruiter sessions until full.

In-Person Career Fair, 1–4 p.m., Wednesday, October 19, Dayton Campus Student Union. Students should register in advance or on the day of the fair at the student check-in station.

More information is available at wright.edu/events/wright-state-career-fairs-2022-fall-semester-hosted-career-services.
 
Open Houses for future students are this week! We encourage you to invite prospective students and their families to attend and learn why it's a great time to be a Raider and Laker:

Lake Campus Open House: Thursday, October 20, starting at 4 p.m.

Raider Open House: Saturday, October 22, starting at 9 a.m. in the Student Union
While the COVID pandemic seems at times as if it is waning, maintaining a safe campus remains a top priority. Wright State University continues to follow the guidance of the U.S. Centers for Disease Control and Prevention and the Ohio Department of Health to keep our campuses safe.
At-home tests should be used when experiencing COVID symptoms. Prepare in advance by obtaining free self-administered tests with a university ID in a vending machine located near the Student Union Rathskeller on the Dayton Campus and at the Student Services Front Desk at the Lake Campus.
Face coverings are not required while on the Dayton Campus or Lake Campus but are recommended. Students, faculty, and staff should feel free to wear them. The university continues to monitor the situation and community infection rates. Changes to this policy may occur at any time to align with CDC and county health department guidelines and to maintain campus safety.
COVID-19 vaccines remain our single most important tool to protect people against serious illness, hospitalization, and death. Vaccine appointments are available on the Dayton Campus at Wright State Physicians by calling or texting 937-245-7200. Lake Campus community members can contact the Mercer County Health District at 419-586-3251 for information about getting a COVID-19 vaccine in the Lake Campus area. You can also find vaccine appointments at gettheshot.coronavirus.ohio.gov.
It's important to note that based on the unpredictability of the COVID-19 virus and other infectious diseases, changes may occur. Please visit wright.edu/healthy-campus regularly for updates to university requirements or mandates as well as information.
When a Student Needs Support
Wright.edu/help is a great resource for helping students or making referrals. This site contains contact information for emergency or essential departments that can assist your students all in one location.
Resources available on campus
The ombudsperson provides an impartial, confidential, and informal means for faculty, staff, and students to discuss campus-related concerns or problems off the record. The ombudsperson does not provide legal advice, psychological counseling, or advocacy, but instead seeks to inform and empower community members to handle their own concerns. The ombudsperson also provides input on policy and practices to reduce confusion, address gaps or chronic misinterpretation, and promote equity, inclusion, and institutional fairness. For more information, please visit wright.edu/ombuds-office.
 
The Raj Soin College of Business has launched a Women Faculty Peer Mentoring program to connect with all women faculty, share information and resources, foster collaboration across units, and support personal and professional development needs. The program involves fun activities such as Girls' Night Out, a book discussion, trendy topics in higher education, and community connections. For more information, please contact Elizabeth Harding at elizabeth.harding@wright.edu.
Recognitions
Dr. Tim Wood, professor emeritus of biological sciences, has been honored with the prestigious Ellis Award for outstanding research and professional service in the field of bryozoology. Presented every three years, the award was announced in August at the triennial conference of the International Bryozoology Association in Dublin, Ireland.

Dr. Wood continues an active research program studying bryozoans. Recently, he and his colleague Dr. Beth Okamura were published in Zootaxa, where they described four new species of bryozoans they found in the Amazon Basin. In addition, this month's issue of Environment and Natural Resources Journal includes another of Dr. Wood's recent papers, which describes the efficacy of bryozoans in improving wastewater treatment.
 
Dr. Noleen McIlvenna, professor of history, was the plenary speaker at the Reassessing George Fox: 350+ Years of Quakers in North Carolina event at Guilford College, North Carolina.
Congratulations, Drs. Wood and McIlvenna!
Have a great week!
Best,
Amy Thompson, Ph.D.
Provost and Senior Vice President for Academic Affairs