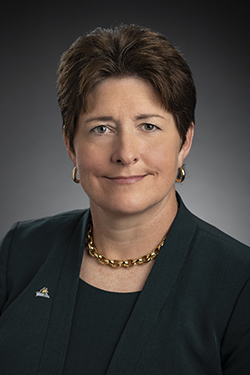 Dear Colleagues,
Happy Homecoming week! This is a bright spot in our often gray winter, and I feel invigorated by the excitement on campus. I look forward to cheering for our Raiders at the basketball game this week as well as attending the Raider Open House on Saturday.
I am also excited to announce a new opportunity for faculty—the Provost Fellows. It is my hope that two faculty will be selected to gain experience in faculty mentoring and student success. If you are interested in this opportunity, I encourage you to review the information on the Faculty Affairs website and submit your application. We hope to offer development within the Provost's Office and would love the opportunity to work with you.
Participation Rosters
Thank you for submitting information required for the participation rosters. With your involvement, we were able to achieve our goal of 95%! Congratulations to Boonshoft School of Medicine for 100% participation! I look forward to 100% participation for all courses next semester.
Events
An Open House for future students is this week! We encourage you to invite prospective students and their families to attend and learn why it's a great time to be a Raider:

Raider Open House: Saturday, January 28, starting at 9 a.m. in the Student Union
Shannen Dee Williams, Ph.D., scholar-in-residence fellow at the Schomburg Center for Research in Black Culture in New York City, will discuss the historical impact of Black Catholic nuns in the United States during the Piediscalzi Lecture in Religion and American Culture on Thursday, February 2, from 5:30 to 7 p.m. in the Student Union's Discovery Room (163). The lecture is free and open to the public. Learn more.
Wright State University is co-sponsoring the "Imagining Community Symposium: Housing Justice and Flourishing Neighborhoods" February 16-18. This interdisciplinary conference, which is open to all community members, activists, artists, students, scholars, and academics, takes place in various locations, including the Hub at the Dayton Arcade, the Dayton Metro Library, and the Fitz Center for Leadership in Community on Main Street.

The symposium is free and open to the public, and advance registration is available but not required. (Please note that some events, including the keynote and pre-symposium films, have limited space and require advanced registration). For more information about the keynote presentations and additional events, please visit Imagining Community Symposium or contact Dr. Kelli Zaytoun, Dr. Marlese Durr, or Imagining Community.
Alumni Recognition
SOPP alumna Tamara Campbell, M.D., Psy.D., DFAPA, has been appointed executive director of the Office of Mental Health and Suicide Prevention (OMHSP). In this role, Dr. Campbell is responsible for the development, implementation, and operational integrity of the Veterans Health Administration's programs that provide veterans access to a full continuum of integrated mental health care and suicide prevention services. Dr. Campbell is a mission-driven leader with more than 25 years of military and federal service who is committed to engaging veterans in lifelong health, well-being, and resilience. Dr. Campbell has served as the acting executive director of OMHSP since May 2022.
Assessment Update
In continued preparation for the Higher Learning Commission's April visit and in addition to the Wright State Guide to Assessment and Accreditation (PDF), which was published in the fall semester, we posted the following examples regarding course and program learning objectives and outcomes. Curriculog has also been updated to include this information. We appreciate your ongoing efforts to ensure that our information is correct.
If you have specific questions about the Curriculog system, please contact Wafa Hozien or Laura Siegmann. For additional information and assistance with objectives and outcomes, please contact Bruce Mackh.
COURSE LEARNING OBJECTIVES:
Communicate and signal what a student will learn (future tense) in a course. These are also known as learning goals.
Typically written as, "students enrolled in this course (or class) will learn to:"
COURSE LEARNING OUTCOMES:
Communicate and signal what a student can do as a result of their learning experience in a course.
Typically written, "as a result of their learning experience, students successfully completing this course (or class) can:"
Should map onto and support program learning outcomes.
PROGRAM LEARNING OBJECTIVES:
Communicate and signal what a student will learn as the result of the instruction they undertake across all courses in a program comprising a body of knowledge.
Typically written as, "students enrolled in the _________ program will learn to:"
PROGRAM LEARNING OUTCOMES:
Statements that communicate and signal what students have learned as the result of the instruction they received across all the courses in a program, which comprise a body of knowledge.
Typically written, "as a result of their learning experience, graduates of the _______ program can:"
Are the basis for the assessment of the program's success. Also map onto and support institutional learning outcomes, which are also directly linked to the institution's mission, vision, and values.
A program should have between three and five program learning outcomes. Finally, program learning outcomes describe the students' achievements or accomplishments at the completion of the program.
When a Student Needs Support
Wright.edu/help is a great resource for helping students or making referrals. This site contains contact information for emergency or essential departments that can assist your students all in one location.
Have a wonderful week!
Amy Thompson, Ph.D.
Provost and Senior Vice President for Academic Affairs