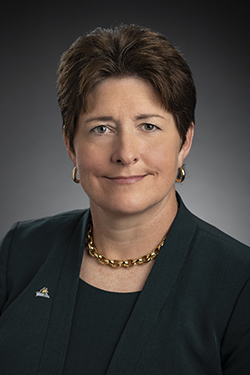 Dear Colleagues,
Welcome back! I hope you had a chance to rest during the winter break and that you're eager to start the spring semester. I know I am. The students are so excited to be in your classrooms and learn from you. As we return to campus it is important to be laser-focused on the Three Rs—retention, relationships, and recruitment—which also directly translate to student success.
Speaking of student success, I want to remind you that we are kicking off our required midterm grade initiative this semester. It is also important for you to complete participation rosters during Weeks 1 and 2, which are required for any institution that receives Title IV funding. As always, I am appreciative of how supportive you are and your contribution to our forward momentum.
Faculty Grading Resources
Many thanks to CaTS-ITS and WSO for developing training and resources for faculty. The materials include:
A video on how to set up the gradebook and how to enter midterm and final grades
Drop-in session to assist faculty with submitting their midterm grades on January 12 from 10:00 a.m. to 2:00 p.m. in 220–234 Med Sci
A date for a drop-in session at the Lake Campus will be announced shortly
Faculty Intervention Dates at a Glance
 

Due Dates

 

 

Full Term

A Term

B Term

Notes

Participation Rosters*

Weeks 1-2:
Friday, January 20, by 11:59 p.m.

Week 1:
Friday, January 13, by 11:59 p.m.

Week 8:
Friday, March 10, by 11:59 p.m.

Last day to drop/withdraw and receive 100% tuition refund

Progress Reports

Week 4-5

N/A

N/A

 

Midterm Grades

Week 6-7:
Opens: Monday, February 13, at 8 a.m.

Due by Sunday, February 26, by 11:59 p.m.

N/A

N/A

 

Last day to drop with a W grade

Friday, March 17

Friday, February 3

Friday, March 31

 
*X Term – coincides with the last day for a 100% refund; look up dates here
Participation Rosters — In the first week of spring semester, you will receive an email from Kim Everhart, director of financial aid, with instructions for submitting participation rosters for students who have yet to establish participation at least once in your class. This is not only a critical process for Title IV compliance, but it also helps our student success staff to reach out to students who might need assistance. The period for submitting your participation roster will close at midnight of the last day a student can drop and receive a 100% tuition refund.
 
Progress Reports and Early Alerts — In Week 4 of the semester, you will receive only one progress report email providing a link to your class roster to issue alerts for your students who are experiencing attendance, performance (grades), technology barriers, and/or other concerns in your course.

You can also issue "anytime alerts" outside of the progress reports schedule by logging into Navigate (formerly known as RAPS). Navigate is accessible through WINGS in the right-hand tab under Faculty and Advisor Resources. When you log in, you will see a full roster of your classes and can raise an alert on individual students at any time. Learn more.
 
Midterm Grades – And, lastly, faculty will regularly submit midterm grades for all undergraduate courses. Further information is available on the Registrar's faculty resource page.
For additional information, please check out the Student Success faculty resource page for FAQs or feel free to contact me with questions.
Recognition
Dr. Sheng Li, associate professor in the Department of Mechanical and Materials Engineering, won the 2022 ASME Associate Editor Award from the Journal of Mechanical Design. Dr. Li also won this award in 2021. We are proud of Dr. Li and his service to Wright State University as well as his profession.
Office of Research and Sponsored Programs
The Office of Research and Sponsored Programs will host an IRB Virtual Town Hall on Thursday, January 12, from 1:00 to 2:00 p.m. Please login via Webex to learn about updates on IRB policies, procedures, and streamlining efforts. A question and answer session will also be available on any topic.
HLC Update
A webpage dedicated to the Higher Learning Commission (HLC) Focused Visit on April 24 and 25 is now available on the Provost Office website. In the coming weeks, a draft of the required Focused Visit report will be posted for feedback and comments. In February, there will be listening sessions and information sessions on what to expect during the Focused Visit. Please become familiar with the links to the HLC website that cover the topics "Criteria for Accreditation," "Focused Visit," and "Glossary of HLC Terminology."
Please direct any questions about the Focused Visit to Bruce Mackh, vice provost for assessment and chief accreditation officer, at bruce.mackh@wright.edu.
When a Student Needs Support
Wright.edu/help is a great resource for helping students or making referrals. This site contains contact information for emergency or essential departments that can assist your students all in one location.
Have a wonderful week!
Amy Thompson, Ph.D.
Provost and Senior Vice President for Academic Affairs