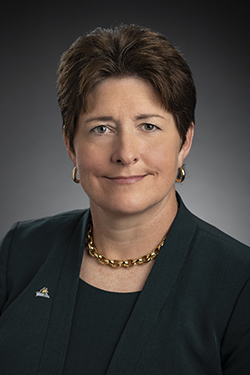 Dear Colleagues, 
It seems cliché to say that I can't believe the fall semester has come to an end, but it truly is remarkable how fast the semester has gone. I am looking forward to my first commencement at Wright State and am very proud of our graduates and all of their hard work. As I mentioned last week, as I begin the second half of my first year here, I am so honored to be here and to be working with all of you. I look forward to the spring semester and continuing our good work and supporting this wonderful institution. I hope you all take time to enjoy this winter season and that you can rest and relax during our upcoming winter break. Thank you for all that you do. It is truly appreciated. 
Final Grades Due December 14 
Grading is open for all fall 2022 classes. Grades are due by noon on Wednesday, December 14. Please be sure to log in to WINGS Express to verify that grades have been submitted successfully for each of your classes. To read the current grading system and policy, please visit the Grading System webpage. Additional information can be found in Tuesday's email from the Registrar's Office (PDF).
Higher Learning Commission Accreditation Update
The upcoming accreditation-focused visit has been moved by HLC from March to April 24-25, 2023, because the previous date conflicted with HLC's annual conference.
As mentioned in past newsletters, HLC accreditation is centered on evidence that supports five specific criteria. Our HLC visit will focus on criteria 4B and 5C. There are six components to 5C. The first three are listed below:
5C: The institution engages in systematic and integrated planning and improvement.
The institution allocates its resources in alignment with its mission and priorities, including, as applicable, its comprehensive research enterprise, associated institutes, and affiliated centers.
The institution links its processes for assessment of student learning, evaluation of operations, planning, and budgeting.
The planning process encompasses the institution as a whole and considers the perspectives of internal and external constituent groups.
If you have examples of evidence for any of criteria 5C, please contact Bruce Mackh, vice provost for assessment and chief accreditation officer, at bruce.mackh@wright.edu.
Recognition 
The nursing program in the College of Health, Education, and Human Services received a $100,000 grant from the American Association of Colleges of Nursing (AACN) to develop competency-based assessments. Included with the award is expertise provided by AACN to help develop these assessments. This development will be an integral component of the reaccreditation review. 
When a Student Needs Support 
Wright.edu/help is a great resource for helping students or making referrals. This site contains contact information for emergency or essential departments that can assist your students all in one location. 
Have a wonderful week!
Amy Thompson, Ph.D.
Provost and Senior Vice President for Academic Affairs