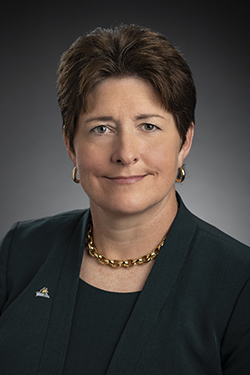 Dear Colleagues,
As we enter the final week of the fall 2022 semester, I again want to express my appreciation for your work and dedication in making our institution successful. I hope you can take time to relax and spend time with those you care for over our upcoming winter break. I am excited to continue focusing on recruitment, retention, and relationships through our student success initiatives, including the newly formed college and university retention committees. I am also excited to begin working on the creation of the College of Graduate Programs and Honors Studies. Focusing on innovation and modernization will be central to the success of our students. I look forward to seeing you all in January.
Economic Impact Study — Volunteerism
Wright State is participating in an Inter-University Council of Ohio (IUC) Economic Impact Study (EIS). The EIS estimates the IUC universities' value added to the state and provides a clear view of the return on investment for students, taxpayers, and society. Data collected in this brief survey relates to the volunteerism of our students, faculty, and staff. This survey will remain open through December 21, 2022, at 11:59 p.m.
Did you volunteer from July 1, 2021, through June 30, 2022? If so, please complete this brief survey.
Higher Learning Commission
HLC Accreditation Update
The upcoming accreditation-focused visit has been moved by HLC from March to April 24–25, 2023, because the previous date conflicted with HLC's annual conference.
As mentioned in past newsletters, HLC accreditation is centered on evidence that supports five specific criteria. Our HLC visit will focus on criteria 4B and 5C. There are six components to 5C. The last three are listed below:
5C. The institution engages in systematic and integrated planning and improvement.
The institution plans on the basis of a sound understanding of its current capacity, including fluctuations in the institution's sources of revenue and enrollment.
Institutional planning anticipates evolving external factors, such as technology advancements, demographic shifts, globalization, the economy, and state support.
The institution implements its plans to systematically improve its operations and student outcomes.
If you have examples of evidence for any of criteria 5C, please contact Bruce Mackh, vice provost for assessment and chief accreditation officer, at bruce.mackh@wright.edu.
Curriculog Training
The Provost's Office is hosting a training on the Curriculog system. This one-hour, virtual training will focus on submitting the appropriate course or program proposal form in the Curriculog system as well as reviewing submissions.
Registrar Updates
Final Grades Due Today
Grades are due today by noon. Please be sure to log in to WINGS Express to verify that grades have been submitted successfully for each of your classes. To read the current grading system and policy, please visit the Grading System webpage.
Catalog Revision
Catalog narrative text updates (i.e., typographical errors or minor wording changes) may be sent electronically by copying content from the webpage (2023–2024 draft catalog) into Microsoft Word and turning on the "track changes" feature or marked on a PDF and scanned to laura.siegmann@wright.edu. Any substantive changes must be submitted through the curricular approval process. Submissions should be sent in one final document per academic program. Keep in mind that proposals are continually being imported as they get approved.
Funded Research
The engineering program at Lake Campus, the Department of Mechanical and Materials Engineering, and the Department of Electrical Engineering received a $50,000 grant for six months from the Ohio Department of Transportation to develop a proof of concept for an "In-Road Electric Vehicle Charging System for Parked Vehicles." This research activity engages mechanical engineering and electrical engineering undergraduate students and exposes them to state-of-the-art research. This project aims to extend the driving range of electric vehicles (EVs) as one of the existing bottlenecks in the widespread application of EVs.
When a Student Needs Support
The Jed Foundation, a nonprofit that protects emotional health and prevents suicide for our nation's teens and young adults, has released a Faculty Guide to Supporting Student Mental Health. This resource is available for download on the organization's website. As noted by the foundation, this guide was created to provide educators with simple, evidence-based ways you can support your students. A link to the guide will also be posted on the Provost's Faculty Affairs webpage. Watch this page for additional resources for faculty.
Wright.edu/help is a great resource for helping students or making referrals. This site contains contact information for emergency or essential departments that can assist your students all in one location.
Have a wonderful week!
Best,
Amy Thompson, Ph.D.
Provost and Senior Vice President for Academic Affairs